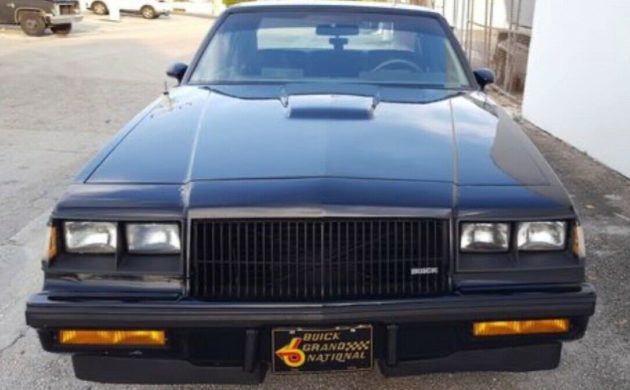 The 1980s dawned with an automotive hangover from the '70s. Stringent Federally imposed emission regulations, new (and big!) bumper rules and two oil shocks, one in '73 and the second one in '79, pretty well defanged any serious performance aspirations for domestically produced cars. And then, along comes Buick with its turbocharged Grand National (GN). Produced for several years in the '80s, this '87 rendition was the end of the line for a magnificent performer. This example is located in Miami, Florida and available here on eBay for a current bid of $14,500, no reserve. It has one day to go so look it over quickly if you are interested.
The Grand National was introduced in '82, discontinued for '83 and then returned for '84 where it stayed in production through the '87 model year. With each succeeding year, Buick continued to push the envelope on power reaching 245 net HP from the GN's 3.8 liter, turbocharged, V6 engine for this final year. (There was a higher performance, limited production GNX model but that's a story for a different day.) The entire package proved to be so popular that in order to meet consumer demand, the GN stayed in production through December of '87.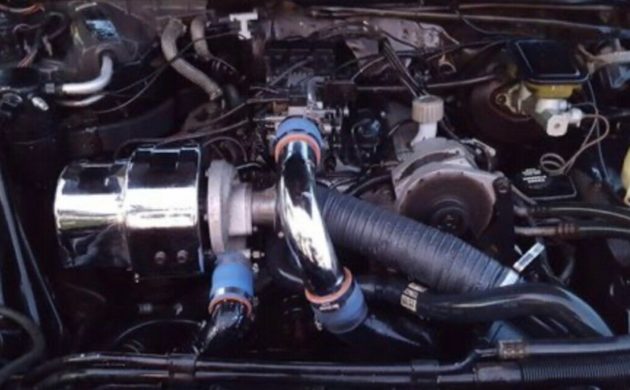 The heart of the GN beast is its engine, it's an eye-opener, to say the least. The seller of this GN lists the mileage of this car as being 42K but makes no reference to its low mileage so that number may or may not be accurate. Nevertheless, he does claim that this GN has a healthy motor and a properly shifting transmission. Buick had a lot of experience with their turbocharged 3.8-liter V6 engine as it was installed in what was referred to as "T-Type" Regals and other models such as the Riviera. But the combination of  1987s 245 HP attainment and the blacked-out, sinister nature of the GN made it the car to beat. The seller makes a point of saying that other than a muffler change, this GN is unmolested and bone stock. As with all GN's, this example has a four-speed, automatic overdrive transmission and a 3.42:1 differential ratio. The seller also adds that the A/C blows cold, a necessity for a black car residing in Miami!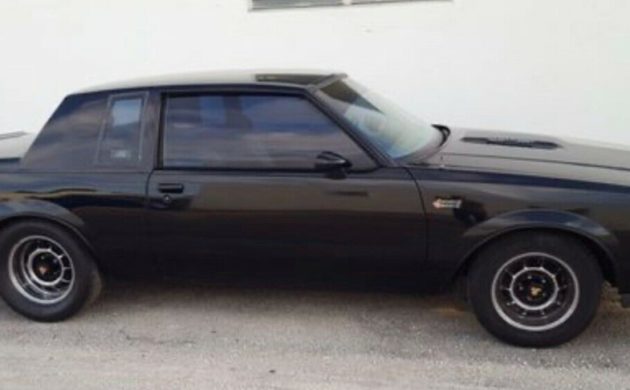 A gloss black finish is unforgiving when it comes to ripples, dents and creases. The images included here are a bit fuzzy but the body appears to be very straight and free of crash damage or misaligned body panels and the seller attests to this GN's sharp exterior appearance. The seller also states that all of the body panels are original. No word regarding the finish's provenance but it looks fade-free.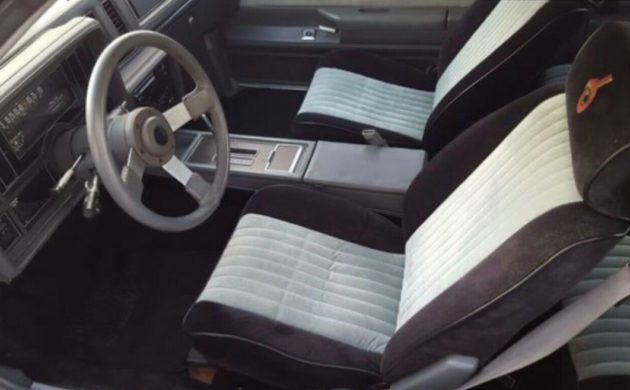 That's an attention-grabbing interior! The two-tone black and gray upholstery fabric sets up a nice contrast between the seating surfaces and the seat bolsters. It then ties that together with the gray dash and black carpet. It presents as a very clean and unblemished environment – perhaps that recorded 42K miles is accurate; the interior's condition would certainly support a low mileage claim. GM's fabrics of this period aren't the most durable that were in use but the material, in this case, has held up beautifully. The same level of complements are deserving on the dash and console, the interior of this GN needs nothing. The seller has included images of the trunk – it appears as unused.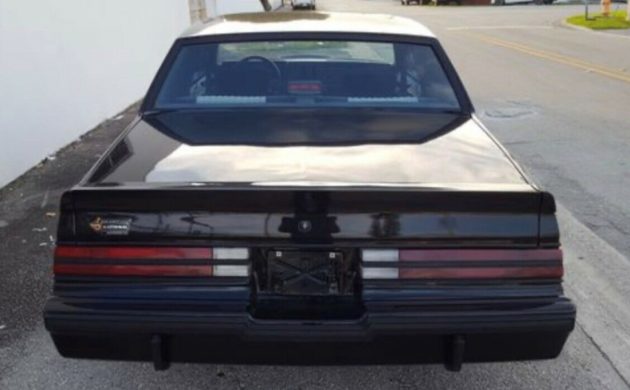 The seller states that this is a relist, he "sold"  this Buick once before but the transaction didn't go through as the buyer didn't have the funds. This GN is one of the best-looking examples that I have come across as of late – it's a real testament to what Buick was doing to keep automotive performance alive in a rather "wanting" time for domestically produced cars. It wouldn't be but a few more years before sporting intentions came back into vogue but thankfully Buick carried the torch with the GN during a rather slack period. If you ever considered owning a GN, this one deserves a close look, don't you think?
Have something to sell? List it here on Barn Finds!