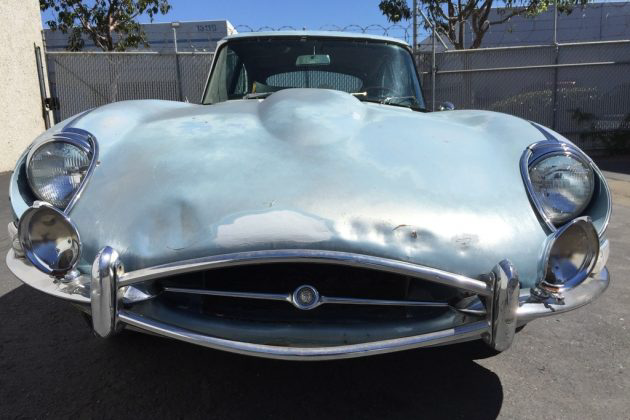 One of my loonier personal projects involves indexing the collection of Road & Track magazines I inherited from my grandfather, which spans pretty much every issue from 1950 to today. As it happens, I recently finished 1966, and here we have a one-year-newer cousin to the April 1966 cover car, the then-new Jaguar E-Type 2+2. It's a little jarring to look up from lovely photos of a shiny new car and see the ravages that 50 years can take; it's also a little alarming to go from reading that the new car was promised to come in "under $6500" (it ended up with a U.S. list price of $6,070 in 1966), to reading that $19,950 represents "a very economical entry into Jaguar E-Type Series One ownership," knowing that returning this car to its original condition might entail adding another zero to the end of that price. Such is the passage of time, I guess. You can check out this '67 on eBay, where it's listed with the aforementioned buy-it-now-price from a dealer in Santa Ana, California.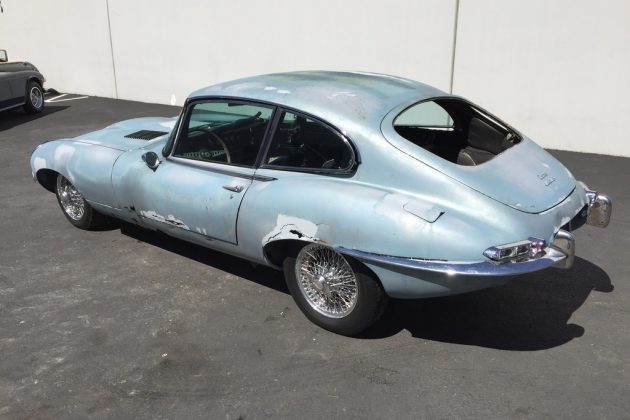 The selling dealer states that they bought this car in Texas, where it had been stored in a barn for some years. I'm wondering if it started its life somewhere else (or perhaps it came from the Gulf coast of Texas), because this does not look like the proverbial "dry southwestern car." Rust is pervasive along the lower perimeter and wheel arches of this elongated E, as well as on the floors, although the subframes and other structural areas are claimed to be good.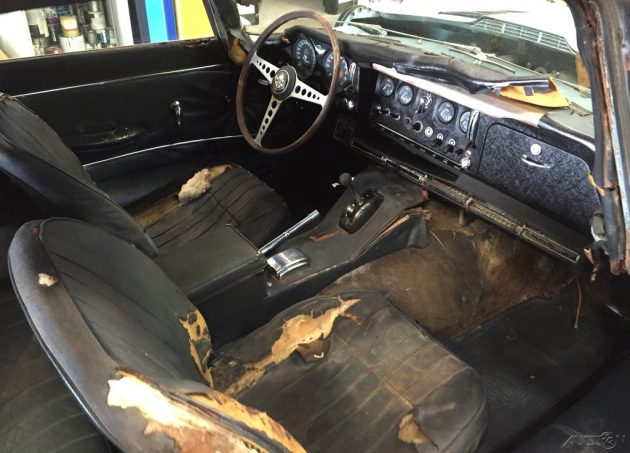 In its April 1966 story, R&T noted that, "The biggest single market for the E's [sic] is America and the 2+2 has been produced to widen the appeal of the XK-E range with the American demand for a 4-place sports car particularly in mind." What wasn't explicitly stated, but easy to deduce, was that the option of an automatic transmission on the 2+2, an E-Type first, was also aimed at broadening the line's appeal to Americans. The original owner of this coupe took the bait; its 4.2-liter inline six funneled its power through a Borg-Warner Model 8 three-speed.
Of course, right now this big six isn't producing any power to speak of, although the seller notes that it "turns nicely by hand and may even run with some work." Such equivocal language isn't exactly encouraging, but I imagine most buyers would put in the work, since it's a numbers-matching car.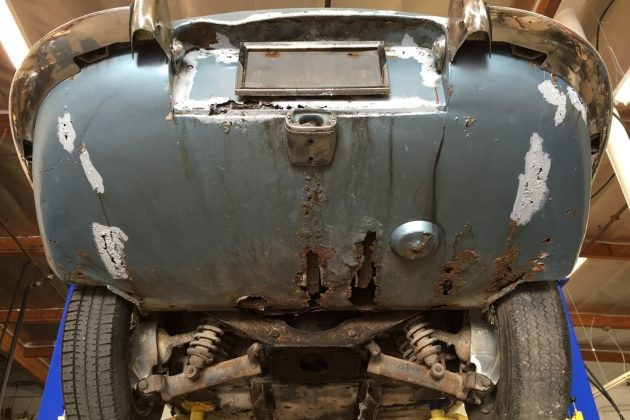 That eventual buyer will have to much braver than I am (and have much deeper pockets). I think I'd rather be content to read about it in Road & Track and think about what it was like then than to experience for myself what it would take to get this one back to that point!