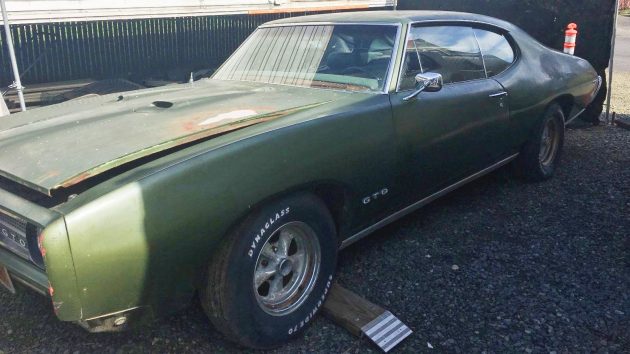 While this 1969 Pontiac GTO has definitely seen better days, there's enough car still there that it's not a parts car, it's a project car. The price certainly reflects that, with a no reserve auction here on eBay that hasn't even hit $3,500 yet. The green (and yet again, it's another green car, I really believe there's something in green paint that keeps cars alive longer) GTO is located in Donald, Oregon.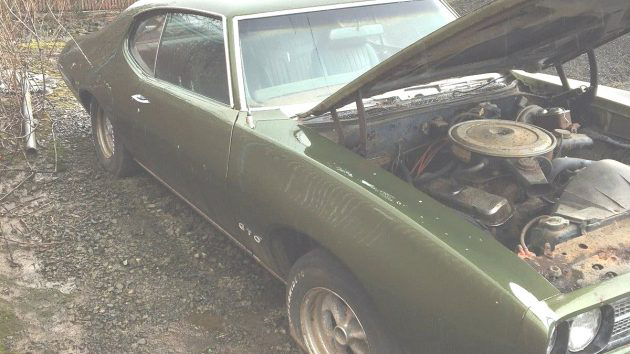 The seller tells us that they know essentially nothing about the car; they purchased it from a neighbor that runs a storage yard. This brings up the whole question of title, but the seller says they can obtain a clear title in 4-6 weeks. I'd certainly tie anything I paid for the car to that title being obtained. Parts of what may be the original paint look pretty decent, but then you look a little closer and there's a lot of corrosion.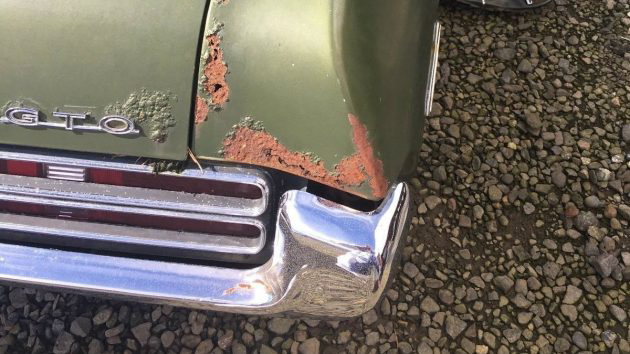 This area at the right rear is a good example. Although superficially solid, by the time you are done cutting all the rust out and welding in new metal, this will be a quite elaborate repair. Nothing for a good home restorer that's done it before, but if you are paying someone to do it, spots like this will add up in a hurry. Of course, with welders and plasma cutters readily available, perhaps this is a good time to learn by doing, or take a class at the local community college!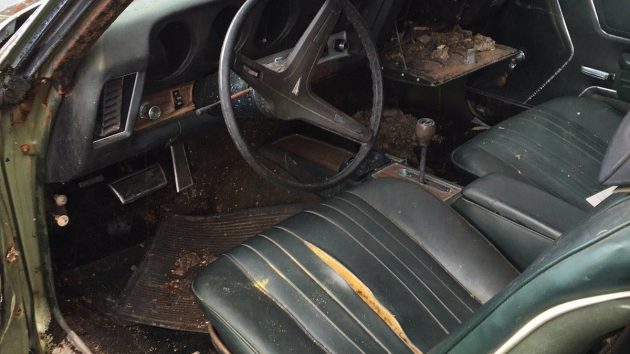 The vehicle identification number does decode as a GTO, and this one was actually built in California. The interior is a mess right now, but who knows what you'll find under the carpet. Metal, rust, or air? The seller offers a video link to those requesting it; I'd start there but I might go further and have a Barn Finds reader inspect this one in person. Don't forget; that's a benefit to members only.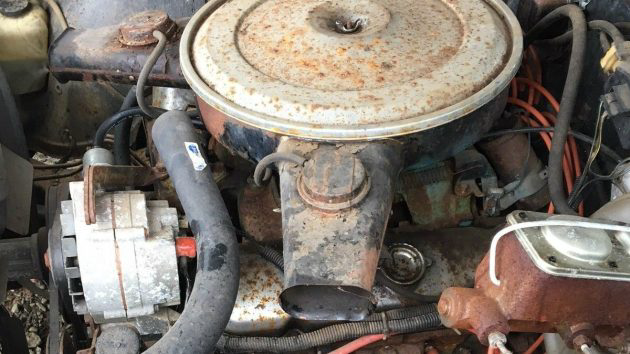 While I cannot guarantee my accuracy, I believe this is the most common engine in 1969 GTOs, the 350 horsepower 400 cubic inch V8. The twin snorkel air cleaner and chrome valve covers were stock. We're told the engine is not seized, although we don't know anything else about its condition. What do you think, readers? Is this a project worth taking on?