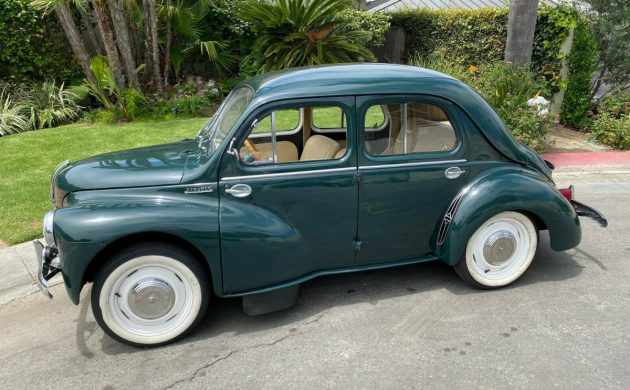 When the owner purchased this 1960 Renault 4CV, his original intention was to use it as a parts car. It turned out that its condition was too good to use for that purpose, so it has remained untouched for the 13-years since he purchased it. The little Renault hasn't seen a lot of use in that time, so now he has decided to send it off to a new home. It is located in Corona del Mar, California, and has been listed for sale here on eBay. With bidding currently sitting at $6,600, the reserve hasn't been met.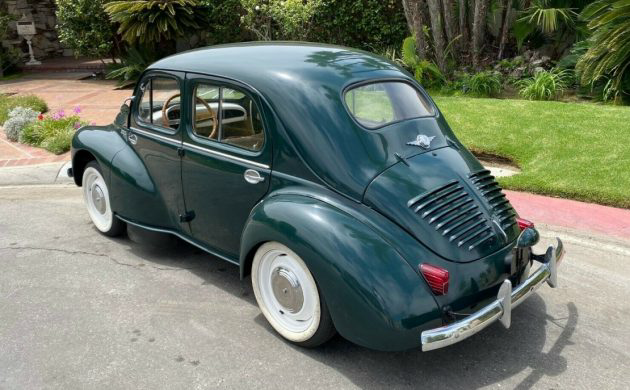 If the current condition of the 4CV is close to how it was when the seller purchased it, I can't imagine why he would have considered using it as a donor car. When you look at the panels, it is hard to find anything to fault. They are straight, and there are no signs of any rust problems. He doesn't mention the state of the floors. However, given the fact that the car appears to have spent many years in California, there is some reason to be cautiously optimistic on this front. I don't believe that the Dark Green paint that it wears is its original color, but it does suit the car extremely well. It shines nicely, while the same is true of the trim and chrome. I can see no issues with the glass, and the new whitewall tires that the car rolls on adds a great finishing touch to the exterior. I have always expressed a fondness for cars with suicide doors, so that means that I feel something of a soft spot for this classic.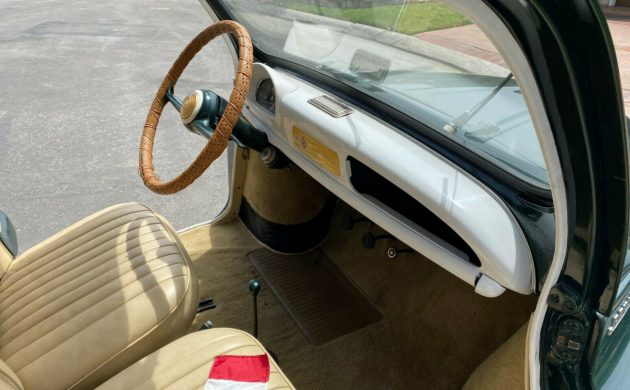 The 4CV represented affordable motoring for the masses in France, so it didn't come loaded with luxury features. There is a spot in the dash where you could conceivably fit a radio, but apart from that and an ashtray, you could place the words "Not Available" next to any other luxury item that you might consider. That's not to say that there is anything wrong with the condition of the interior, because it presents exceptionally well. The upholstered surfaces look to be faultless, while there are no significant issues with the carpet. The headliner is in good order, and there are no problems with the painted surfaces. If I were to buy this car, the only thing that I might do would be to purchase and fit a set of floor mats. The existing carpet is a light color, and I would want to protect it from future wear and stains. Otherwise, this looks like an interior that is ready to be enjoyed immediately.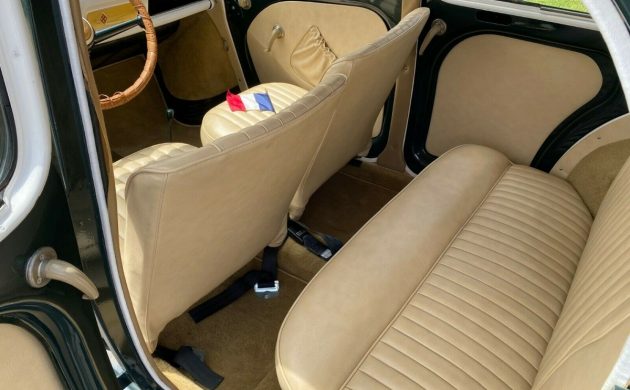 The owner supplies no engine photos and doesn't indicate whether the drivetrain is original. If it is, then what you will find is a rear-mounted 4-cylinder engine with a capacity of 747cc. This would pump out 28hp, which finds its way to the rear wheels via a 3-speed manual transaxle. With such a low power output, performance is never going to be neck-snapping. The trip down the ¼ mile will take about 24.9 seconds, and given enough room, the little Renault should wind its way to a top speed of 62mph. However, you have to wait for a staggering 48.7 seconds before that happens. Its real trump card is the engine's impressive flexibility. With no synchromesh on 1st gear, many owners found city driving to be a daunting prospect. Life was made easier by the fact that the 4CV was capable of pulling away from 3mph quite strongly in 2nd gear. So, unless you were at a virtual standstill, it was actually a pretty reasonable sort of car to have when tackling the cut-and-thrust of city driving. As previously mentioned, the Renault hasn't had a lot of use during the past 13-years. The owner admits that it has only accumulated around 100 miles on its odometer during that time. Even so, he does say that the car runs and drives. Given that lack of activity, I would probably be inclined to subject the vehicle to a full mechanical check before undertaking any extended journeys.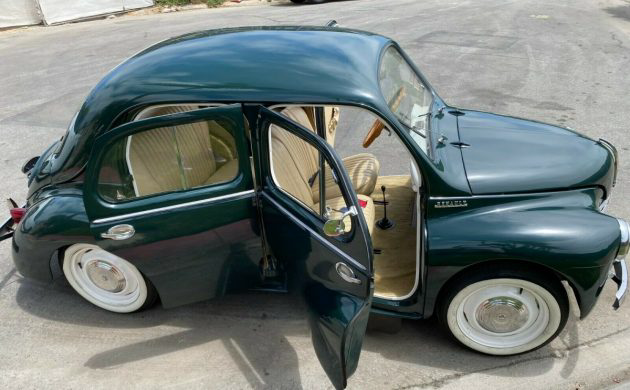 The Renault 4CV was released in post-war France as that company's attempt to get the masses moving during a time of financial hardship. It remained in production for 14-years and was the first French car to sell more than one million units. By the time the last 4CV rolled off the production line in July of 1961, 1,105,543 cars had been sold. Today, a good example can quite easily sell for $11,000 or more. If this particular car is as good as it would appear to be in the listing, then there is a real possibility that it could threaten that sort of figure. It is small and quirky, and the fact that it has already attracted 22 bids suggests that there are a few people who like it. It will be interesting not only to see what it finally sells for but whether we have any readers who might be tempted to bid on it.