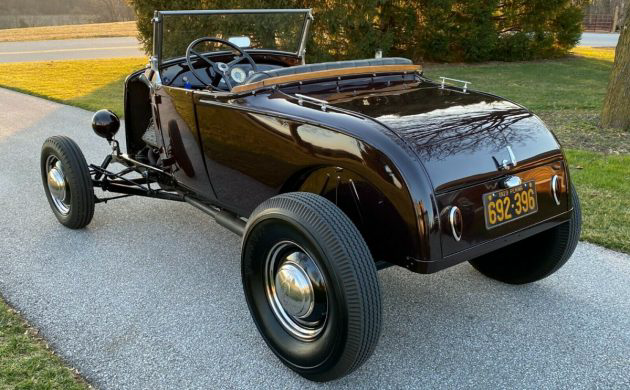 If you're like me, you will find a journey down "Nostalgia Lane" to be an enjoyable experience. It offers a glimpse into past eras, and more often than not, into less complicated times. That is what is on offer with this 1929 Ford Model A Hot Rod. You won't find a big-block, fuel injection, or an electronic engine management system here. What you will find is a car that pays homage to the vehicles that spawned the custom car scene during the 1940s and 1950s. You can now live that experience because the owner has listed the Model A for sale here on eBay. It is located in Hanover, Pennsylvania, and while the bidding has reached $24,600, the reserve hasn't been met.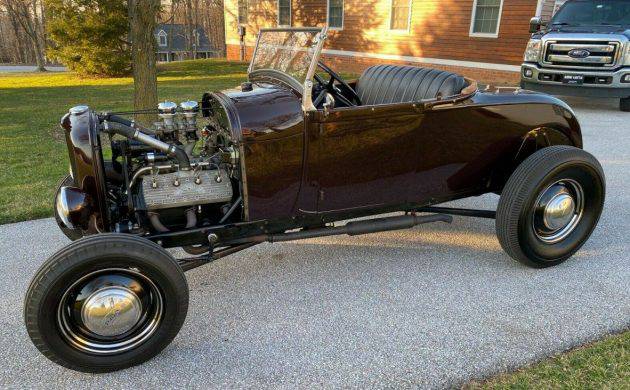 The key to the original hot rods was ingenuity. The people who built those classics usually didn't have a lot of money to spare, so they tended to lay their hands on whatever they could and then engineer those parts to fit their purpose. This Ford demonstrates that perfectly because the 1929 Model A body sits on a '29 frame but features 1928 doors. The radiator shell is a later reproduction 1932 item and is one of the few nods to modern technology. The black wheels are from a 1940 Ford, and they wear period-correct hubcaps and trim rings. The beautiful '29 body has been coated with 1940 Ford Coach Maroon paint, and apart from a few minor chips and a small ding on the radiator shell, it is close to perfect. It shines beautifully, while the same is true of the minimal chrome trim that the car wears. In keeping with its character, the owner chose to forget about fitting fenders. This was a common feature of these early rods, and it helped to give them a tough appearance in the days before wide wheels were available to the general public.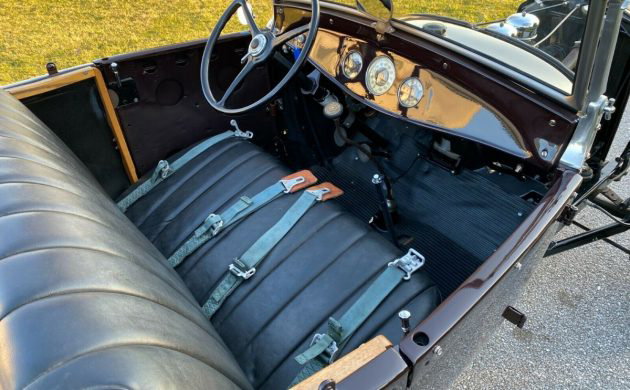 It is no surprise to look inside this Ford and find that it isn't loaded with luxury appointments. Builders generally poured what little money they had into the engineering and external appearance of their creation. Very few thought about fitting a heater, and even fewer gave components like a radio a second thought. This car recreates that feel perfect, but it still presents well. The painted surfaces shine nicely, the upholstered surfaces are flawless, and there is no apparent wear on the mat. If you wanted entertainment, you either listened to the engine or if there was no other choice, you listened to your passenger.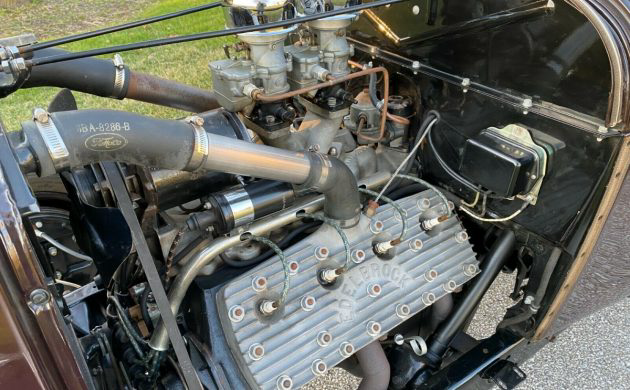 There's no big-block, no fuel injection, but what this Ford features is a drivetrain that should be robust and entertaining. The 24-stud flathead V8 is from a 1948 truck and has been fitted with a Mercury crank. This work has pushed the capacity out to 286ci and should provide considerably more than the 40hp that moved the Model A originally. Boosting performance further are a set of vintage Edelbrock heads, along with a pair of Stromberg 97 carburetors on a reproduction Edelbrock Slingshot intake. The owner doesn't indicate what sort of transmission is bolted to the back of the V8, but we know that it is a manual unit. It sends the power to a 1940 Ford 3.78 rear end while stopping power is provided by juice brakes. The owner says that the Model A is a turn-key proposition that is ready to be driven and enjoyed.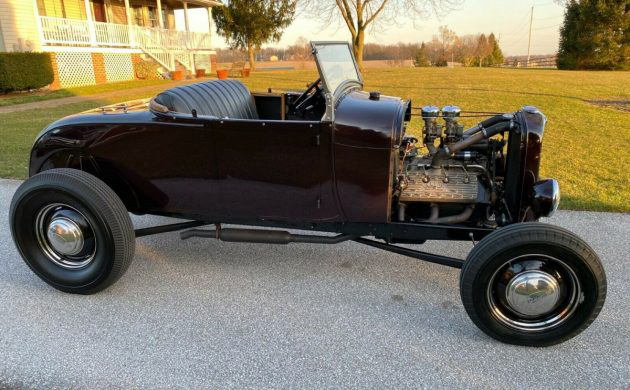 The only drawback of writing for Barn Finds is that I keep seeing cars that I would love to buy. If I had the resources to buy these cars, I would need a garage about the size of a small state. I also know that I'm not the only writer who feels this way. If I could have one car, this 1929 Ford Model A Hot Rod would be a serious contender. This makes no pretenses of being a high-performance classic, but it is a car that graphically demonstrates the very roots of the classic car culture. I would love to think that one of our Barn Finds readers will buy this classic because you are all passionate individuals who would treat this car with the respect it deserves. If you do buy it, I am potentially available if you happen to need a chauffeur. I would even do the job for free if it means slipping behind the wheel of this fantastic car.