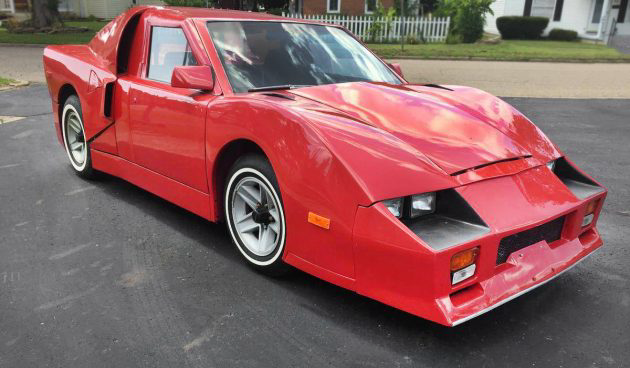 If you're tired of blending in with everyone else on the road with that black / white / silver / gray melted-bar-of-soap-looking car that you drive to work every day, here's your chance to stand out from the crowd. And, boy would you stand out, way out! This car is, according to the seller, a 1995 Replica. No really, that's it. A replica of what isn't known, and even after looking at the photos for a while I still can't quite figure out what this is supposed to be. It has the features of a couple of popular cars, if not cartoon-like features. It's listed by a dealer on Hemmings in Utica, Ohio with no asking price – you'll have to get in touch with the seller to make arrangements to buy this bulbous baby!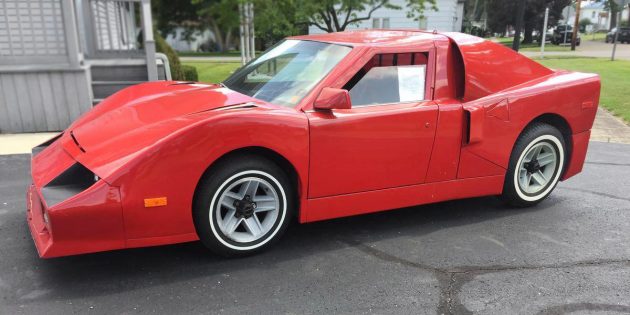 What do you see here? I mean, as in what cars do you see here, not as in other things that maybe shouldn't be said in public. The Camaro front end is a no-brainer, other than the Speed-Racer-gone-NASCAR-like scooped piece in front of the headlights.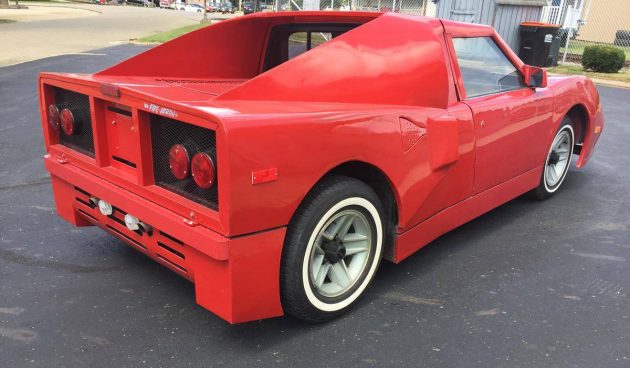 The rear portion is sort of Ferrari-like, with major apologies to the family and associates of Mr. Enzo Ferrari. This is a "hand-built" custom that is quite unusual, to say the least. Parts of it look great and it's really just the scale that takes it down an awkward path.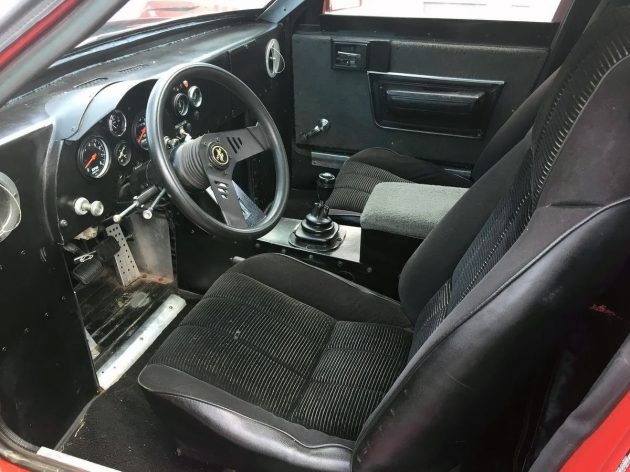 The interior looks like a place that I wouldn't fit into at any point in my life after the 7th grade. I was over 6-feet tall and had size-11 shoes in 7th grade and this interior doesn't look promising for any 6-footers out there. But, I'm surprised at how cool and custom it looks. it looks like this car may well be a nice piece of work for the builder. The dash is all business, even including label-maker tape for switch and warning light descriptions. Ok, maybe that could have been done a little nicer.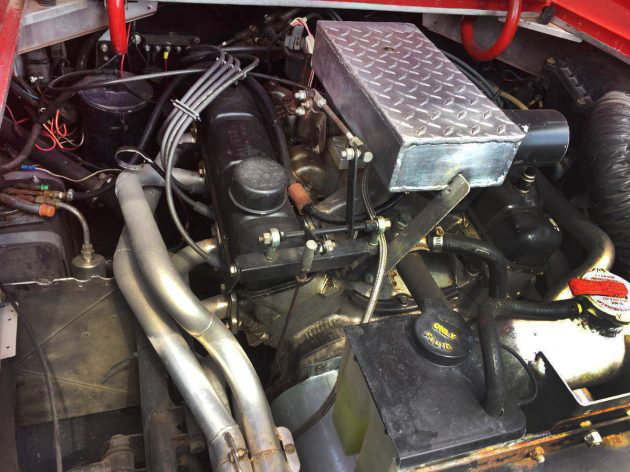 The custom engine compartment holds a somewhat-custom "Mid Engine Aluminum Buick 215 V-8 and a VW 4 speed transaxle." Whoa, now things get interesting! There is no mention of horsepower but most of these engines had somewhere around 160 to 200 hp, and the similar Olds Jetfire turbo engine had 215 hp. The custom headers shown on this car should make for a few extra hp, and at just over 300 pounds this engine is a lightweight. Speaking of light weight, this car weighs 2,500 pounds and according to the seller, "she runs and corners like it's on rails!" Have any of you seen a creation like this? It looks great and super fun in some ways, but then again there's the awkward look to the general scale and some of the cartoon-like features. What is this car worth, in your opinion? And, would you drive it in public?!