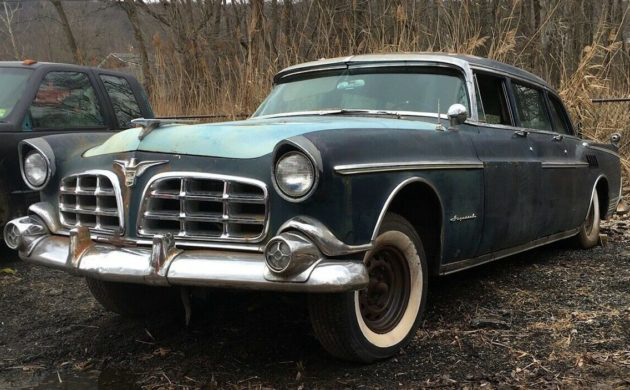 What looks like a cross between a Presidential parade vehicle and a mob staff car? An eight-passenger Crown Imperial, C70, four-door limousine like this 1956 example. One of only 119 produced, I believe this is the first one that I have encountered. Manufactured at a time when the Imperial was a separate brand under Chrysler Corporation and not a model under the Chrysler marque, this unique limo does not carry Chrysler branding. This interesting study in executive cartage is located in West Milford, New Jersey and is available here on eBay for a current bid of $710, reserve not yet met.
When one thinks of mid-century limousines, images of a Cadillac Fleetwood or a Lincoln Continental are usually conjured. While either a Chrysler or an Imperial is very deserving of that exalted status, they seem to have less frequently occupied that role. And as for airport limousines, those goofy looking eight door extravaganzas, they were usually built on stretched commodity car platforms like Ford, Checker or Pontiac. This Imperial limo is quite a discovery!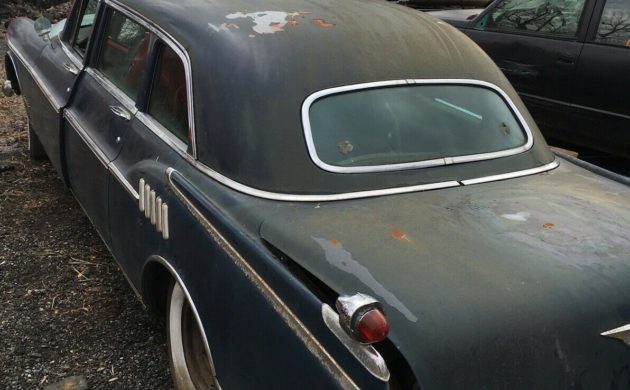 The exterior images provided are limited and mostly in portrait format so it's tough to get a comprehensive exterior view of this Imperial. The body of this limo looks pretty intact but the seller has little to say about it. The finish is typically faded and there looks to be some rust in the lower doors and driver side fender as well as a buckled passenger side fender. The chrome plating is thin and the trim is corroded but it all seems to be there. Imagine how hard it would be to find missing pieces – tough enough for an Imperial, made more complicated by the items that are unique to the limousine body. How about those "gunsight" tail lights? We probably won't see the likes of those again. This limo hasn't run in a long time, more on that later, but it would appear to be parked in a wrecking or storage yard of some sort, not a place conducive to proper auto storage. That thought leads to concerns about how this car was stored i.e. for how long, where, under what conditions, etc. and thusly, in what kind of shape is the underside/frame/floors?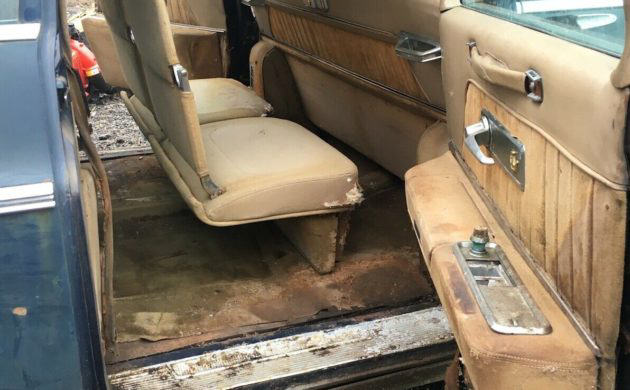 The interior is an interesting study. While the chauffer's compartment is covered in deteriorating black leather upholstery, the rarified air of first-class is sheathed in saddle tan leather. Front or back, it doesn't matter, both sides of the glass divider are going to need a lot of attention. In typical limousine fashion, there is a folding jump seat for those who are not quite at the top of the totem pole yet. Even with a 149.5″ wheelbase, a ride in that jump seat looks less than accommodating for a long haul. There are two images of the fold-up seat included, one where you can clearly see it (above) and another where every bit of detritus imaginable is piled in and around it. It's dispiriting and probably should have been excluded from the listing.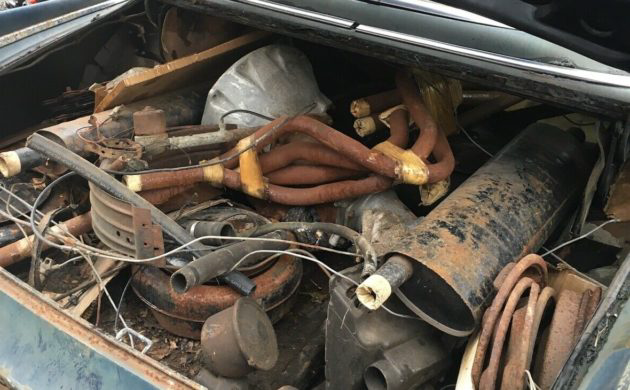 As is standard affair for a domestic car of this period, this Imperial possesses a traditional front-engine, rear-wheel-drive layout. That might seem obvious but there is no engine under the hood and a bunch of its parts are in the trunk. This Imperial originally housed a 354 CI, "HEMI" V8 engine that produced 280 gross HP. Hard to say where it is or what happened to it, no comment from the seller on that front. Gear changes, which occur twice when engaged, are courtesy of a PowerFlite, pushbutton actuated transmission – it may or may not still be in place.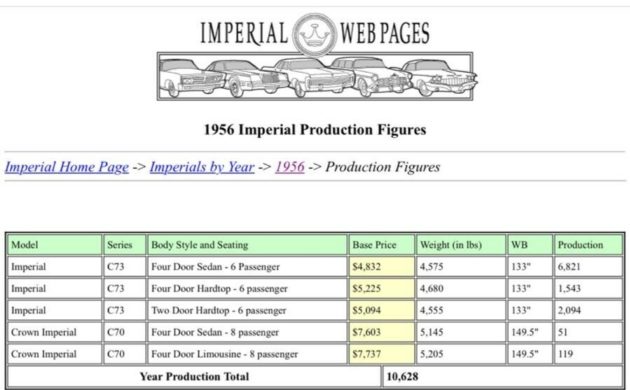 The good: This is a rare and unique car! It's a monster in length with that huge wheelbase and is fitted out with genuine limousine features like a jump seat and a glass compartment divider. It's also trending at minimal value ($710) but the reserve amount is unknown. The Bad: It needs a lot of work and there are many, many unknowns, the engine being the most obvious. Unusual, low production cars like this can be nightmarish to return to driver quality, much less to a restored level. And then there is the issue of where do you store such a gargantuan car? So, assuming this limousine could be returned to a reasonable facsimile of its original stature, what could one do with this Imperial? It could serve as a private limo for an upscale hotel; leased out for wedding parties; a "night on the town" limo or….? What do you think would be its best use?