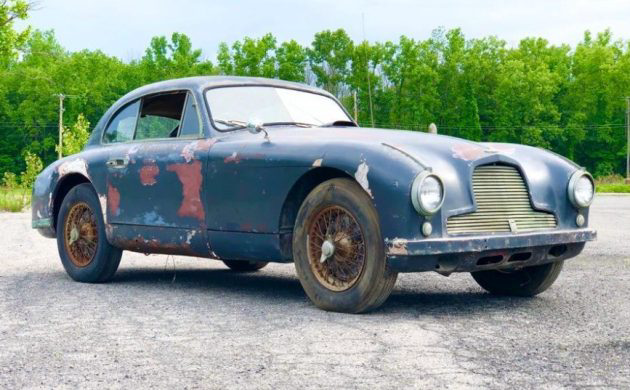 Gullwing Motor Cars is becoming the go-to place lately for "interesting" finds of European origin! This is the third review that I have covered for a GMC marketed automobile and, as usual, there will be much to consider. In this case, we are looking at a 1952 Aston Martin DB2, located in Astoria, New York, and available here on Gullwing Motor Cars website for $129,500.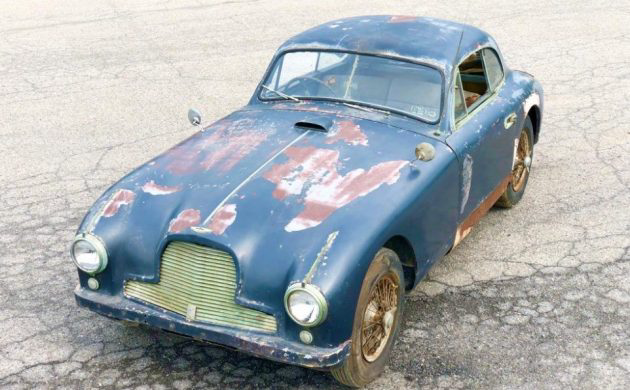 When one hears the name, Aston Martin, visions of a silver, ejector seat equipped DB5 are frequently conjured. That 1964 movie star example has a tendency to suck all of the air out of the AM room. But Aston Martin was a lot more before the movie prop car came along and has been so much more so since then. And in the AM evolution to supercar status, the DB2 occupied an important place. In production for four years, between 1950 and 1953, the DB2 was offered as a two-door coupe and a "drophead" coupe. They are rare indeed with only about 400 produced, 100 or so being the drophead variety.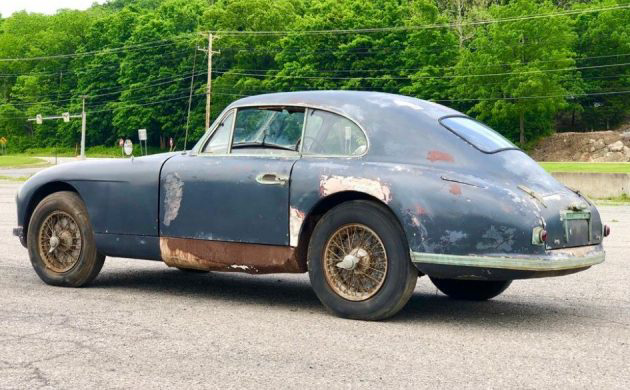 This original condition, aluminum-bodied, DB2 still has its build sheet and is recently out of long-term storage. The body is a bit rough, showing evidence of what looks like Bondo in places, though the body panels appear to be mostly straight. While the body may be aluminum, the rocker panels would seem to be made of steel, there is quite a bit of surface rust showing below the doors with rust-through on the left side panel. Of concern, is the missing trim, pieces like the bumpers and grille surround, it doesn't sound like they are available with the sale.  There is no mention regarding underside integrity but based on the topside appearance, it would warrant a full inspection.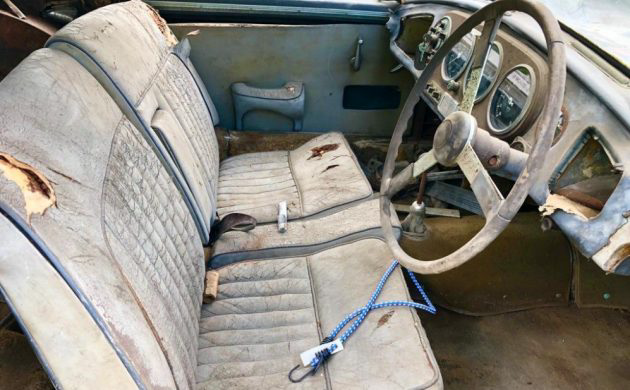 The seller makes note of the original leather upholstery and for originality's sake, I guess it matters. For functional purpose, however, it's irrelevant. It's pretty well trashed and will require complete replacement. Also of concern is the step-up sill, next to the footwell, the driver's side one looks shakey. While the instrument panel, dash and steering wheel have seen far better days, the gauges are still in place and appear to be clear. The interior, overall, has a very directly exposed to the elements look about it. What do you think that the blue bungee cord is for?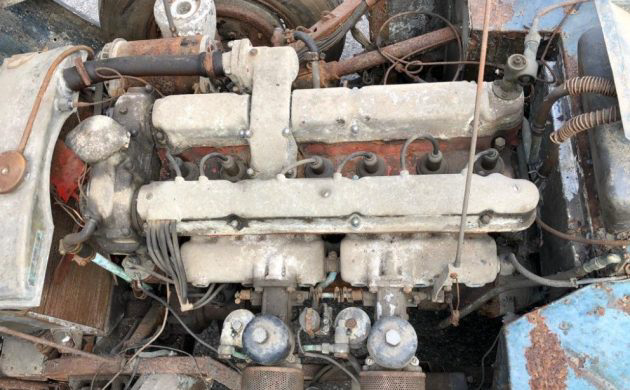 The original engine for the DB2 was a "Lagonda" 2.6 liter, DOHC, in-line, six-cylinder engine, good for 105 HP. There was a 125 HP "Vantage" upgrade which is what the seller claims is under this DB2's bonnet. Though stated as a Vantage variety motor, the seller has not been able to verify the engine's stamping to validate its provenance. Whatever the case, the engine is non-running and bears a similar weather-exposed look about it as does the interior. Transmission duty is handled by a four-speed manual unit. Apparently DB2 gear shifters were available located on either the floor or the steering column, with this example opting for the floor location.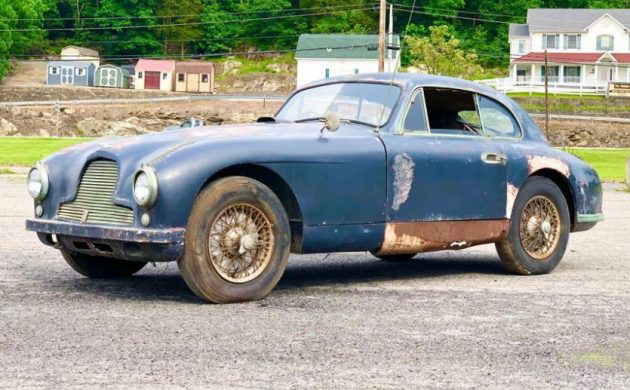 The seller suggests that this DB2 is an excellent restoration candidate, perhaps because of its completeness. But it is going to need everything from stem to stern; and I mean everything including all cosmetics/bodywork, mechanical, electrical and interior. At this price point, it will be all about the money. Worth it? Well, I came across a fully restored example that recently sold at auction for $162K, so in the case of that one example, I'd say no. Especially considering it will take $129K just to get your foot in the door with this DB2. I also uncovered another, fully restored, '52 DB2 that sold a few years back for $165K. The big values appear to be with the drophead versions, due obviously, to their rarity and drop-top functionality. What would be really interesting to know, is what price will actually move this British rarity, don't you think?