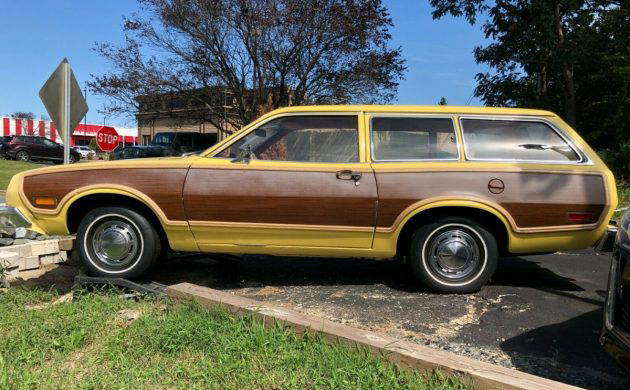 The Ford Pinto is a car that should never have existed. That wasn't because it was a bad vehicle. The fact was that there were many members of Ford's Board of Management at the time who were vehemently opposed to the concept that Lee Iacocca was promoting. Amongst the most vocal of these opponents was Henry Ford II, who couldn't see any market benefit that the Pinto could provide. However, the car eventually went into production, and today, they have become something of a niche classic. This 1977 Pinto Squire is a tidy one-owner example, and taking it to the next level should be a straightforward proposition. It is located in Stafford, Virginia, and has been listed for sale here on eBay. Bidding currently sits at $5,000, but the reserve isn't met.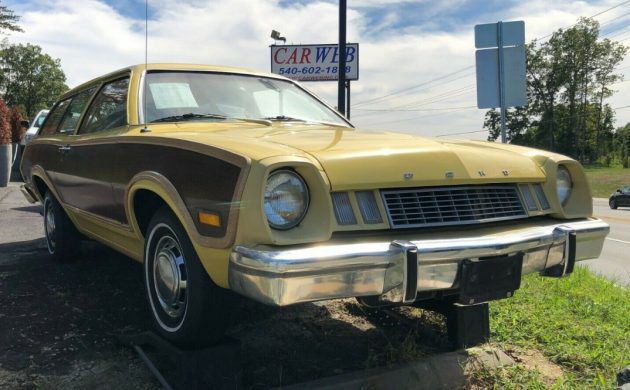 Lee Iacocca was a man who came from a sales background, and "selling" the Pinto concept to Ford was probably one of his greatest achievements. It is interesting to read the story of this model's development, because Henry II, in particular, could see no tangible benefit in compact or sub-compact vehicles. However, the Board eventually granted the go-ahead, and the Pinto went to the market after a whirlwind 25-month development program. This stood as a record at the time for the fastest model development in automotive history. This might not seem that spectacular today, but it needs to be remembered that this took place in the days before CAD/CAM technology. Every prototype component had to be hand-drawn by designers and produced by skilled craftspeople. It left the way open for mistakes and problems to find their way into the design, but all things considered, the Pinto was a remarkable achievement. This Bright Yellow Squire is a solid example that needs some cosmetic attention. It does have a few areas of surface corrosion, but there is no penetrating rust. Its cause has been aided by the fact that its sole owner has kept it garaged for its entire life. The original paint is generally quite reasonable for a survivor, and I think that it might respond positively to some polish. There are a few small dings and dents on the panels. These could be the most likely cause of heartache for the buyer. Several of these are under the woodgrain, and repairing them will almost certainly damage the finish. However, the woodgrain is looking faded and tired, and replacing the lot would be a wise move. With that thought in mind, that would also provide the opportunity to treat the exterior to a repaint. This would ensure that the Squire presented perfectly once the restoration work was complete. Otherwise, the chrome and trim appear to be in good order, and I can't spot any problems with the glass.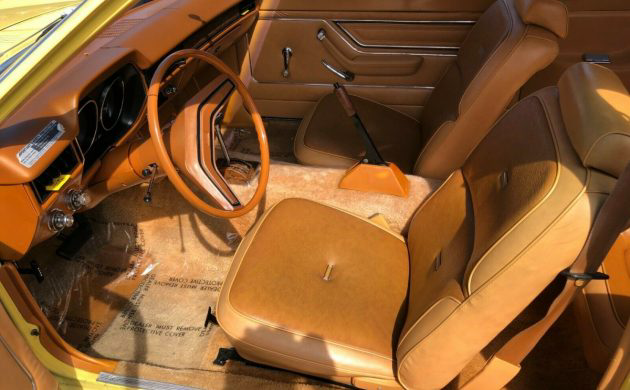 The interior of the Pinto is a pleasant surprise because there isn't a lot wrong there. I believe that the dash pad might be cracked, but if it is, then it isn't severe. The buyer might simply choose to throw a cover over it. Getting it repaired would not be that expensive. An adventurous owner might decide to tackle the job themselves with a product like Polyvance. The process is a bit fiddly, but the results have to potential to be quite good. The upholstered surfaces present well, and the carpet appears to be in respectable condition. One big plus point with this Squire is that it features air conditioning. This is said to blow cold. The only other real nod to luxury is an AM radio.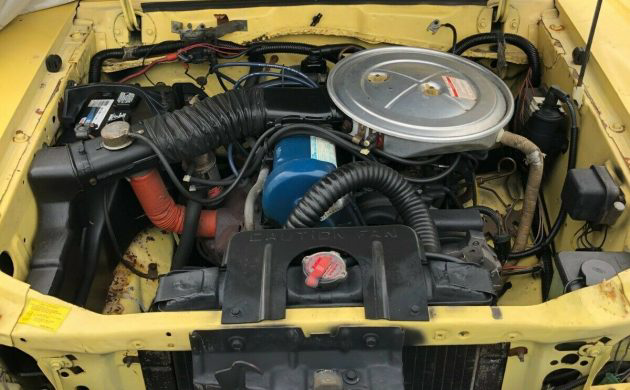 The Pinto isn't going to cause anyone at the local drag strip sleepless nights. Under the hood, we find the 2.3-liter 4-cylinder engine, which is backed by an automatic transmission. With a ¼ mile ET of 19.2 seconds, this is not a fast car. However, the small physical size and automatic transmission would make this a brilliant little commuter vehicle. This would be especially true in heavy traffic conditions. The good news here is that the Squire is original and unmodified. The owner has replaced the battery and the fuel pump, but everything else is as it left the factory. He claims an odometer reading of 28,000 genuine miles but doesn't indicate whether he has evidence to support this claim. What he does say is that the Pinto runs and drives perfectly. It seems that this is a classic that is ready and raring to go.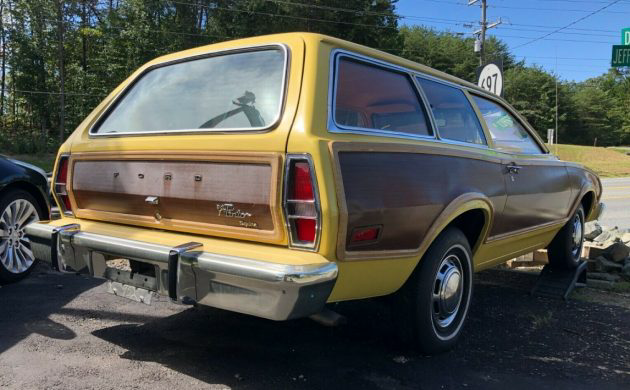 Over the years, the Pinto has gotten a bad rap. The reality was that they weren't a bad car, especially when compared to their local competition. However, foreign technology and development overtook these little cars, and they steadily lost ground on those foreign offerings with each passing year. Henry Ford II couldn't see any value in these cars, but they sold in incredible numbers. More than 225,000 sold in 1977 alone, and over three million found homes during the Pinto's production run. They were a cheap car and were treated as a disposable item. Owners drove many of them into the ground and then drove them to the nearest junkyard. Finding good examples today is still possible, and this Squire doesn't seem to be a bad one. There is no reason why it couldn't be driven and enjoyed as-is. However, it could also represent a great DIY restoration project for the right person. Bidding has been subdued to this point, but I hope that someone does return it to its former glory. It might not be the most desirable wagon on the planet, but if it has survived for this long, it does deserve to be preserved.