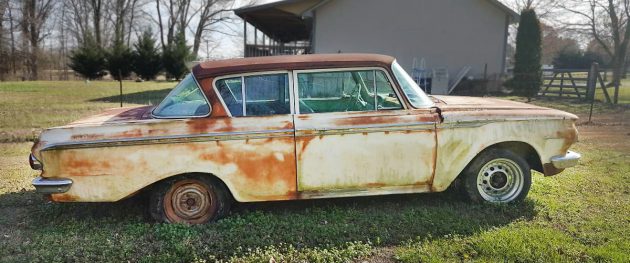 This rare 1962 Rambler Classic Custom two-door sedan was only offered in 1962 and they're rare. If a person were looking for a decent one to restore this may be it. It's on Craigslist with an asking price of $1,200 or best offer, a heck of a price. This one is located about 20 miles south of Huntsville, Alabama. Thanks to Howard A. for sending in this rare find!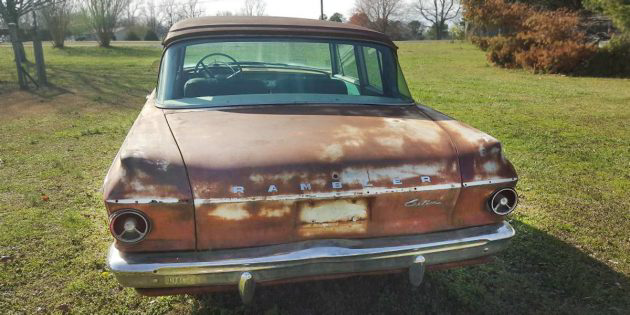 For 1962, Rambler changed up the model designations a bit, dropping the "Super" and replacing it with the 400. The Deluxe and Custom models were still the same. This is the top-of-the-line Custom and it's an uber-rare two-door sedan. Here's a short YouTube video of an old promo film showing a two-door in action; beautiful. In 1962, Ramblers offered a dual master cylinder as standard equipment for the braking system. That was a major safety innovation, which at that time was only offered on Cadillac and Rolls-Royce as standard equipment.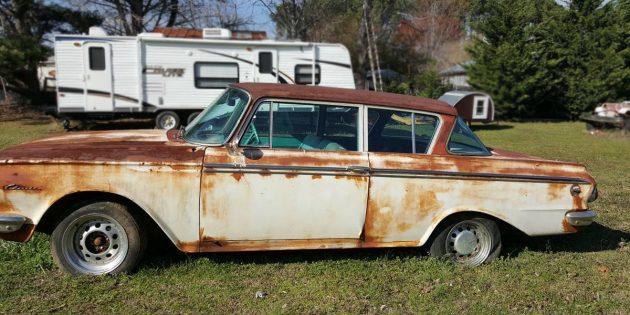 You can see that you'll have your work cut out for you on the restoration of this car. The "patina" (i.e., rust) on the roof, hood, and trunk lid look like it's on the verge of being thin metal instead of tv-reality-show-like light patina. There are no interior photos or engine photos (ugh), but you can see a sweet aqua/teal-colored interior in these photos. The seats may recline as well, but I'm assuming that the interior will need as much restoration as the rest of the car will. Ramblers like this Classic had unibody construction which gave them a solid, mostly-rattle-and-squeak-free ride.
This car also has the 195.6 cubic-inch inline-six with around 127 hp. It also has an automatic transmission, which would have been a Borg Warner "Flash-O-Matic" three-speed automatic with a push-button selector on the dash, just to the left side of the steering wheel. I recently looked at a 1960 Rambler Super sedan with a three-speed manual and it was an absolutely horrible driving experience, but something wasn't right with the clutch and the column shift linkage. A push-button automatic would have made for a much easier and better cruising experience, even though I usually prefer to shift for myself. This two-door Classic would make a heck of a project for someone. These two-door sedans are very rare and if it can be purchased for a good price and the next owner does a lot of the work him/herself, this would be a great car. Have any of you owned a two-door Rambler Would you bring this one back to original specs or step it up a bit, power-wise?