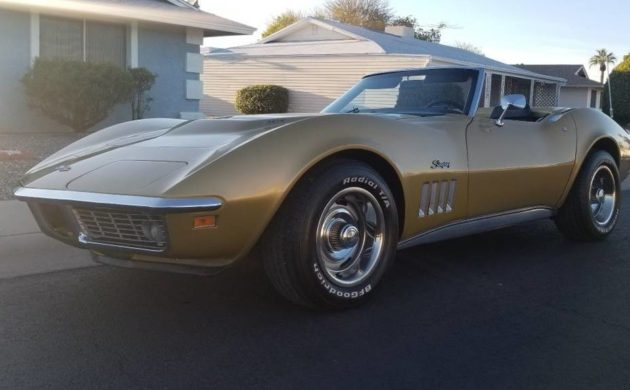 It was 1969, and Neil Armstrong took that "one small step for man," changing our world forever. He achieved this by riding atop a Saturn V rocket, the most powerful machine that had been created by humans up to that point. This 1969 Corvette Convertible might not have quite the power of a Saturn V, but it is still an impressive piece of equipment nonetheless. It is an original survivor and is now looking for a new home. Located in Sun City, Arizona, you will find it listed for sale here on Craigslist. The owner is asking $39,500 for this muscular classic.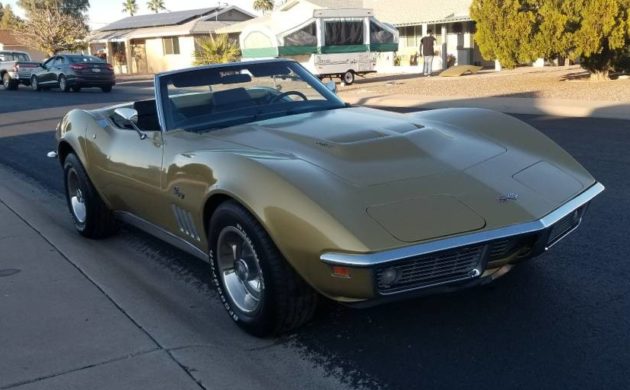 Finished in Riverside Gold, this Corvette is a pretty striking car. To me, it is hard to go past the look of the chrome-bumper C3 Corvette. They look tough and purposeful, and it is easy to see why they are a firm favorite amongst purists. The owner says that the car is rust-free, and if it has spent the majority of its life in Arizona, that will undoubtedly have helped its cause. It isn't clear whether the paint is original, but man, does it look good! It has a great depth of shine to it, and it's pretty hard to spot any significant flaws or defects. The body looks good, with no signs of any spider-webbing, while the glass, trim, chrome, and the wheels, all look to be in first-class condition. As an added bonus, not only does the Corvette come with a good soft-top, but a factory hardtop finished in the same Riverside Gold is also included.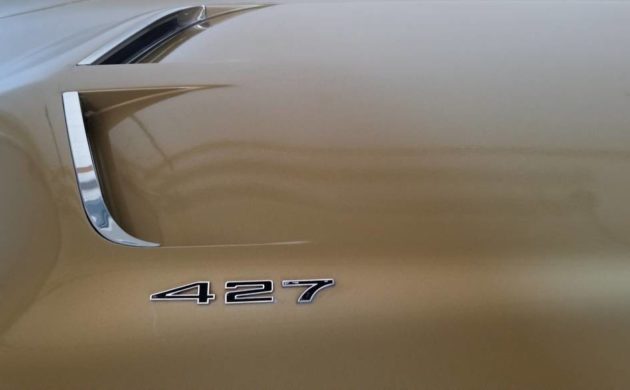 Given the fact that the engine is one of this Corvette's strongest selling points, I find it incredible that the owner has not supplied one photo of it. Still, what we know is that it is the L36 version of the mighty 427ci big-block, pumping out 390hp. Backing this engine is a 3-speed Turbo Hydramatic transmission, while power steering and power 4-wheel disc brakes are all part of the package. This is a combination that provided serious performance when new, with the ¼ mile being blitzed in a mere 14 seconds. The owner states that the Corvette has a genuine 64,000 original miles on the clock, but doesn't reveal whether he holds any evidence to verify this. What he does say is that the 'Vette recently received new brake discs and calipers, along with new tires, and an MSD ignition. In his own words, the car runs great!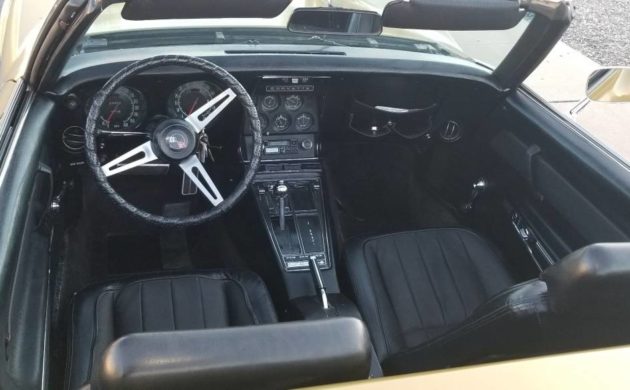 One thing that I will say about the original owner of this Corvette is that he certainly chose a pretty good color combination. Riverside Gold paint with a Black interior is never going to miss the mark, and this interior looks very nice. It's pretty hard to find anything much to be critical of, beyond some creasing of the upholstery on the driver's seat. There could also potentially be some edge wear on the outer edge of the carpet on the driver's side, but that really is about it. I did notice that someone has replaced the original radio with a radio/cassette player, so if the next owner wants the vehicle to be 100% original, then a replacement will need to be found. One other thing that I will say about the original owner is that I think that his main focus was on going fast. The only luxury item inside the Corvette is a tilt/telescopic wheel.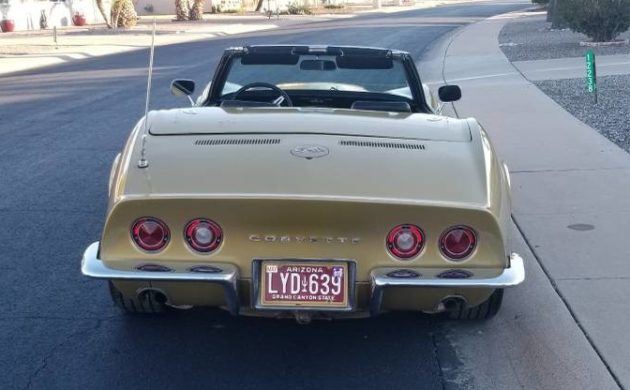 I would really like to perform a personal inspection on this Corvette Convertible, because in my mind, if it really is as good as the photos and description indicate, then it would seem to be a pretty decent sort of buy. Look at the boxes it ticks; Low-mileage, big-block, numbers-matching, rust-free, and original. That is a great combination, and it is these attributes that lead me to believe that the Corvette will sell very quickly.