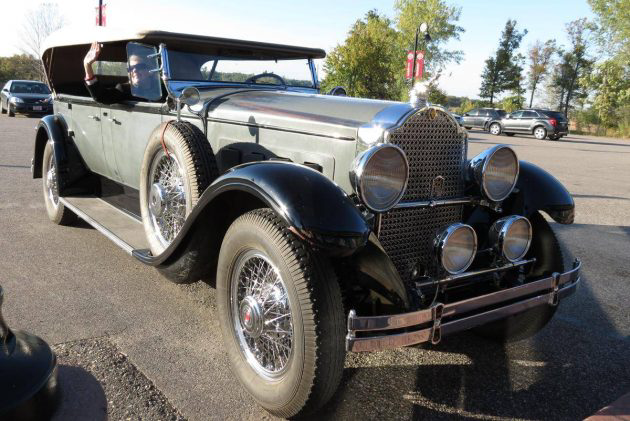 Consummately elegant and purposeful, this Deitrich-bodied 1929 Packard 645 Deluxe Eight Roadster rides on the same 145 inch wheelbase as a 2016 Ford F-150 SuperCab XL, the longest wheelbase of any American car in 1929. This seven passenger touring car awaits a new owner in Saint Joseph, Minnesota, with a listing here on Hemmings.com and an asking price of $245,000.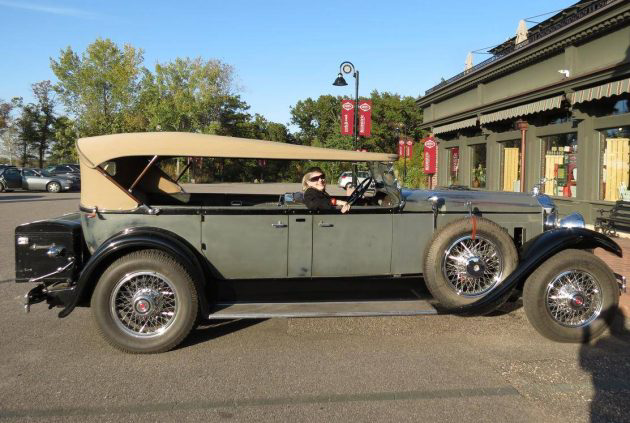 This side-view accentuates the generous wheelbase, which not only accommodates a long body with more passenger space but also smooths out pitching motion on rough roads. Perhaps we should admire the seller's audacity in composing a listing with an asking price nearing one-quarter of a million dollars that includes only three pictures that could have been taken during a chance encounter in a parking lot. Some sellers believe the listing is merely a conversation-starter triggering serious buyers to call and ask the appropriate questions. Personally I favor the approach of the auction houses:  create a portfolio for each vehicle corresponding in richness of the asking price.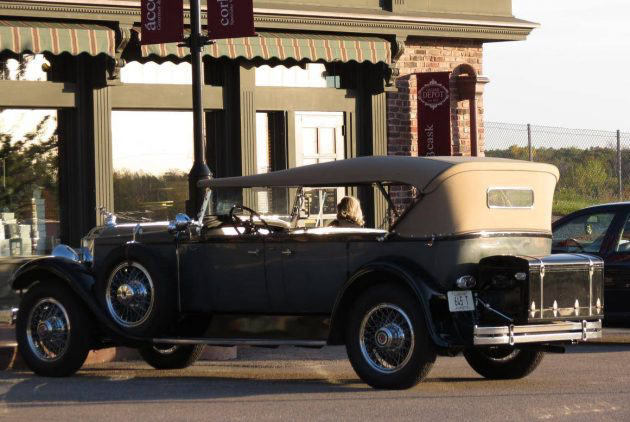 This rear-quarter view answers the question of why Americans refer to the luggage compartment as a trunk. This car is said to be wearing its original 88 year-old paint and leather interior. The two-tone color scheme with black fenders and black tires lends this Packard a more sporty look. This similar car, also listed on Hemmings, imparts a more formal presence with its bold single color and wide white-walls. Deitrich and other coach builders represented the epitome of luxury automobiles, building bodies for the wealthy elite much as some exotic car builders do today.
Packard rode atop the luxury car world in 1929, with all '29s powered by finely engineered and crafted straight-eight engines. An idling Packard eight runs so smoothly that you can stand a nickel on edge on the cylinder head and it will not tip. This car's 385 cid eight produced 105 HP and a buttery 350 lb-ft of torque (some details courtesy of this excellent page on ChicagoVintage.com). Close your eyes and imagine yourself gripping the giant steering wheel and releasing the clutch on this vehicular jewel… top down, blue sky, the sound of tires on gravel then tarmac, nearly silent in motion save for some wind and gear noise… Pure bliss. What is your daydream for this long-bodied beauty?