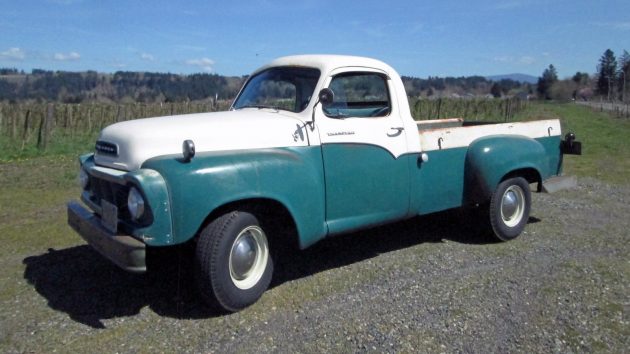 The pride of South Bend, this 1957 Studebaker Transtar 1/2-ton pickup, is an original time machine. It spent the first half of its life in southern California and the next half in Portland, Oregon, where it still resides. It's listed on eBay with an unmet opening bid of $7,995.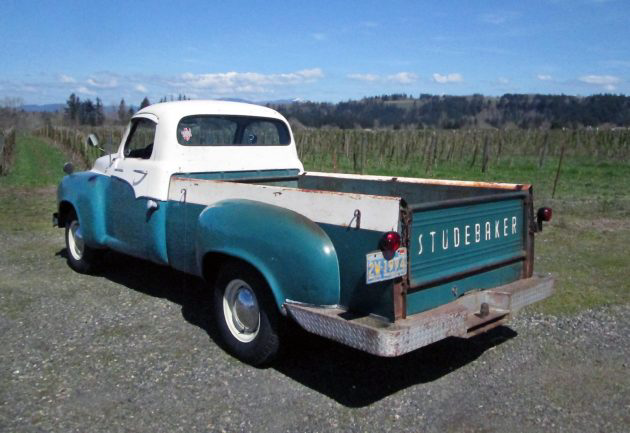 That's one long box, it probably was helpful to have such a truck in the wine country around Portland. Mmmm.. wine.. sorry, I got distracted for a second there. The 1957 Studebaker Transtar was basically the same truck as the one that had debuted in 1949 with very few changes. The 1957 models had a new fiberglass grille that was meant to modernize them a bit, whether it worked or not is debatable.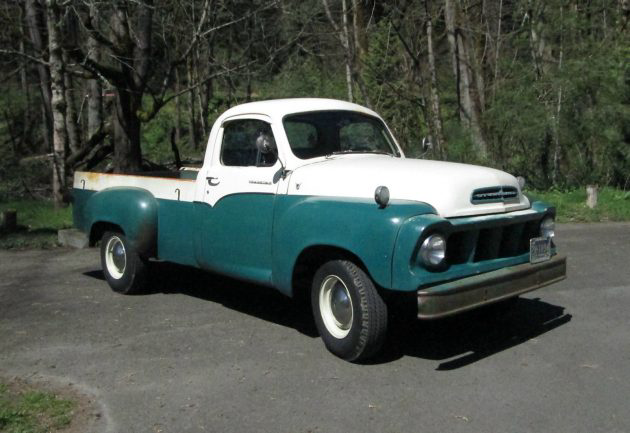 They're only original once, and this truck appears to be as original as they get, at least as far as having never been restored or painted or having the interior reupholstered, etc. Hagerty lists a #4 "fair" value of $9,000 on a truck with this configuration (V8!), so this has the potential to be a fairly good bargain, depending on the shipping costs if the next owner isn't in the Portland, Oregon area. Those lights on the fenders are a nice touch, I wonder if Toyota took that cue for its HiLux pickups?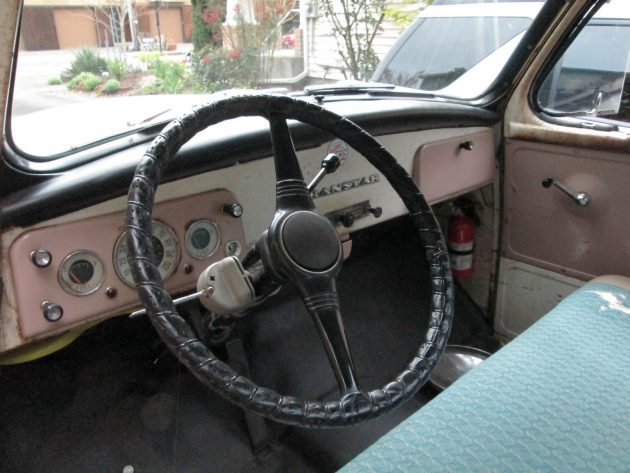 You have to love a tough truck with a light blue and pink interior! Things look pretty original here, other than maybe the steering wheel cover, and the set of gauges under the dash. The seller lists a vast amount of work that has been done, largely with NOS parts: "Door and windshield glass, fuel tank liner, radiator re-core, reach and tie rods, ignition switch, seat belts, motor mounts, OD kick down switch, relay and governor; all 4 wheel cylinders, brake hoses and custom steel tubing, brake master cylinder, front springs, fuel sending unit, seals for windows, vents and doors; door latch rebuilt, steering box, all belts and hoses, left and right manifold, water pump, heat riser, tailpipe and muffler, fuel pump, floor mat and pedal covers, king pins, heater valve, headlight switch, windshield wiper switch, spring shackles, clutch and pressure plate, 5 new old-style nylon tires, NOS stainless steel "lazy S" hubcaps…. and many little details.  Basically, everything to make it a safe, dependable daily runner (close to $6000 in parts alone)."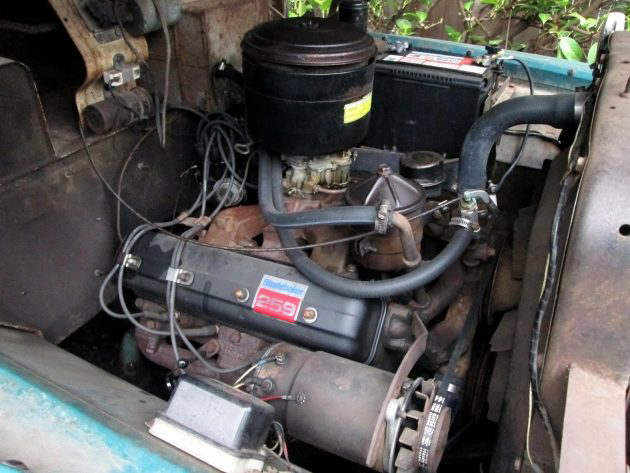 This is the engine that most people would want in this truck, Studebaker's 259 cubic-inch V8 with 170 hp. This truck has the "Twin-Traction (positive traction) rear end, the Heavy Duty T85C-1A transmission." This really looks like a great truck, especially for those who like to see unrestored vehicles, ones that have been maintained but still wear their original finish. Would any of you restore the body and interior on this truck, or is this one that should be kept as original as possible?