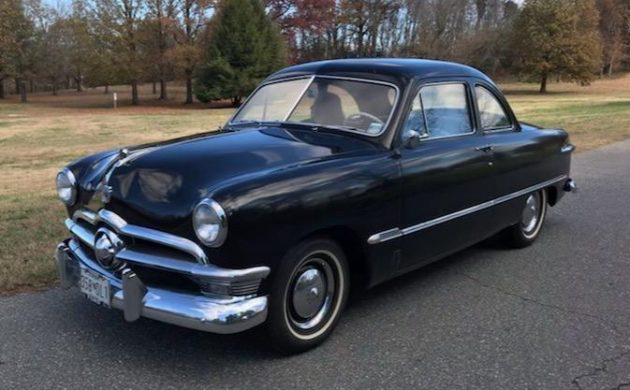 This 1950 Ford Deluxe Business Coupe is said to wear both its original paint and original interior trim. It has been owned by the same elderly gentleman for more than 40-years, and he has decided that now is the time to part with his beloved Ford, along with a substantial stash of parts (many new) that he has accumulated. The Ford is located in Severna Park, Maryland, and is listed for sale here on eBay in a No Reserve auction.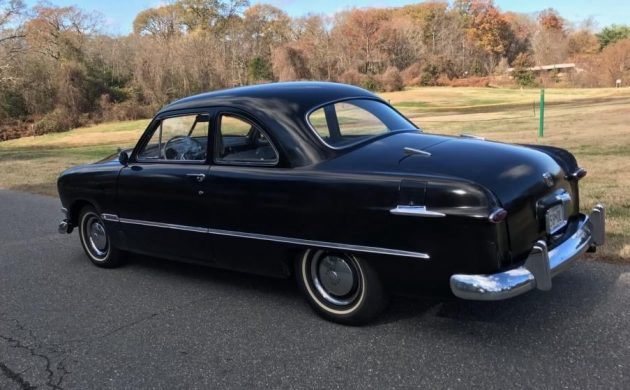 If the owner's claim that the Ford's body and paint are all original is true, then that's pretty impressive. I can only hope that I look this good when I'm 69-years-old, but I don't hold out much hope of that. There are a few minor dings and marks on the car, but it generally just looks clean and rust-free. For the entire time that the car has been in the current owner's possession, it has remained stored out of the weather, and this shows in the overall condition of the car. If I bought this, I wouldn't change a thing. I love the look of it, and the fact that it has some imperfections just adds to the character of the vehicle.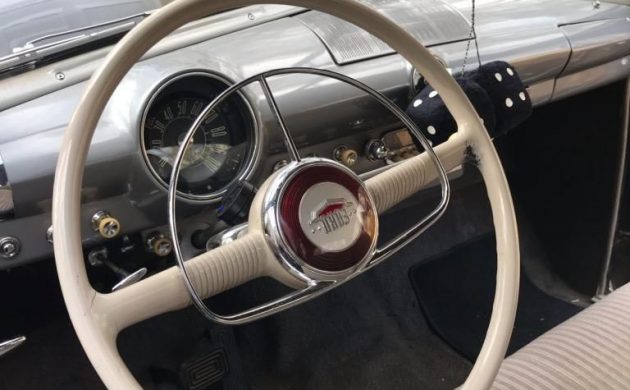 The interior is just as impressive as the exterior of the Ford. The original plastic was only removed from the seats a few years ago, and what you see is the original upholstery. There is a mark in the back of the driver's seat, but the upholstery in both the front and rear seats, as well as that on the door trims, looks close to perfect.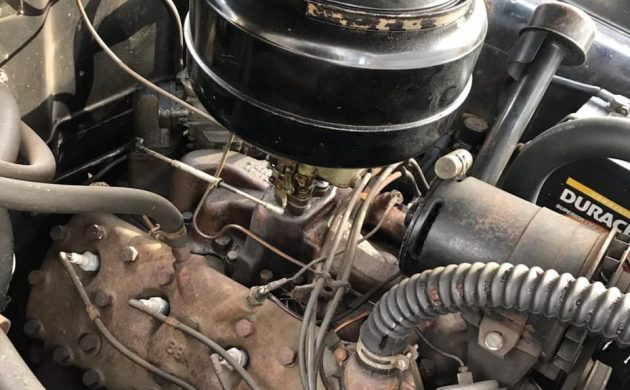 The original 239ci flat-head V8 engine and manual transmission still hold pride of place under the hood. The owner says that the car starts, runs, drives, and stops perfectly and that it cruises effortlessly on the open road. The engine doesn't look perfect, but it looks exactly how an engine in a car of this age should look. The only thing that I might want to change is the battery. I think that it would look a lot better under the hood if a battery with a more period appropriate appearance could be sourced. The car also comes with a substantial stash of parts, many of these are NOS parts that are still in their original packaging. You can get an idea of what's included in the photo below.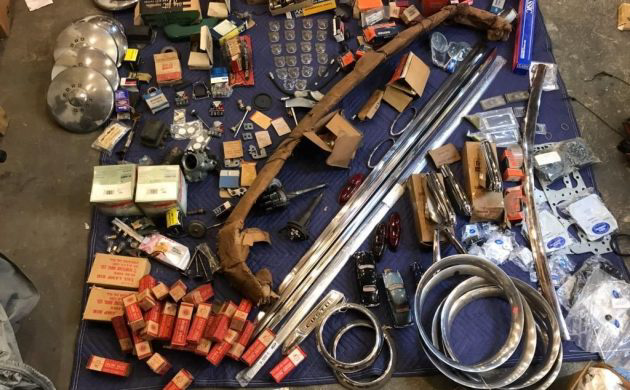 The Ford has certainly generated some interest since it was listed for sale. After opening at $100, bidding has now reached $10,600. Finding original survivors like this Ford is like finding a little hidden gem. It is an original car that is completely unmolested. It would be easy to take this car and restore it to its original glory, and that is what the new owner may choose to do. Personally, I'd leave it exactly how it is, and just drive it and enjoy the experience.