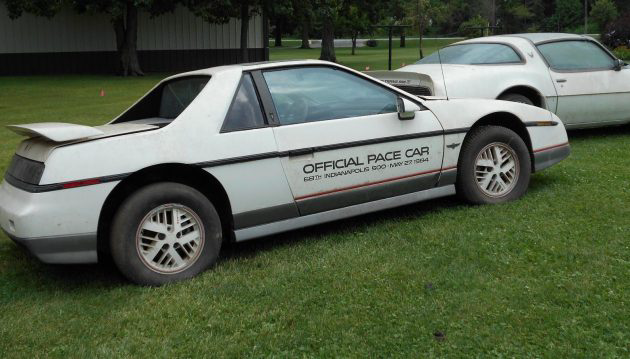 Given the popularity of Pace Cars among collectors, it's a bit of a surprise we don't see these limited-edition models offered in pairs more often. The seller of a 1984 Pontiac Fiero Pace Car and 1980 Firebird Pace Car doesn't seem to be the original owner but rather the individual who stumbled on this dealer-special duo after their long-time slumber. Find the pair here on eBay where there's an opening bid of $5K and a reserve price to clear.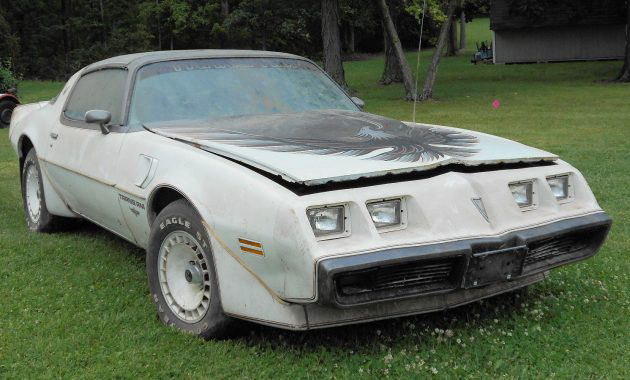 5,700 Firebird Pace Cars were built, and were powered by a turbocharged version of Pontiac's 301 V8. Though not embraced by enthusiasts, the turbocharged mill did achieve the improved efficiency Pontiac was looking for while delivering stump-pulling levels of torque – nearly 400 lb.-ft. of it. This example appears cosmetically tired but isn't a basketcase – the paint is tired and dusty – but it doesn't seem to be ready to burst into a pile of rust fragments. The color-coded  "turbofan"-style wheels are such a great look for this car, along with the trademark thunderchicken on the hood.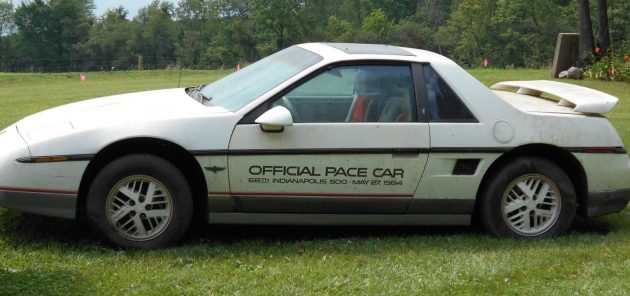 The Fiero Pace Car is a bit  more unusual, and a fair amount rarer with just 2,000 being sold. The real travesty with this model was how tantalizing the in-paddock version of the Pace Car was, with a bad-ass induction tunnel snaking out over the roof to feed a lusty Super Duty motor that spit out 232 b.h.p.! To say the showroom version customers could acquire was a disappointment is an understatement. All that said, the Fiero Pace Car listed here seems to be in similar condition to the Firebird, looking merely a washing away from notably improved presentation.

There's just one option missing from the seller's collection, and that's this awesome Sonoma pickup! Though the collection is indeed an interesting one, it would be more complete with this and the similarly-modified GMC Jimmy. The opening bid doesn't seem too high, but the lack of pictures and details on the cars themselves may hold them back. While most Pace Cars are never the money makers the original owners expect them to be, a pair of them at least makes for a more interesting purchase.