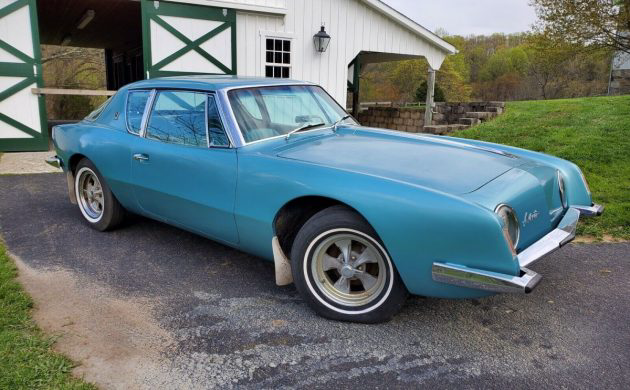 It is a fact that the RMS Titanic sank because by the time the iceberg was spotted, the evasive maneuvers attempted by the crew were too little, too late. The same is true of Studebaker as a manufacturer. The company wasn't facing a wall of ice, but it was facing a wall of financial trouble. The Avanti was introduced as a halo car to draw in buyers, but just like the "hard a-port" order on the Titanic, it was too little and way too late. This 1964 Avanti had been sitting in storage for 48-years before the seller dragged it out into the light of day. It is now being sold to settle an estate. Located in Glen Rock, Pennsylvania, you will find the Studebaker listed for sale here on eBay. Bidding has reached $15,400 in what is a No Reserve auction.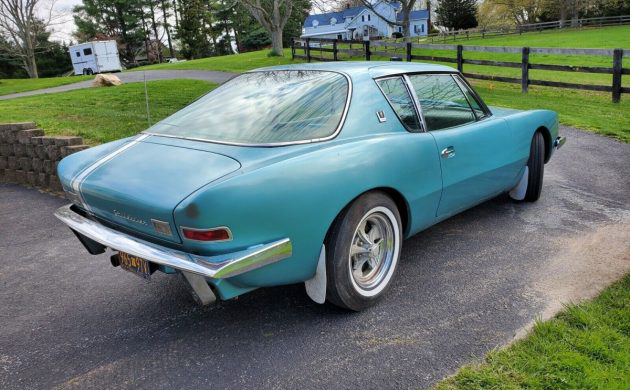 The owner is listing the Avati as a 1964 model, but tracing the car's Serial Number indicates that it was actually built in May of 1963. This variation is not unusual because the Avanti wasn't selling up a storm at the time, so there were sometimes significant delays between the production and sale of each car.  This Studebaker is finished in a shade called Avanti Turquoise, which was one of five colors available in the Avanti palette of 1963. The seller believes that the paint is original, with no concrete evidence of any prior repaint work. It now shows its age, but it is still presentable if the buyer wants to keep the car as an original survivor. I'm not sure that the stripe is original, but I wouldn't rule it out. Studebaker was in dire financial straits by the time this car was delivered, and they would do almost anything to personalize a car if it led to a sale. With panels of fiberglass, external rust is never going to be an issue. However, potential buyers would need to check areas like the hog troughs to ensure that this classic has no structural rust issues. Replacement troughs are available and relatively affordable, but it is something that most buyers will want to avoid. The external chrome is in excellent order, and I think that the original 15″ alloy wheels would respond positively to some hard work with a high-quality polish. The original owner ordered the car with tinted side glass and a band-tinted windshield. This cost him a staggering $28.50 for the lot, which has to rate as the bargain of the decade. All of this original glass is present, and it appears to be in excellent condition.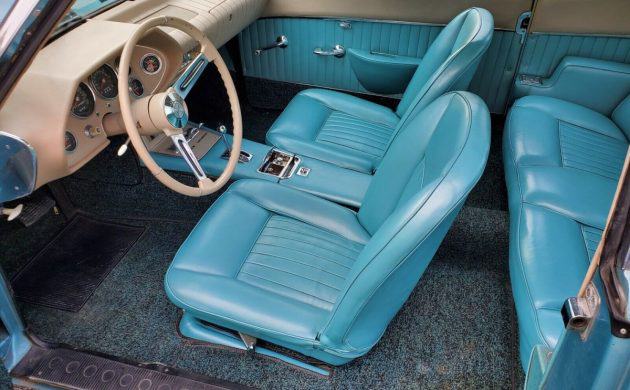 When you open the door to take a look inside the Avanti, what you are confronted with is an interior that is in startlingly good condition. The odometer shows a reading of 37,000 miles, and given how long the car was in storage, there is every chance that those miles are genuine. The seller states that the interior trim and carpet are original, and they would be consistent with a car with such a low odometer reading. The upholstered surfaces are finished in a combination of Turquoise and Fawn vinyl, and it is hard to find anything to criticize. There is no evidence of wear and no signs of problems like splits, seam separation, or collapsing seat foam. Studebaker equipped the Avanti with interesting carpet because while its base color was designed to complement the interior trim, it always featured Black thread interwoven with the base color. That is the case with this car, and while the carpet has no appreciable wear, it is dirty. However, I feel that a professional may be able to restore it to its original splendor. The dash and console appear to be flawless, while there is no wear on the wheel. The original owner didn't splash the cash on air conditioning, but they did choose a Motorola AM/FM radio and rear speaker.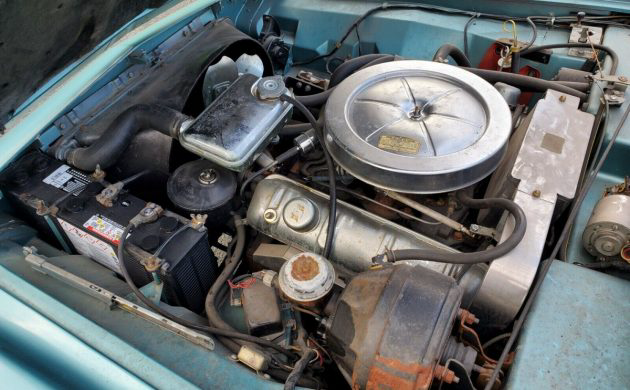 Powering the Avanti is a 289ci V8 engine that should be producing 240hp. The original owner ordered the car with a 3-speed automatic transmission, a Twin Traction rear end, and power steering. While Studebaker had one eye on luxury with the Avanti, the other was firmly focused on vehicle performance. While many people remember the Avanti's performance when fitted with the supercharged R2 engine option, the normally-aspirated cars were no slugs. This car should be capable of covering the ¼-mile in 16.1 seconds, and if given enough room, it should run out of breath at 135mph. Those figures might not seem that starling now, but they made you "king of the kids" in 1964. After sitting for nearly five decades, the seller had to perform a few tasks to return the Avanti to a running state. The fuel tank has been drained and flushed, and the carburetor was rebuilt. After a bit of further tinkering, this Studebaker now runs and drives. The seller has driven the car around his neighborhood, but he does advise that the buyer should have the vehicle thoroughly inspected before tackling any extended journeys. He also says that while the tires have plenty of tread, they are nearly 50-years-old. They are showing some dry rot, and they need to be replaced ASAP.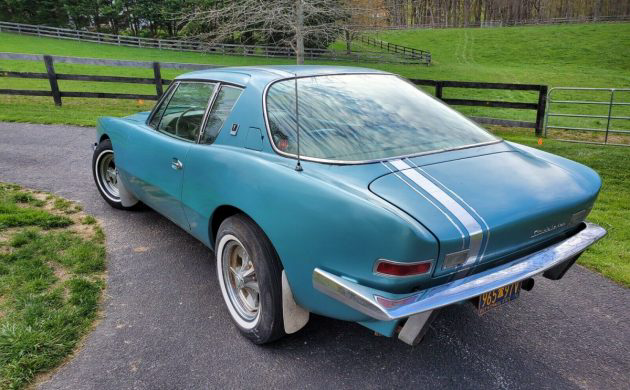 Studebaker was a company that perished for many reasons. It would be easy to focus on its slow and painful demise, but I prefer to focus on the Avanti as a parting shot from the company. Manufacturers can choose to go out with a bang or with a pitiful whimper. I wouldn't say that the company went out with all guns blazing, but the Avanti wasn't a bad parting shot compared with the final models produced by other companies. Today, the Avanti has developed a cult following, and it is not unusual to see cars sell for more than $25,000. If a pristine example can be located, that number can soon jump beyond $40,000. This car isn't pristine, but it shows a lot of promise. Returning it to a fully roadworthy state should not be difficult, and after 48-years in isolation, I'll be happy to see it plying our roads once again.