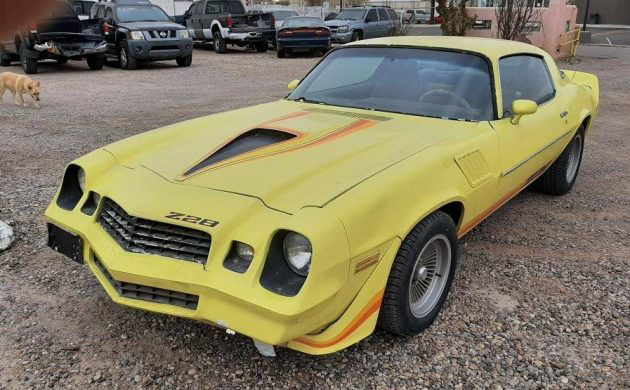 It's hard not to love an original, unmodified Camaro Z28, and hard to believe this one was parked for years and still remains in decent shape. Wearing one of the best color combos there is with yellow paint and orange decals, the Z28 is said to run and drive and just need some TLC to be brought all the way back to life. The bodywork looks fairly sound and all of the requisite Z28 package air dams and vents are accounted for, and it looks super slick sitting on period-correct turbine wheels. This 1979 Chevrolet Camaro Z28 is listed here on craigslist in Belen, New Mexico for $8,900.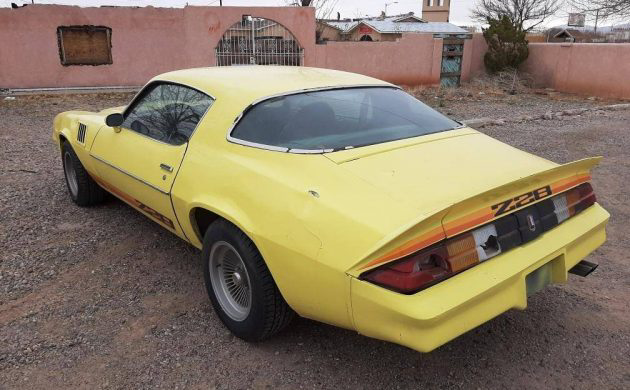 Thanks to Barn Finds reader Pat L. for the find. When you see stories like these, I always yearn for the photos of it sitting in a backyard or someone's garage, the "as-found" pictures. The New Mexico climate has undoubtedly been kind to the sheetmetal of this Camaro if it was indeed left outside for decades, but the interior photos below don't appear to reveal a cockpit that's been parked in full view of the sun for eons. The smashed reverse light lens seems indicative of sloppy garage storage more than anything else, and the fact that those original decals aren't faded into nothingness suggests indoor parking.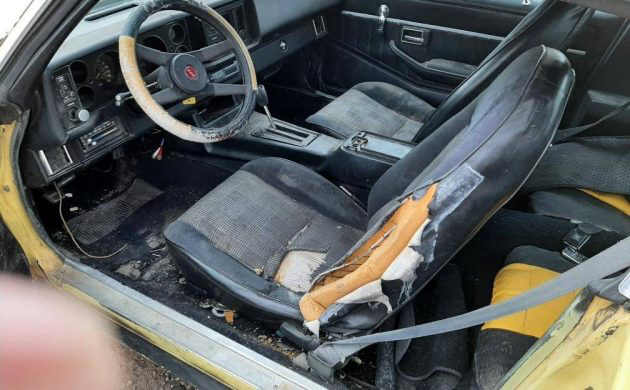 Now, if this Camaro was left outside for years at a time, I think we'd see the dash cracked into oblivion and the seat upholstery peeling right off of both buckets. But this just looks like the kind of wear and tear you see on a car that was entered and exited numerous times over the years, as the passenger side bucket doesn't even have any real damage to speak of. The steering wheel is well worn, so this Camaro was definitely driven, although the odometer won't tell you much since it's rolled over and currently shows 22,000. The carpets don't look bad, and the same goes for the center console and door panels.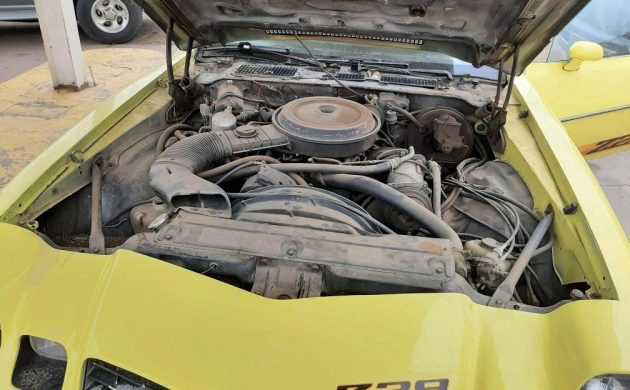 The Camaro has air conditioning, but no word as to whether or not it still blows cold. The 350 is dusty but that seems to be the only obvious issue, as the car currently runs and drives. One would assume it needs the usual assortment of ignition and cooling system components to be fully sorted, but tackling deferred maintenance on a car like this fortunately won't break the bank. The seller says he is letting it go for well under book value, calling it a "sacrifice" to sell it for $8,900. What do you think – is that price a steal, or are there too many questions about future needs to call it well bought at just under $10,000?