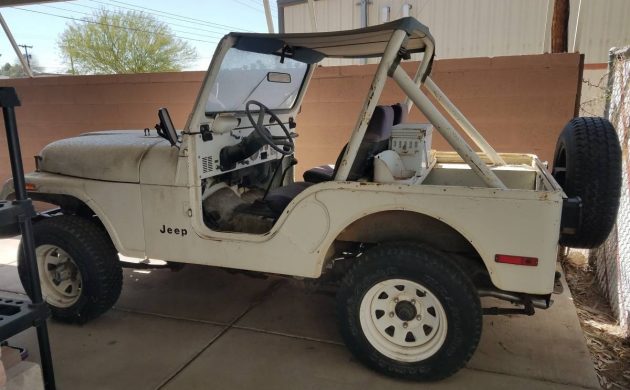 This 1980 Jeep CJ5 looks to be in fine shape, especially for a truck that has been left standing for 10 years. Fortunately, it was parked long-term in Arizona, so its body has remained rust-free and free from any obvious signs of rot. While we can't tell if this Jeep was discovered parked here or transported to its current location, the thick coating of storage dust tells the tale about how long it's been stationary. The seller claims it is one family owned with 44,295 genuine miles on the clock, and it's listed here on craigslist for $10,000 – perhaps a bit surprisingly, it's been listed for almost a month.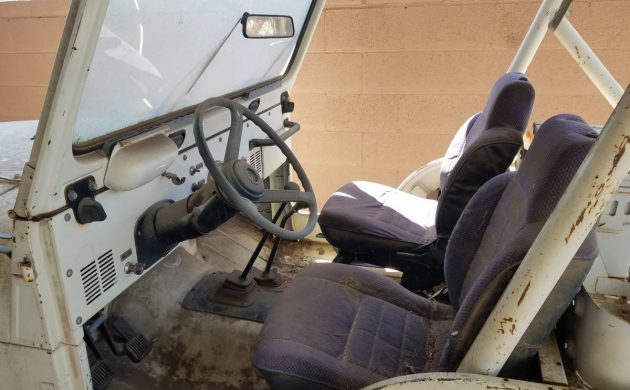 Now, I don't let the length of time a vehicle is for sale dissuade me from checking it out. There's usually some good reasons for it, especially if the seller believes it is worth the asking price. It could be one of the best examples of a particular vehicle, but if the right buyer hasn't come along, the listing may stay up for quite some time. In the case of this Jeep, the seller may have some flexibility on his price, but no buyers have appeared to make a reasonable offer. I will say, though, for the mileage to be as low as it is, it's surprising to see non-factory seats installed, and rather unattractive ones at that.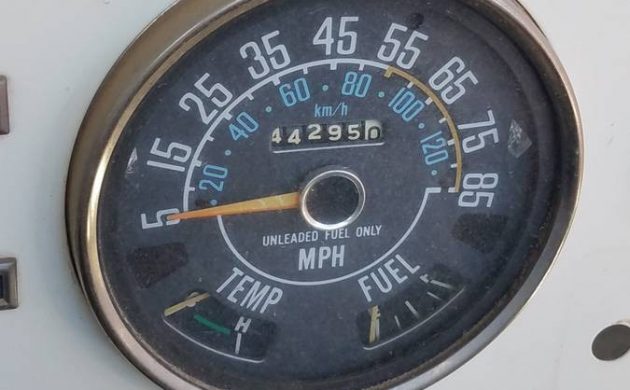 Now. again, I wouldn't let this derail my plans to check it out if I lived in "Rust Free, Arizona" (seller's lingo, not mine), as the longtime family-owned vehicles aren't always saved as a future collectible or auction target. They're just used like any other vehicle, and if that means swapping in some generic bucket seats when the original vinyl surfaces lose their battle against the relentless Arizona sunshine, that's what they'll do. This Jeep may be just a seat swap away from looking absolutely mint. In fact, if I were the seller, I'd try and find some half-decent brown vinyl buckets to throw in so it presents better in photos.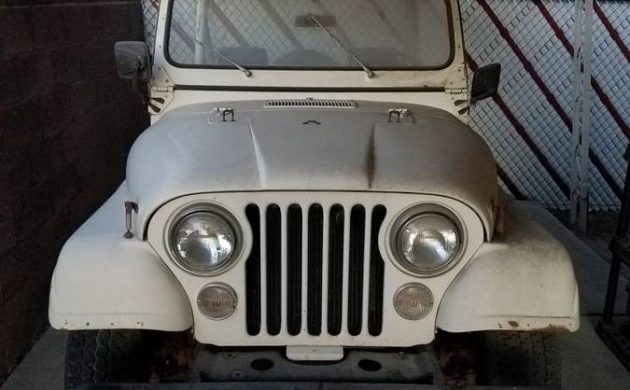 The Jeep's main appeal here is its rust-free condition and bone-stock condition. The seller notes it also is unmodified, meaning no lift kits or brush guards to be found. The CJ5 is equipped with a bikini top, tilt steering wheel, four speed manual transmission, but no mention as to whether the 258 ci six-cylinder mill still fires up or at least spins freely. It probably does, given how hard those engines are to kill, but being parked "for years" is rarely good for any drivetrain. That said, I'm curious what the hold-up is that's prevented this desert-find Jeep from finding a new home – do you see any red flags?