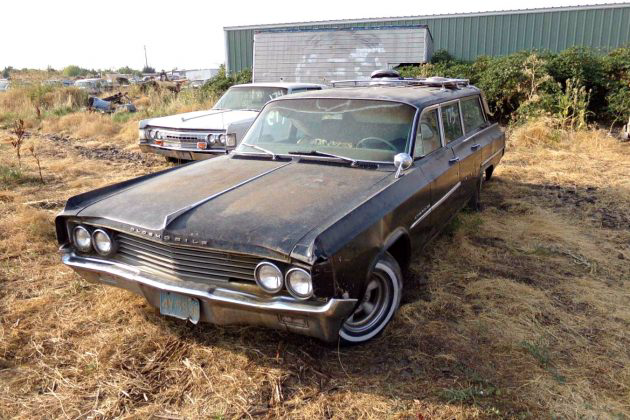 Part of a field find collection that is getting liquidated, this Olds wagon is a bit rough, but it has some highlights and possibilities for sure. The Dynamic 88 wagons are great looking cars, and the single torque thrust like wheel certainly gives a few ideas of what could happen with this wagon project. Offered for $1,200 this wagon project may be just what you are looking for. Take a look at it here on ebay out of Medford, Oregon.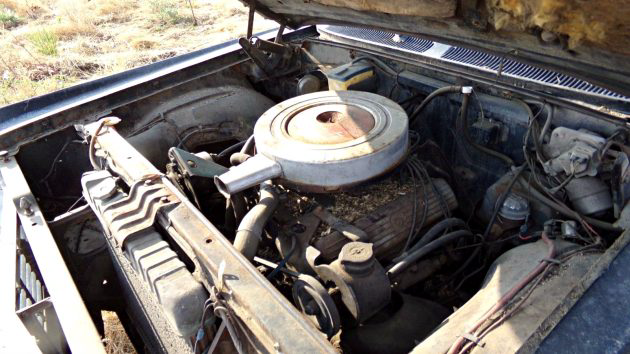 Untouched, and covered with dried leaves, it is clear this Sky Rocket 394 V8 hasn't run in quite a while. Despite the dingy appearance, there is little rust to be seen, and this wagon features power brakes and power steering. There is no word on the condition of the drive-train, but if you were you judge this book by its cover it would seem there is a strong chance that the engine could be locked up.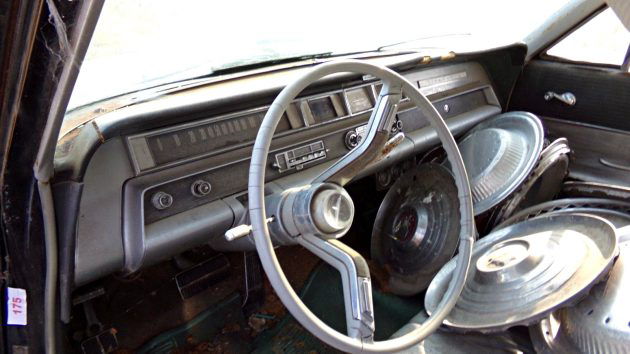 Much like a junkyard after getting hit by a tornado, the interior is a bit crowded with parts. Looking past the chaos, there are some highlights to point out. The dash and steering wheel are in fair shape, but there are a few cracks present on both items. The door panels are in place, but could use some tidying up as well.  The front bench looks to have been a rodent feast, so it will need some work to say the least. Pictures have been taken of the floors and door jambs I guess to indicate a lack of rust? I would have pulled back the floor mats to give better evidence of this, but I suppose that is what the seller is indicating. Also the seller mentions in the ad that this wagon is mostly plagued with surface rust. The wealth of hubcaps(including the Mercury ones) and parts inside do not appear to all be parts for this wagon, or even for Oldsmobiles. So the interior contents are a bonus I suppose?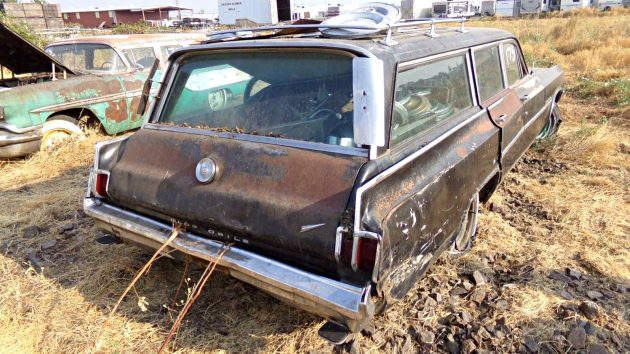 The photos don't paint a real solid picture of how solid this wagon may be, but from the images provided there is no visible rot to be seen. Hard to say what may lurk underneath? For the most part the body seems fair minus being clipped in the passenger rear quarter, and on the driver front corner as well.  Hunting for rust, one thing I will make mention of is that the bottom of the tailgate is solid, where it can often be heavily rotted. A lot of the exterior trim is missing, but I am hoping that it is inside with the bonus parts stash. With no cracks or visible delamination, the glass looks to be in fair shape as well. By no means a cream puff, but this wagon looks to have some potential for a restomod, patina queen, or a restoration if you feel so inclined. Would you save this wagon?