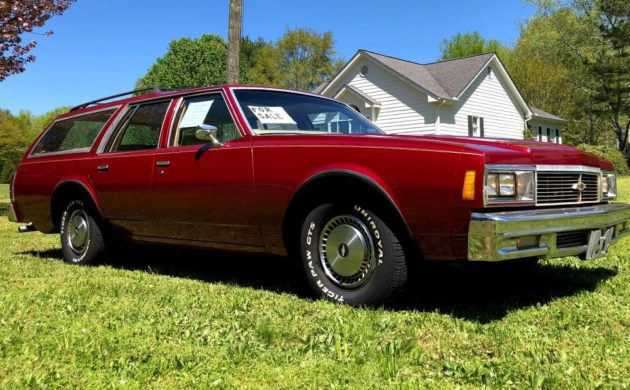 We have had the opportunity to cover quite a few station wagons here on Barn Finds as of late. Some are seriously modified while others are more original and sedate. With that thought in mind, let's take a look at an in-betweeny, a 1979 Chevrolet Impala, located in Winder, Georgia and available here on craigslist for $3,400.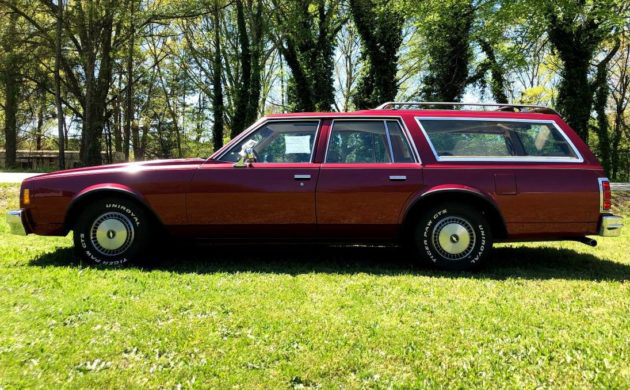 By 1979, GM "B" bodies were in their third year of a substantial downsizing that started in '77. And it was a wise move for station wagons as the '71 restyle turned them into behemoths. I have driven many and know how Captain Smith must have felt about commanding and docking the Titanic (other than the whole iceberg thing). Examples like this down-sized wagon ride on a 116″ wheelbase as opposed to their predecessor's 125″ stretch – a big difference! And in keeping with the times, square was in! The boxier, the better.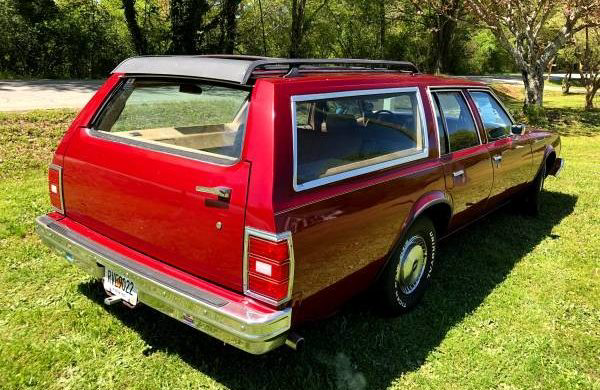 This 80K original mile Chevy is in very clean condition, the deep "Dark Carmine" finish is an attention-getter and is further enhanced by the lack of dents, dings, rust, etc.  No mention if the finish is original but it wouldn't come as a surprise to learn that it is a redo. Further enhancing this Impala's visual appeal is the still strong reflective chrome and trim. Worth noting is the working power sun-roof. On the surface, it looks like an add-on and I cannot find evidence that Chevrolet offered such an option in '79 on station wagons. The '79 sales brochure references coupes and sedans only, not wagons, so it may or may not be original. The white-letter tires with full wheel covers look is interesting, an acquired taste I guess.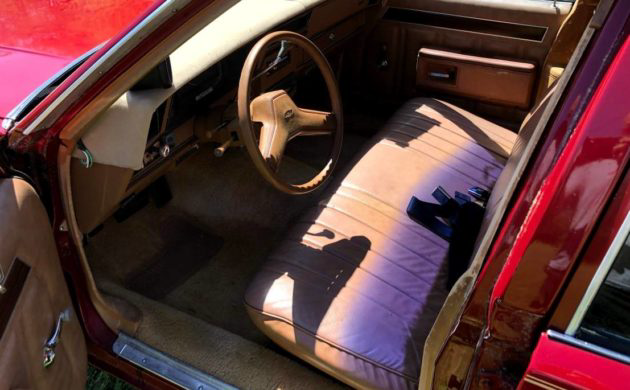 Other than soiled backseat carpet, the interior looks as sound as the exterior, very passable. The seller advises that it needs a little work, in particular, the headliner and dash pad. Also included is a way-back seat (8 or 9 passengers) and some under-dash gauges. The seller states that the cold, working A/C system has been converted to R134 refrigerant so that's a really nice upgrade and pretty well required anymore, at least for a southern car.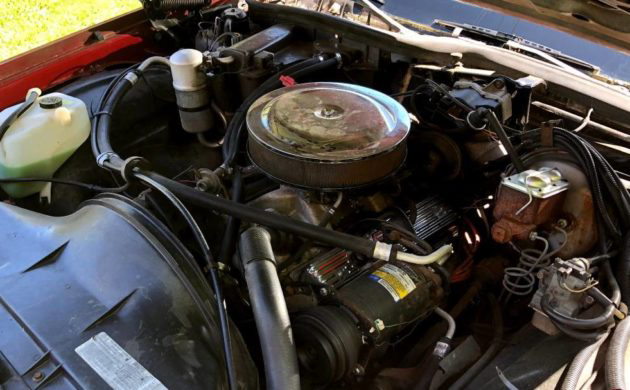 Under the hood is where things get interesting. While hardly a Draggin' Wagon like this wagon found earlier in March, it has had some notable mods installed. The seller states that this Chevy has a new 350 CI V8 crate motor; originally it would have domiciled either a 305 or a 350 engine. The motor has the usual performance features like headers with a dual exhaust system, an aluminum intake manifold and a mild cam – probably makes for some fun hot-footing around. Also new is the automatic transmission but there is no detail on what model it is but the shift quadrant would indicate a four-speed, O/D automatic. No specific word provided on how well this wagon runs but I'll go with the assumption, being that it's a new powertrain, that it's a pretty strong performer.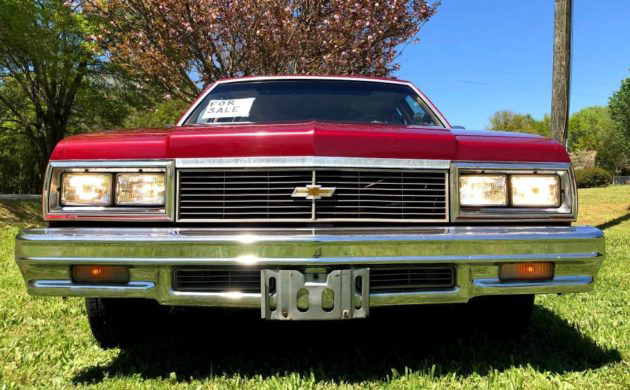 The seller indicates that he is negotiable on his $3,400 price so this Impala wagon could turn out to be a pretty fair buy. It's a nice blend of performance and function with daily driver aptitude. If you're in the market for a cool '70s station wagon, I'd give this one a closer look, it would be worth it, don't you think?