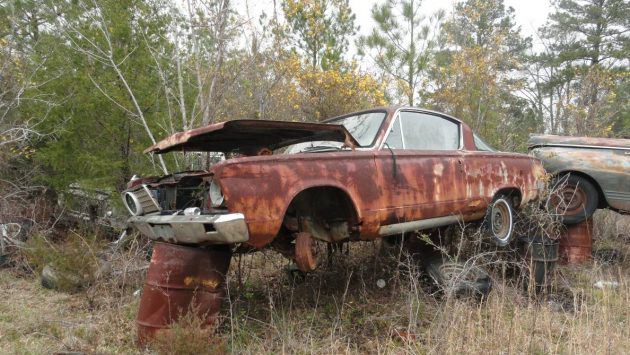 A seller on craigslist claims to have his own personal junkyard full of classics ready for new homes. The collection seems extensive, with a heavy emphasis on Plymouth Barracudas and other Mopar products. Still, it seems there's something here for everyone, even fans of captive imports from the 1980s. Find the collection here on craigslist in Sharon, SC or go here if the ad is archived; thanks to Barn Finds reader Alan in Michigan for the find.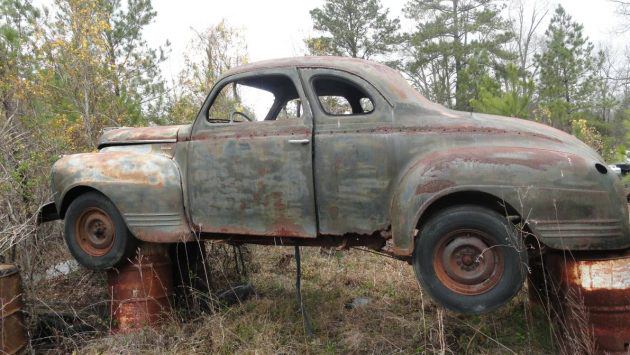 The seller notes that he has a wide collection of vehicles up for grabs, including the following: 1955 Studebaker, 1956 Plymouth Savoy, 1964 Dodge Polara, probably a dozen Barracuda cars from the 60's, 1965 Chevelle SS, 1965 Plymouth Sport Fury, 1973 Buick,
1966 International One Ton, 1974 Pontiac Granville, 1966 Belvedere, 1971 Vega, 1972 Chevelle, 1978 Camaro, 1971 Riviera, 1968 GT Torino, 1966 Plymouth Fury, 1972 Satellite, 1956 DeSoto Fireflite (x2), 1972 Scamp, 1964 Plymouth Wagon, 1952 Studebaker Champion, 1956 Chrysler, 1955 Dodge, 1968 Ranchero…and the list goes on from there!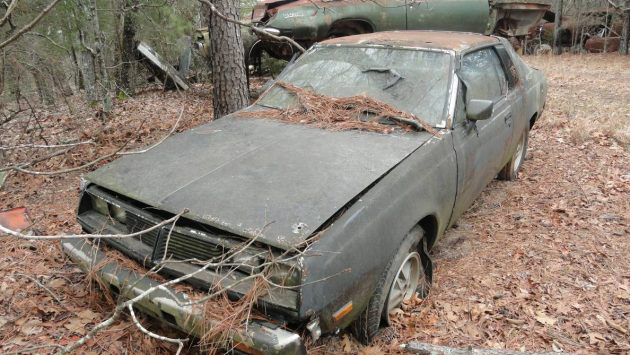 This is my personal favorite, the captive import I mentioned: it's a rebadged Mitsubishi Galant Lambda, of which very few remain today. When I see cars like this, it spikes my interest even further – because if he's got a car this obscure, what else is hiding back there? The seller lists a few other models in his personal stash, including: 1965 Barracuda, 1965 Ford Falcon (x2), 1970 Mustang, 1967 Dart GT, 1950 Oldsmobile V8, 1963 Valiant, 1973 Roadrunner, 1966 Fairlane GT, etc and many more.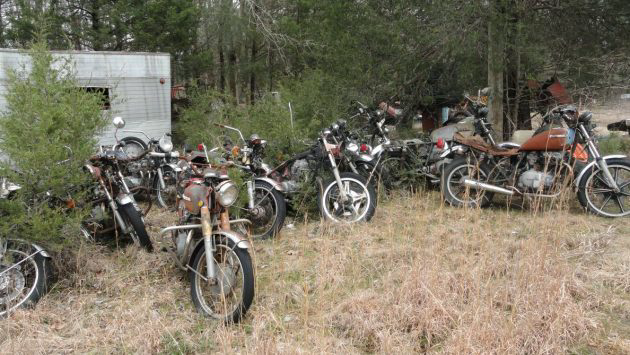 He even has this collection of random Japanese motorcycles! There's some serious variety here, and if you've got something other than cash to exchange for a new project, it seems like there's a good chance a trade can be worked out: I'm a Mopar man and would like to trade my Fords, Chevys, etc for Mopars of similar value or condition. Will consider trade on vintage Mopar cars (2 door only unless wagon or old enough to have suicide doors) or trucks. Especially looking for a two door 1961 or 1962 Chrysler Newport or 300 and also a 60's Dodge A100 van project or International Metro or comparable COE project.