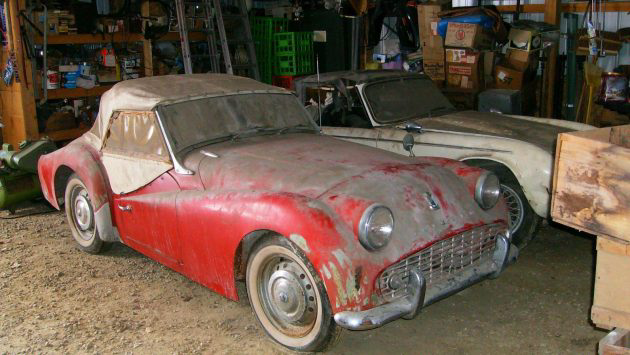 In what can only be described as calendar fodder for barn find discoveries everywhere, this 1959 Triump TR3 is coated in dust and parked next to an equally-dusty stablemate somewhere in north central Iowa. It was parked there in 1964 after a failing clutch sidelined it – and has been there ever since. The engine was pickled prior to long-term storage but it's a non-runner at the moment. Find it here on eBay with bidding over $5K and no reserve.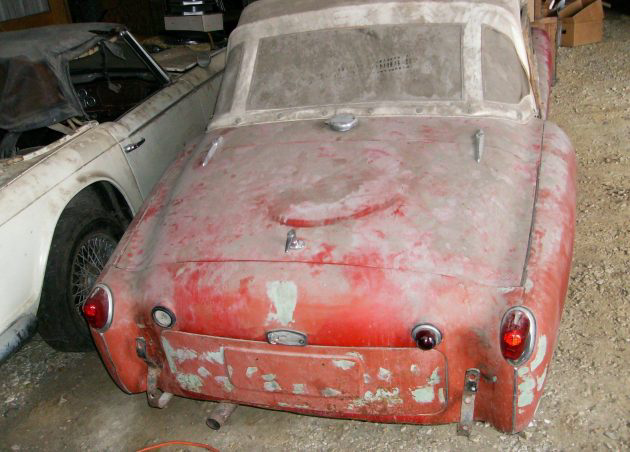 These are such pretty cars. We'd love to know the story on the adjacent Triumph, as both cars seem to wear equal coatings of dust. It's amazing to see the rear window is still hanging on to the weathered soft top, which also isn't as bad as we'd expect for a car parked as long as this TR3 has been. Although the TR3 would look killer on wire wheels, what's more important as the seemingly straight, rust-free condition that the photos depict.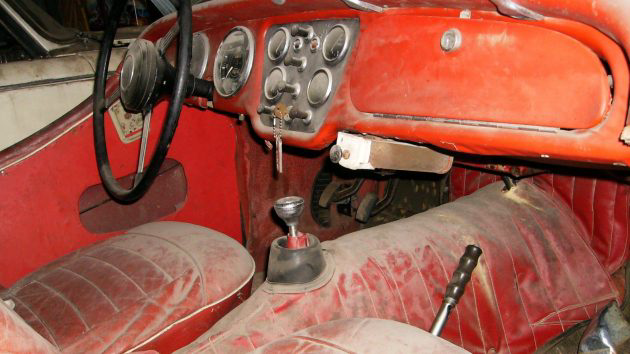 Key in the ignition, ready to fire: the more you view the photos of this TR3, the harder it is to believe this was simply parked and forgotten. The dashboard remains in very nice condition, and the interior looks serviceable as-is. Red leather (or vinyl) seats and matching floor coverings all look surprisingly sound, and it's definitely a cockpit you can live with while the mechanical bits are sorted.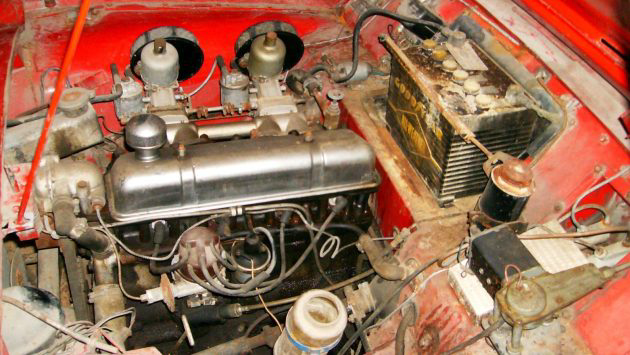 Speaking of, the sellers notes that while the engine was seemingly prepped for long-term storage, he wasn't able to get it to turn over with the fan. I wouldn't rule out starting, but he'll have to perhaps get a bit more ambitious in his efforts. Still, for the money, running or not this TR3 looks sound enough to pick up and perform a motor swap if necessary. Replacement parts are plentiful, and we'd try to arrange for a twofer with the other Triumph in the barn.
Have something to sell? List it here on Barn Finds!