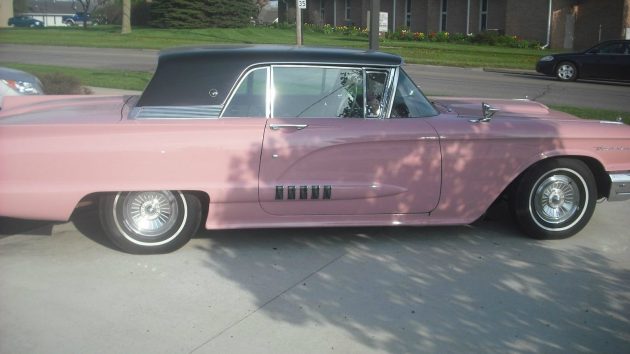 The seller tells us they have listed this "square bird" for a neighbor that has owned the car for over 30 years but can no longer comfortably slide behind the wheel–what a shame! The car is located in Van Horne, Iowa and can be found for sale here on eBay. Bidding is starting at only $5,000, but there is a reserve. The wheel covers in this picture are from a 1957 Fairlane, but look pretty nice here–arguably better than the originals.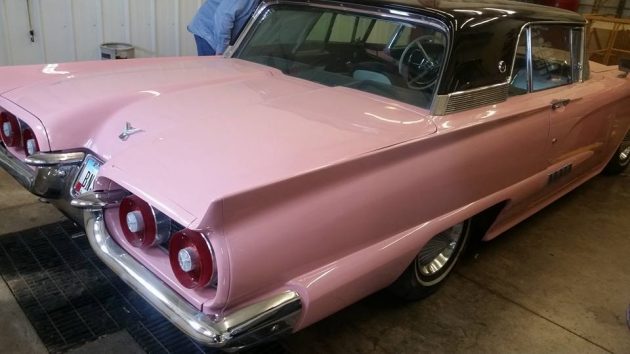 Note the different (70s Mopar, I think) wheel covers in this picture. Paint code "WA" was black over pink for 1958 Thunderbirds, so it's quite possible this is the original color combination. I'm sure the lady turned some heads in this car cruising around Iowa! The paint looks shiny and I don't see any major signs of rust or dings. It's certainly a very presentable driver.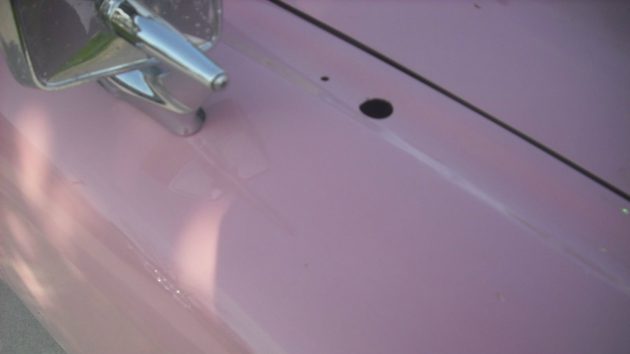 The seller tells us about one issue where there should be a radio antenna here. I wondered what the second small hole was for until I looked up the factory antenna, of which reproductions are readily available. If the radio doesn't work, you can find a period one of those as well for those tunes you want as you cruise around Iowa–or anywhere else.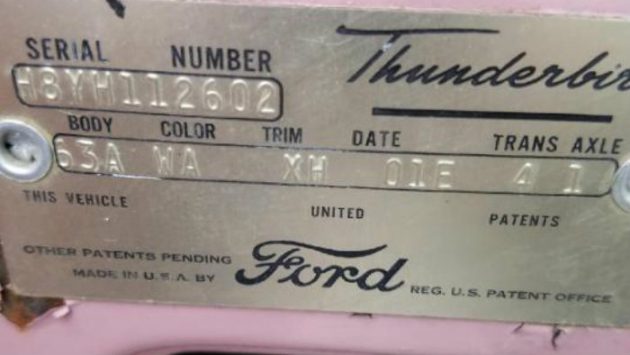 We can tell from this plate that the car was originally pink with black, has the standard 300 horsepower 352 V8, was produced May 1 of 1958, has a 3.10 differential and a Cruise-O-Matic automatic transmission. The black and white vinyl is also the trim scheme it left the factory with, although we don't know if this is the original upholstery or not. As a side note, there were 35,758 1958 Thunderbird hardtops manufactured, and their base list price was $3,631. Isn't the internet wonderful sometimes?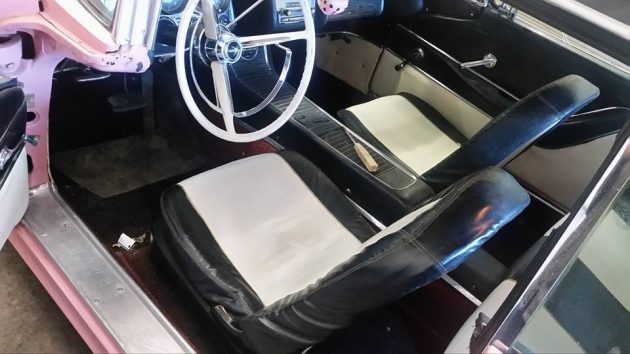 The only thing that really concerns me here is the ice pick on the center console! The seat upholstery looks very "wrinkly", but my uncle's 1960 Thunderbird did the same thing, and his was original, so who knows? I do wish we got some pictures under the hood as well, although we're told it was recently serviced. If you choose to purchase this 'Bird, you'll be replacing the headliner as well, but the new one comes with the car. I wonder what the reserve is? I have a business trip to Iowa coming up shortly–it would be a fun drive back, don't you think?