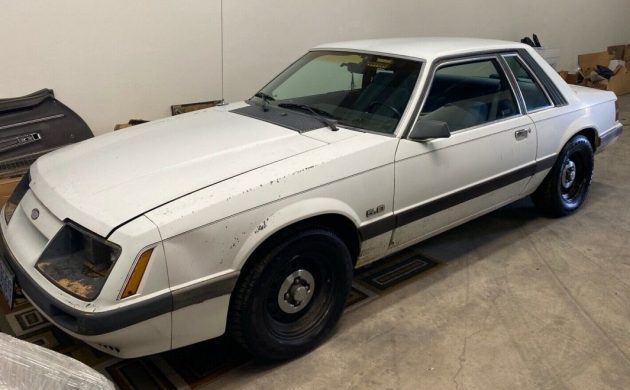 If the "Blues Brothers" were made today, you'd have to wonder whether Jake and Elwood would choose this 1986 Ford Mustang LX SSP as the new Bluesmobile. After all, the original 1974 Dodge Monaco would be getting long in the tooth, so this could be a viable alternative. The seller has only had this car short-term, but he does recognize that it is a relatively rare classic. He has chosen to part with the Mustang, so he has listed it for sale here on eBay. It is located in Ventura, California, and has drawn an extraordinary level of interest so far. Fifty-three bids have pushed the price along to $8,375, but the reserve hasn't been met. There are a few days left on the listing, so there is a chance that things could heat up even further.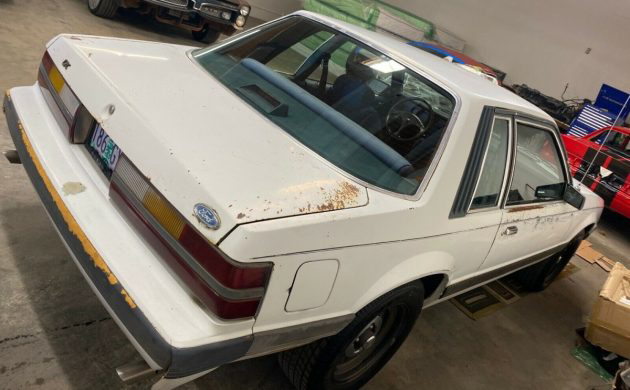 Even without the lights and stickers, an SSP tends to be pretty easy to spot. While it isn't a hard-and-fast rule, most of them wore Oxford White paint. That is the shade that graces the panels of this Mustang, and it is showing its age. There's no shortage of chips and imperfections, and this classic is screaming out for a repaint. The panels also wear a few dings and dents, but all of these appear to be relatively minor. A fair amount of surface corrosion is visible, but the only apparent penetrating rust seems to be in the lower door corners. It looks like there is some beginning to develop in the lower rear quarter panels, but it is hard to be sure of this from the supplied photos. The back bumper cover has deteriorated, but the rest of the plastic seems to be okay. I may be the odd man out on this, but I have always liked the frontal styling of these four-eyed Mustangs. I especially like the single cooling slot that Ford employed in place of a traditional grille. It gives the whole car a purposeful appearance while still providing effective engine cooling. The glass all appears to be in good condition, and the Mustang rolls on its original steel wheels, which were a part of the SSP pack.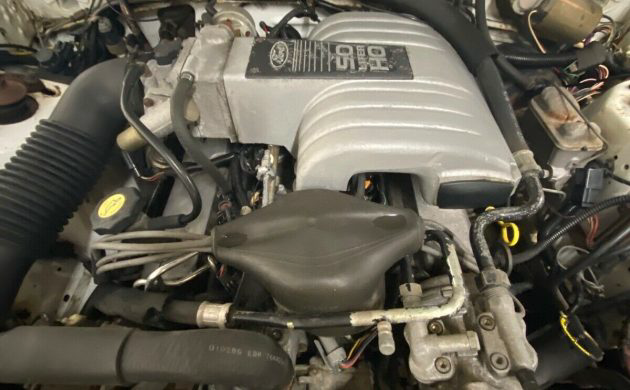 If your job is to chase down those that have crossed onto the wrong side of the law, you need the right tools to do the job effectively. In 1986, a Toyota Corolla was a solid and bulletproof car that could handle a heap of abuse, but it wasn't going to be as suited to a high-speed pursuit as a car with a V8 under the hood. That's where this Mustang came into its own. Lurking under the hood is the 5.0-liter fuel injected "HO" V8 that produced an official 210hp. I use the word "official" because there has always been the belief that Ford was somewhat frugal with the truth. Many people believe that the actual figure was somewhere around 220hp. All of that power finds its way to the rear wheels via a 5-speed manual transmission. A regular production LX would have been capable of galloping through the ¼ mile in 15 seconds, so it would be fair to expect that figure to drop noticeably with the lighter SSP. The owner admits that this car's radiator has a slight leak, but he includes a replacement in the sale. He is also throwing in some of the correct silicon hoses as a bonus. He says that the Mustang starts and runs well and that it feels very powerful. That last claim is hardly a surprise, but it seems that overall, this little pony car is ready to be driven and enjoyed immediately.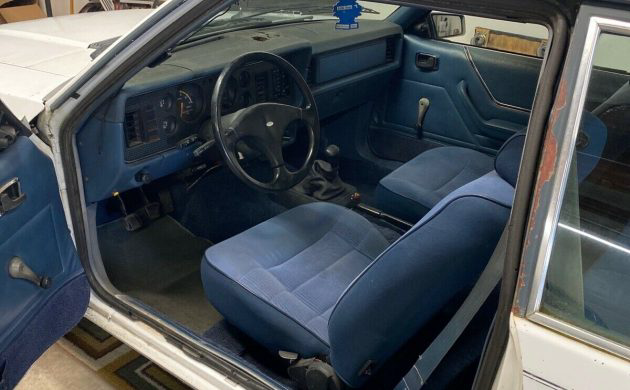 The SSP was a tool of the trade for law enforcement officials, which meant that it was required to perform a specific role. This was not designed to be luxurious but to be fast and effective in pursuit situations. That means that these are cars with few luxury appointments beyond cloth seat upholstery and, in this case, air conditioning. Apart from a set of flashing lights at the top of the windshield, all of the police features like the radio are now gone. The interior trim shows the sort of wear and tear that you might expect in a vehicle of this type and age, but addressing these issues would not be complicated. The bottoms of the door trims don't fit properly, but this could be a problem with the retaining clips. The worst issue that the buyer will face is the significant crack in the dash pad. The buyer might choose to throw a cover over it or attempt a repair with a product like Polyvance. However, they could also decide to spend $220 on a replacement pad to fix the problem permanently. There are also a few plastic pieces that are showing deterioration, including the winder handles. The good thing here is that none of these parts are SSP-specific, so sourcing replacements won't be hard.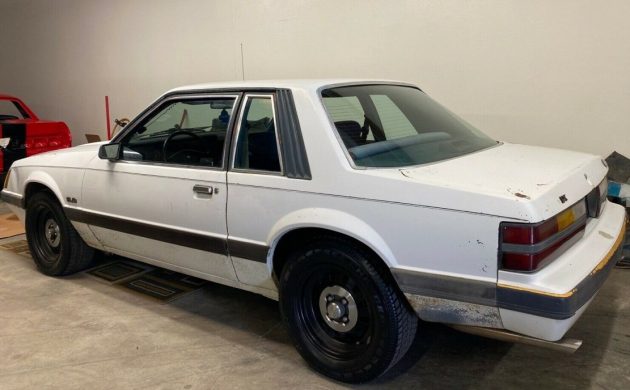 There are a group of enthusiasts who actively pursue cars like this '86 Mustang LX SSP, and they do so for several valid reasons. Firstly, these are relatively rare cars. They are also ones that were not available to the general public when they were new. Finally, they offered performance levels that were a cut above those available in a civilian Mustang at that time. The bidding on this one is a clear indication of how popular these Mustangs are, and I don't think that we've seen the end of the action. Even in its current state, I wouldn't be surprised to see this car threaten $15,000. There have been a few spotless examples on the market recently that have sold for around $25,000, which would put them out of the reach of Jake and Elwood. When you look at the bidding history, are you tempted to join the party?