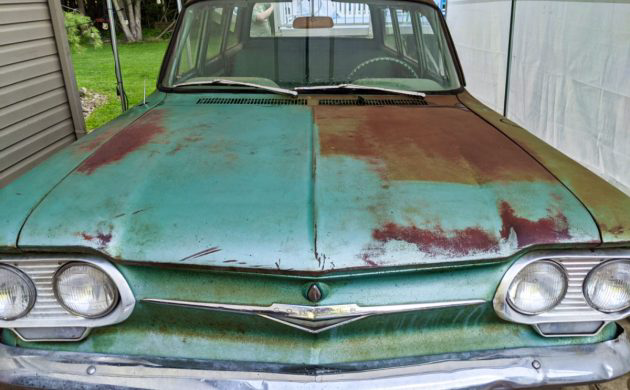 Back on May 5th, 2020, we featured this 1961 Corvair Lakewood Wagon that had been stashed under a porch. Fast forward to this past weekend and reader Kyle S emailed us to see if we would like to receive an update on the car. It turns out that after seeing our article on it, he just had to have it! He's since sent us a bit about the experience of buying it and current photos. I'll let Kyle tell you about it in his own words below.
FROM Kyle – So we drove from Ohio to Minnesota, about 13-14  hours (we left at 9 pm Sunday and arrived at the seller's home at 1 pm Monday) depending on gas stops. We managed to avoid all the protests in the major cities, (Fort Worth, Chicago, Milwaukee, Minneapolis) and got to his place to see the Corvair under that porch/barn. We rolled it out for me to inspect, it had lots of patina, holes in the front floors and rear, plus some holes in the rockers. The suspension mounts just had surface rust and no major issues. So we pushed it up onto my trailer and paid the man.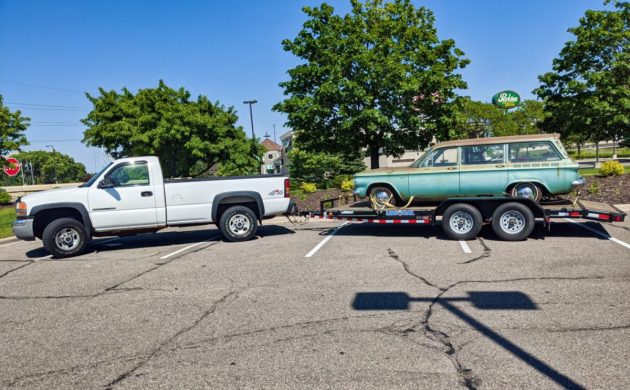 We stopped a few places in Minneapolis and I snapped a picture of it on the trailer. Headed back to Ohio, it took another 14 hours and got it home.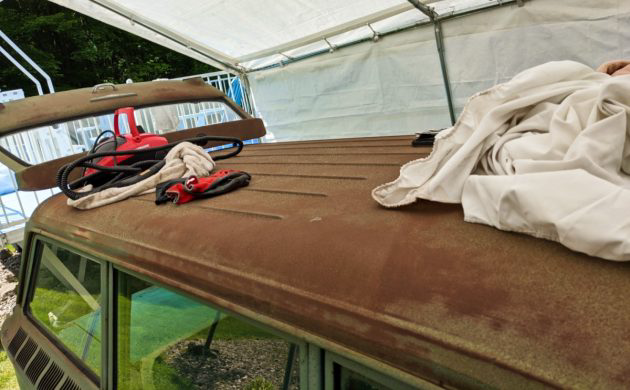 Once home I took a few pictures. Then I started the task of using SOS pads to get rid of the surface rust, as I will be keeping the patina look on this wagon. That took a few days, but I finished that up today. I also pulled the back seat out and the heater boxes to get rid of the tons of mouse crap.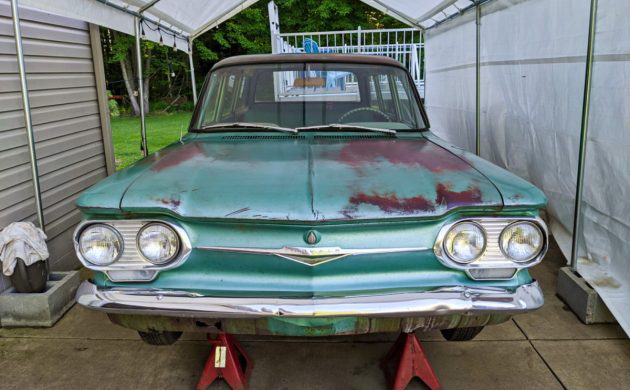 It might have taken a few days to keep the patina and get the shine, but it was well worth the effort. Up next is the engine. Once my parts from Clark's arrive I will get started on getting it running. It does turn over, just doesn't fire.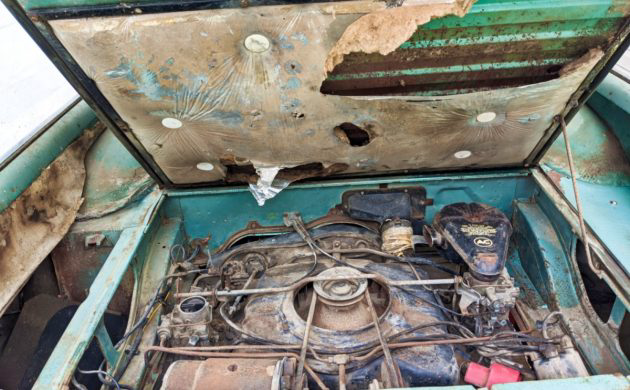 It sounds like this was quite the journey, but it looks like it was well worth the drive! I for one can't wait to see how this one turns out. The floors are going to be a lot of work to fix, but it sounds like Kyle is the right person for the job! He's gotten right to work on it and the hard work is already paying off. Our thanks to him for sharing his story with us. Be sure to check out all of Kyle's photos below and wish him luck!
Have you purchased a classic car that's you've seen here on Barn Finds? If so, we would love to see it! Email us at mail@barnfinds.com with photos and the story of buying it.