This beautiful little car is a 1962 Pontiac Tempest LeMans Convertible and it sure looks like a nice one. The price is nice, too. It's listed on eBay with a Buy It Now price of $5,900 or you can make an offer. It's already price below what I would have thought, given Hagerty's $7,700 #3 "good" value or the $11,900 #2 "excellent" value. Hmm..  This car is located in.. somewhere in the US, the seller doesn't give a city or state, but the license plates say California.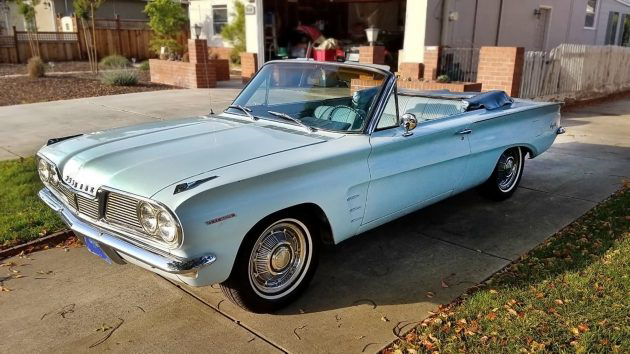 This isn't the fire-breathing LeMans that we all know and love, but a LeMans top-line trim package for the Tempest. 1962 was the last year for the Tempest LeMans as in 1963 the LeMans became a separate series. The body looks as close to perfect as can be on this car. The seller says that it has, "solid floors, a couple quarter size rust through spots in trunk." Hopefully things aren't too bad underneath.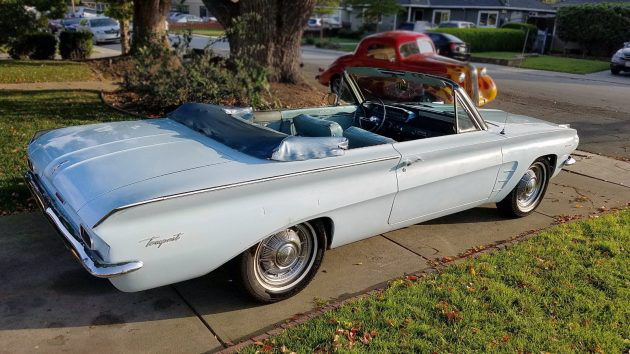 This car looks fantastic to me, the market must be soft for these cars, I can't believe that it's still for sale for this price. It's an all-original car owned by the same family since new – the seller purchased it from the grandson of the original owner. They mention that the top needs work, or actually it needs "top upholstery, hydraulic pump and actuators rebuilt for power top (currently manually operated)." That may explain why there are no photos of the car with the top up, and why it's priced below what it seems like it should be.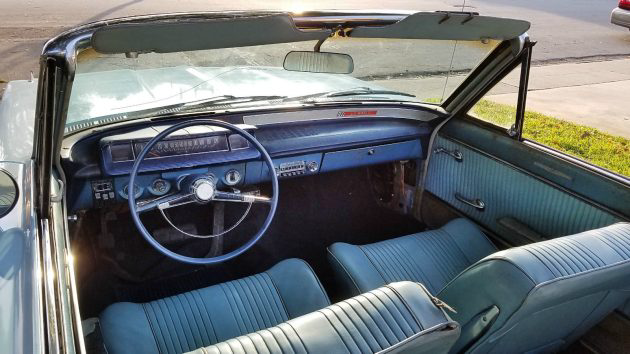 The interior looks good, but the seller is including a "carpet kit and rear seat upholstery kit included (Started an interior refresh)" so that's nice. You can see that the door panels have seen better days, but if they aren't rusty, as in with rust-through, the next owner can spruce those things up in a few weekends. I think I see a crack in the driver's side of the windshield? That's another thing for the list, and another reason it's priced below the average value.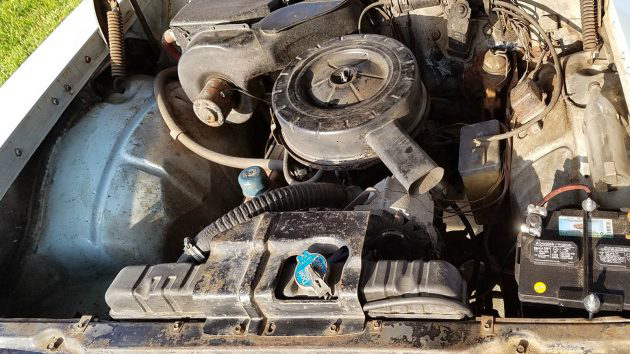 This engine is Pontiac's "Trophy Four", a 195 (194.5) cubic-inch "slant-four", basically the right half of a 389 V8 – no really! And, if that isn't enough, this car has the coveted "power pack" which is a factory four-barrel carburetor giving this engine 166 hp compared to 110 hp! These engines were known to shake, so they were mounted on flexible rubber mounts, and the unusual driveshaft and rear transaxle further dampened the engine shake. That worked, until a spark plug fouled or the engine needed a tune-up and then things got funky. The 195 engine was dropped after 1963. Doesn't this seem like a good price for a car in this condition? I would think that a few weekends of work and this would be a fantastic car in both looks and working condition.