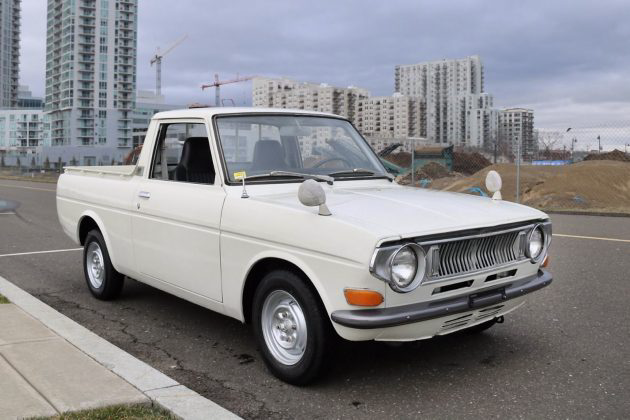 Monster truck fans, this one's for you! This is a 1971 Toyota 1000 Pickup and it's one rare vehicle, especially being left-hand drive. It also has the fender/wing-mounted mirrors, which is normally a Japanese market thing and I don't normally see those on left-hand drive vehicles. This Publica pickup is listed on eBay in Stamford, Connecticut with a Buy It Now price of $11,800 or make an offer.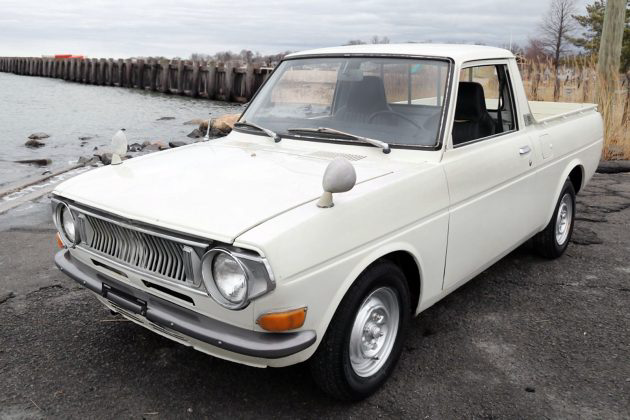 The Toyota 1000 was, for the most part, a Toyota P30 Publica for export markets. The 1000 pickup, designated as the KP36, was only offered with a 1.0L engine until 1972 when a 1.2L engine became available. This particular pickup is completely original and has no accident history, according to the seller. This truck appears to have had the wheels painted at some point and the seller mentions a small dent in the rear which I have yet to locate. It looks about as clean as can be, but there is some rust to think about and with the recent paint work I'd want to check it out very, very carefully to check for bodywork.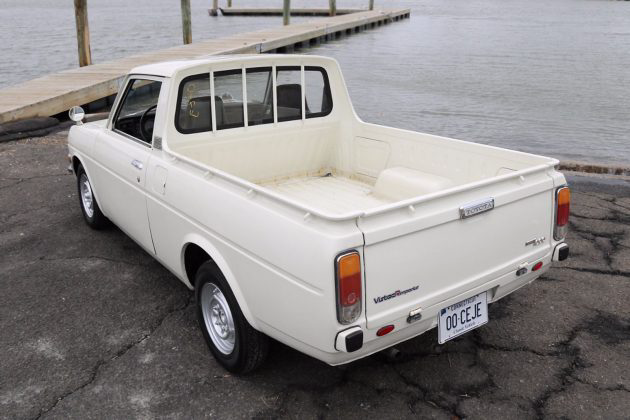 Isn't this a cute pickup, though? I know, those two words don't usually go together, cute and pickup, but they do in this case. No, you aren't going to be hauling the lumber to build your cabin with a truck that weighs 1,500 pounds, at least not all at once.  A unibody pickup like this is more suitable for very light loads, like 1,200 bags of marshmallows, etc. The seller mentions that this pickup was repainted in its original color at some point and that it's showing some light surface rust in the cabin and in the rear bed.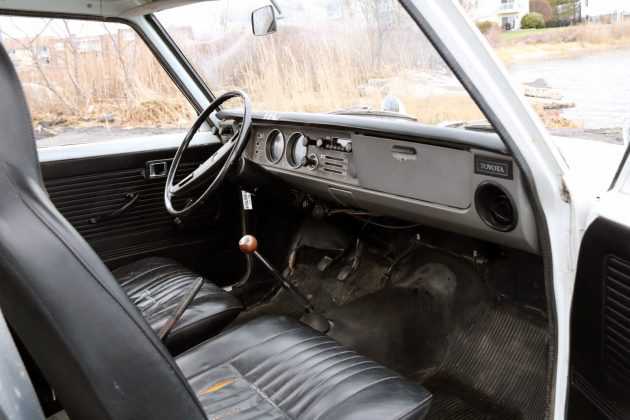 The interior looks good overall, but you can see that there will be some upholstery work to do here. At least the seat fabric and pattern isn't something that can't be replicated like some intricate fabrics and patterns are. Some areas of rust-through are visible under the seats, which is a little worrisome, but not the end of the world. The next owner will most likely have the seats and the floor covering stripped out for repair and/or replacement anyway and the floors can be repaired at that time. I would definitely add some dynamat here to cut down on road noise a bit, but that's a good idea in any vehicle. And, no, I'm not a paid spokesman.. The dash, steering wheel, and manual shifter all appear to be in fantastic condition.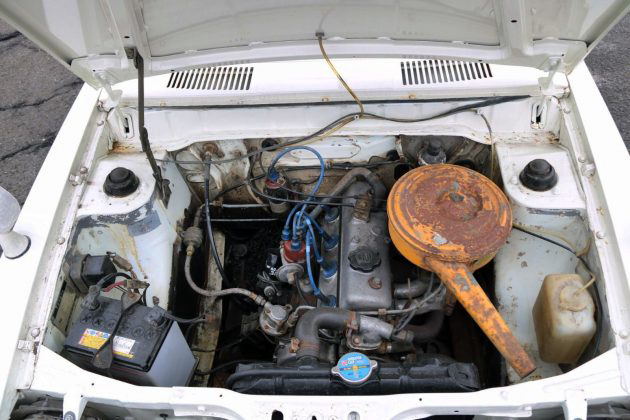 Here's where the "1000" part comes in. This is Toyota's 2K, a 1.0L inline-four that would have had around 45 hp. Some detailing would do wonders on the presentation of this engine. The seller assures us that this pickup "runs and drives with no major mechanical problems", but they say that it'll need new tires due to flat spots. Have any of you seen one of these rare little pickups?