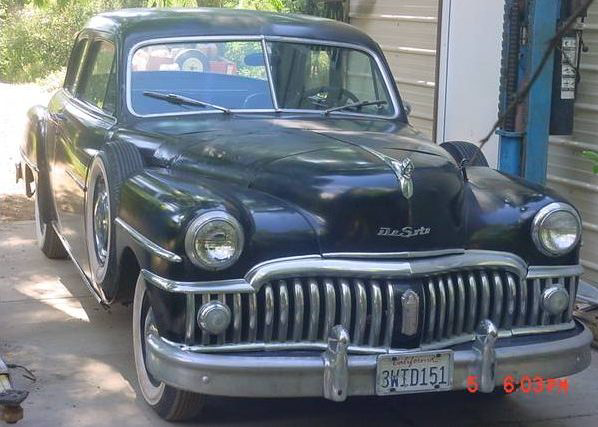 Chrysler introduced the DeSoto in 1928 as a mid-priced car. From 1939 until 1952, the Custom was DeSoto's top of the line model. It came in 2 and 4 door versions and even a long-wheelbase model, the Suburban. This 2 door Desoto, listed on craigslist for $5,000 in Shingletown, California must have an interesting history. One would expect the side mount tire modification to have been applied to the the Suburban model or at least a four door. It runs and drives and appears to be a nice old car. There's no history provided except that it was a barn find. Pat L certainly found an unusual old Desoto for us with several puzzling features.
The interior looks nice from the one picture in the posting, though not original, or at least not typical. One would expect to see a bench seat with cloth upholstery. Also, there is no back seat. The switches to the right of the steering wheel might look out of place but are actually stock.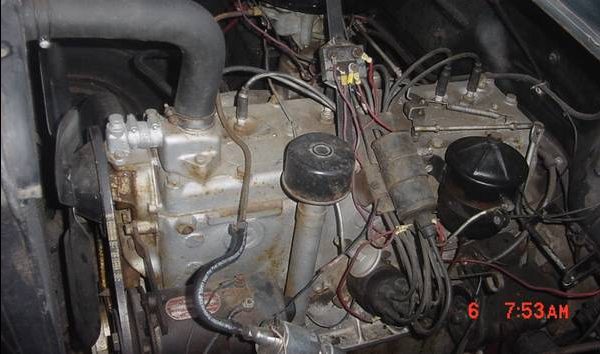 Here's the 109 horsepower 236 CID flathead six cylinder engine looking very original except perhaps for the routing of the fuel line with the inline filter. There's no oil seepage showing, so perhaps this engine has had some attention, perhaps a rebuild, at some time.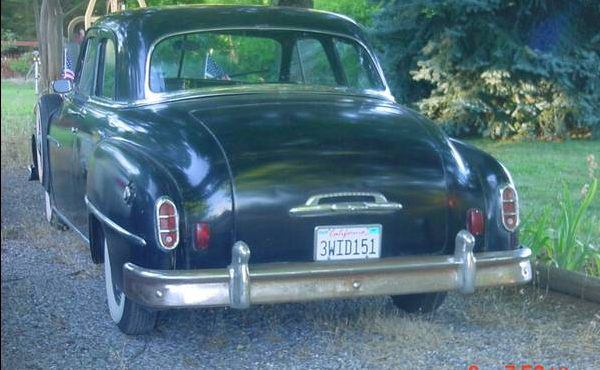 Most folks wouldn't give this old DeSoto a second glance, except perhaps at the side mounted tires. Some would appreciate the smooth quiet ride but many are underwhelmed by the vague steering, ponderous handling, and leisurely braking. There are some unique and puzzling features on the DeSoto. What sort of car needs side mount spare tires, individual front seats with vinyl upholstery, and no back seat? The tire mounts appear to have been very well done, much like a factory option. From what we can see in the ad, this looks like it could be a nice old driver and sure to get attention with those side mount spares. It would be very interesting to know the history of this old DeSoto. It needs at least chrome and paint but I would drive it just as it is.