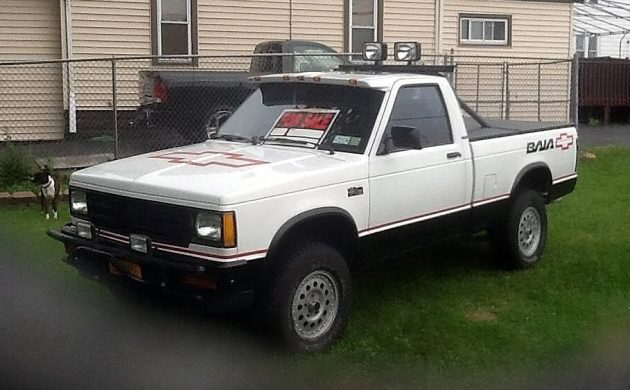 I can't get enough special editions, 1970s, 80s, and 90s especially. Special or limited editions with graphics packages and other unusual features really turn my crank. They usually don't do much if anything for performance but as far as being eye-catching they're hard to beat. This 1989 Chevrolet S-10 Baja is posted on Craigslist in beautiful and historic Buffalo, New York. The Baja was made between 1989 and 1991 and the seller is asking $8,500 or best offer for this rare number.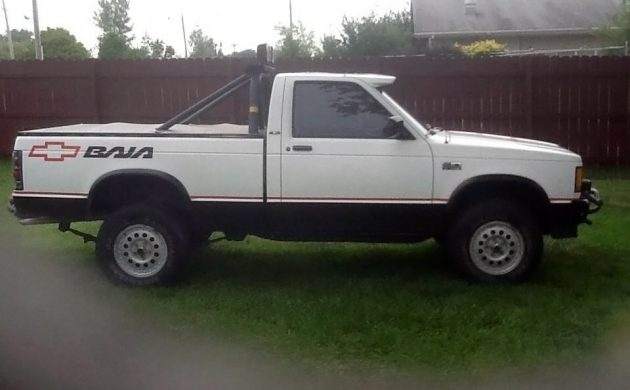 Speaking of numbers, the seller mentions that this is 1 of 1,086 examples made. I come up with numbers close to 8-10 times that amount of them being produced but maybe one of you will know how to track down the actual figures. Our own Jeff Lavery showed us a beauty of a 1991 Baja a year ago here. The Baja was a bit more than a graphics package as I eluded to earlier. According to this Chevy press release the Baja, or I guess technically, BAJA, package consisted of "off-road suspension, underbody shields and tow hooks, off-road P235/75R15 tires and heavy-duty components, with a sport upfit package of black front and rear brush guards, fog and off-road lamps, black light support, blackout body treatment, and Baja red bowtie identification." This 4×4 truck appears to have the optional off-road aluminum wheels. There would also have been an optional endgate net and pickup box mounted spare tire carrier.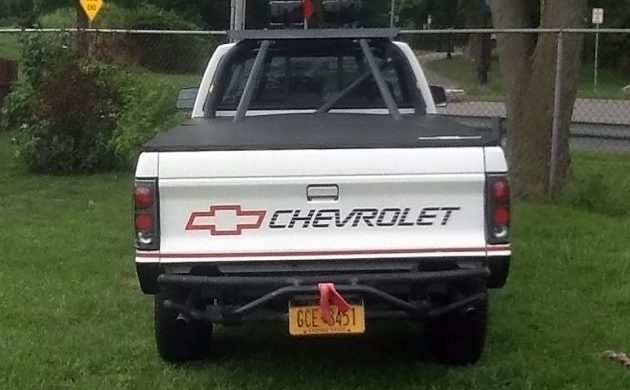 Those unusual pipe/tube bumpers are cool and this truck looks like it's really in nice condition. It couldn't have gone through too many Buffalo, NY winters with only 41,000 miles on it. Hopefully, it hasn't been driven in the salty, snowy winter at all to keep rust at bay. There is no mention of the body or rust condition in the listing. Unfortunately, this truck has had a 2.5-inch suspension lift put on a few months ago. That isn't a deal breaker but for those of us who like things in original-spec that would come off under my watch. I'm not a big bro-truck guy. Not that there's anything wrong with a jacked-up pickup, mind you, I just prefer the stock look. The Baja came only in Apple Red, Midnight Black, and Frost White as seen here.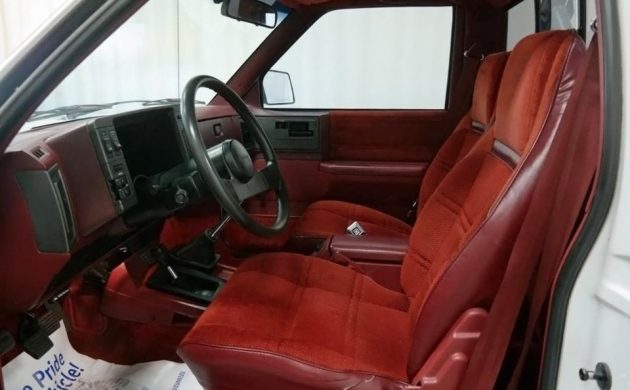 The red interior almost makes me weep it's so beautiful. I'm a sucker for red interiors and this one looks great. How about that dash! It's like a 1980s video game, fantastic! And, here's the 5-speed shifter and Insta-Trac 4×4 control. This interior is a thing of beauty and the 5-speed ensures that this truck has the smaller 2.8L V6 instead of the bigger 4.3L. I'll always take less power and a manual shifter any day of the week. This truck appears to have a sun shield with lights over the windshield which has to be an aftermarket item. I'm on the fence about that. I love the look of it but it's not factory spec and for such a rare truck this one begs to be left in original spec condition, in my opinion. Price and value notwithstanding, you wouldn't modify a Bugatti Type 57SC, I have the same feeling about any rare vehicle, even a Chevy S-10. Of course, to each his/her own.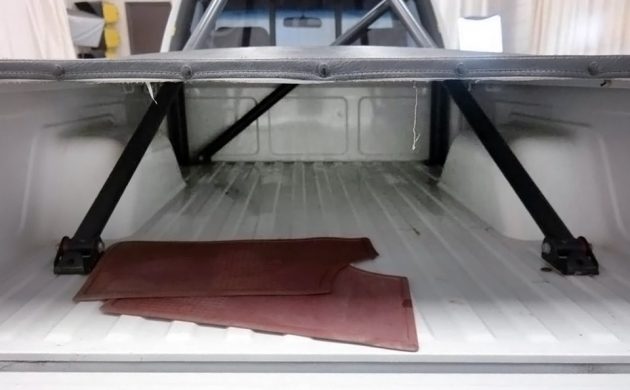 There are no engine photos, as is too often par for the course on CL listings, but I would have to think that it's as clean as the rest of this truck is. Maybe the seller would send additional photos to anyone who is seriously interested. They list it as a 6-cylinder and since it has a 5-speed – the 4.3L 160-hp V6 was only available with an automatic – so it has to be the 2.8L V6 which would have had 125 hp and 150 lb-ft of torque. They did include a photo of the inside of the bed, of course, seen above. I don't know if the tonneau cover would be original but it's a handy feature. I always worry about drilling into the box to install those snaps, though. Have any of you seen a Chevy S-10 Baja?
Have something to sell? List it here on Barn Finds!