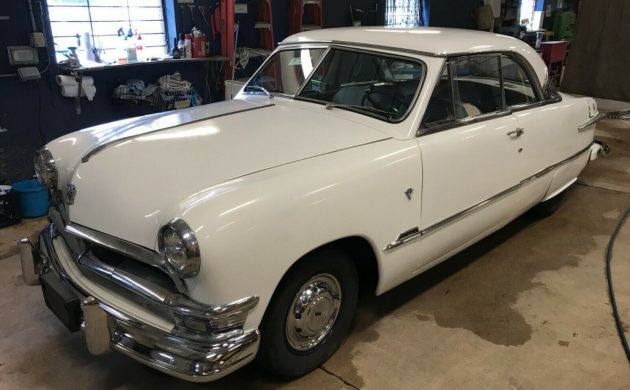 The 1951 Ford Victoria was a car that grabbed the attention of buyers when it was launched, and it will still attract plenty of attention today. This one is no exception, although it does hide a secret or two. Potential buyers will need to take a closer look at this one to determine whether it is a project that they would be willing or capable of taking on. Located in New London, Wisconsin, you will find the Ford listed for sale here on eBay. Bidding has reached $7,000 in this No Reserve auction.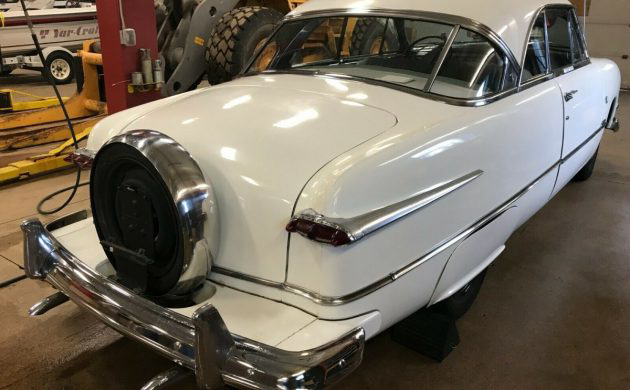 Following the end of World War II, American buyers were clamoring for new cars. The economy was booming, and people had money to burn. Passenger car production and development had ceased during the war, which meant that manufacturers were forced to enter this new era of prosperity with slightly modified versions of their pre-war offerings. Ford stole a march on the opposition in 1949 by releasing the first completely new model. Affectionately dubbed the Shoebox, this new model sold in incredible numbers. For the 1951 model year, Ford then introduced the Victoria to their range. Taken purely at face value, this '51 Victoria seems to have a lot to offer potential buyers. Its white paint looks nice, with no signs of any horrible problems. The panels are straight, and there is no evidence of any external rust. Someone has fitted the car with a Continental kit, which gives the vehicle a distinctive appearance. The trim and chrome appear to be in excellent order, while the same is true of the glass.
While this old Ford shows promise when viewed from above, the story heads downhill at a rapid rate when we get it up on a lift to take a look underneath. This also demonstrates why an in-person inspection is vital when considering any project car. The seller supplies a written condition report on the vehicle, reinforcing what can be seen by the naked eye. The Victoria is a classic with some significant rust issues, and addressing them would be a considerable undertaking. The frame is particularly bad, and it places a huge question mark over the car's structural integrity. The reality is that any restoration will be a frame-off proposition, and getting the frame back into shape will consume a lot of time and not a little money. The written report also indicates rust in the floors, but it isn't as graphically obvious as the rust in the frame. I don't believe that this classic has deteriorated beyond the point of no return, but it will require a new owner with plenty of time and patience if it is to eventually return to our roads.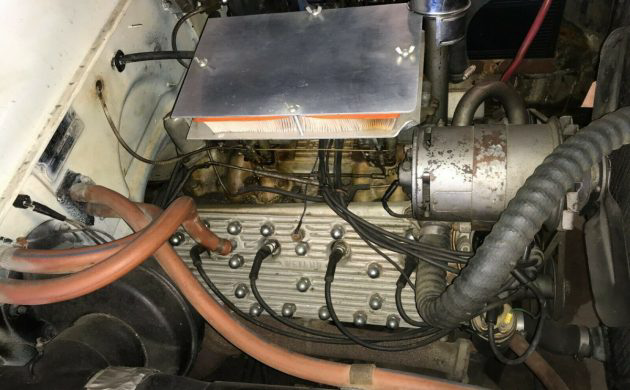 Lifting the hood of the Victoria reveals the venerable 239ci flathead V8 that is bolted to a 3-speed manual transmission. The motor doesn't run, and it isn't clear when it last fired a shot in anger. Someone has treated it to a few upgrades. These include Weiand cylinder heads, a dual carburetor setup, and a dual exhaust. The 239 would have been producing 100hp when it was new, so it would be safe to assume that these changes would have unleashed a few additional horses. The V8 doesn't currently run, but it does turn freely. Coaxing it back to life will only be a small part of the equation. The written report indicates that the rear main seal is leaking, while there are leaks in the braking system, new wheel cylinders will be required, the suspension requires new bushes, and there are issues with the wiring. Returning the Ford to a mechanically roadworthy state will take more than a weekend of tinkering in a workshop, but once this classic has been restored, it looks like it could be an entertaining little beast to own and drive.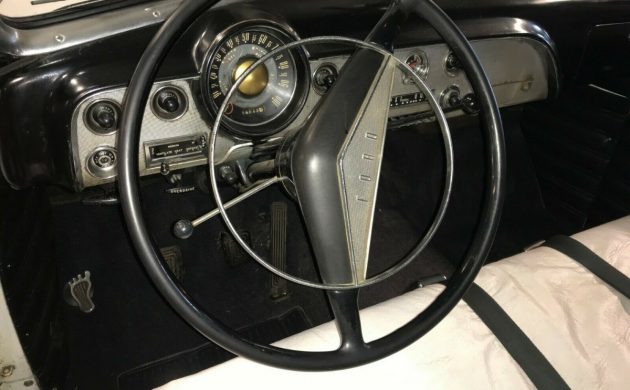 This Ford's interior is serviceable, but it is another area that will require some major work if it is to be returned to its best. The cover on the rear seat isn't torn, but it is dirty and stained. I suspect that it might respond positively to a deep clean, but I'm not sure that I would make the effort. The front seat will require a new cover, and getting any replacement to match the existing rear one will be virtually impossible. That makes me believe that all of the upholstery will need to be replaced if color and pattern consistency is to be retained. Kits are available to achieve this, but the prices can be eye-watering. They tend to sell for around the $3,000 mark but include everything required to return the interior to as-new condition. If that's a bit rich for some buyers, it might be possible to shave these costs by having a custom trim set made by an upholsterer. It might not be factory correct, but it is an option that is worth investigating if cost is an issue.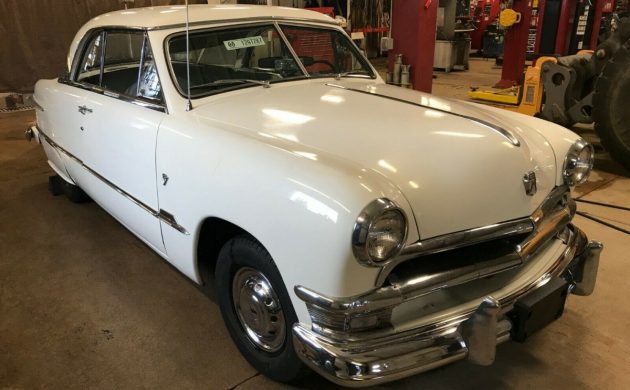 I would love to get a closer look at this 1951 Ford Victoria because only that sort of an in-person inspection will determine whether its rust issues are as bad as the written report would seem to indicate. It is an attractive car, and there's no doubt that it would turn heads once returned to active duty. Its listing has already managed to turn heads because there have been 25 bids submitted at the time of writing. That suggests that a few people are willing to roll the dice on this one in the hope that it is a financially viable project car. Would you be willing to submit a bid, or are you unwilling to take the risk?