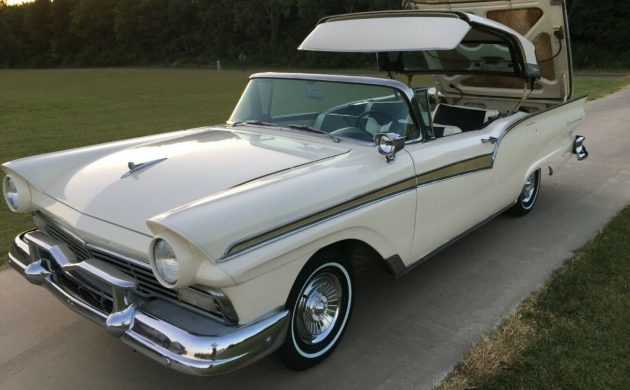 We've all seen project cars where you just know that there will be months or years of work before they are ready to hit the road once again. That isn't the case with this 1957 Ford Fairlane 500 Skyliner. It has recently been revived after sitting idle since 1988. There are a few little tasks left to tackle, but a weekend's tinkering in a home workshop would have the car presenting at its best once again. The Skyliner is located in Morris, Oklahoma, and has been listed for sale here on eBay. Bidding has reached $11,211, and the reserve has been met.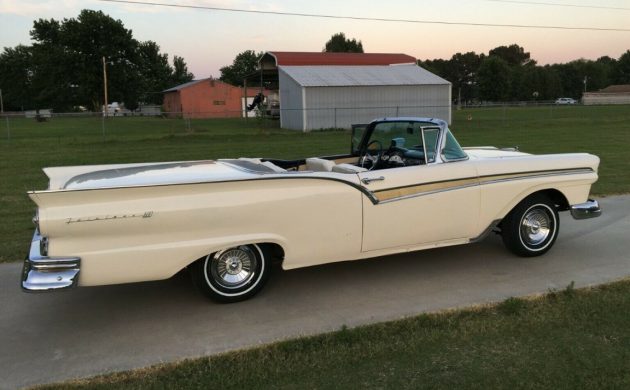 What a great looking classic! The Colonial White Ford presents very nicely, and the owner says that thanks to the fact that it has been previously undercoated, it remains rust-free. That isn't to say that it's perfect. He notes the fact that it has received some prior bodywork on the right lower quarter panel, just forward of the wheel well. He does say that there is some bubbling there, but that he believes that this is a flaw in the paint, and isn't a sign of developing rust issues. It would appear that the rocker molding on that side was removed when the work was undertaken. This hasn't been replaced, and it isn't clear whether it is even present. Beyond that, the paint presents with a high shine, while the panels are extremely straight. The glass and trim appear to be in good order, while the vehicle is fitted with a functional spotlight on the driver's side. The retractable top does work, but it does require a bit of physical assistance to get it moving. Until recently, the Skyliner has been parked since 1988, so it could be that this situation improves with further use. You would have to hope so because with a multitude of motors, relays, lift jacks, solenoids, and latches, these are incredibly complicated. If the top does eventually need some work, then this is a task that is best suited to someone with experience.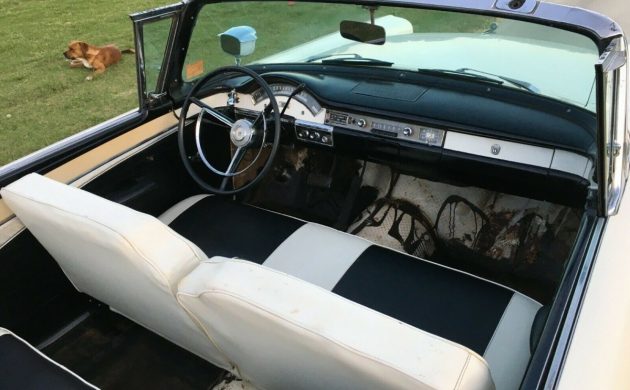 Looking at the interior reveals the most apparent need with this classic. It isn't clear why he did it, but the owner has chosen to remove the carpet. He doesn't say whether he has retained, and if so, what condition it is in. If it had deteriorated beyond the point of no return, it wouldn't be a big deal. Replacement carpet sets are easy to find, and generally sell for around $200. Fitting these is also pretty straightforward, and should be able to be achieved in a weekend. One positive aspect of the missing carpet is that it affords a clear view of the floors. These look about as clean as you could ever hope to find in a vehicle of this age. With a new carpet set, the interior would look stunning. The seats look like they are wearing new covers because there are no signs of any faults or flaws. The remaining trim appears to be in good order, while the dash also presents well. In addition to replacing the carpet, there are a couple of other small tasks to perform. Neither the radio nor speedometer function, so both will require some investigation.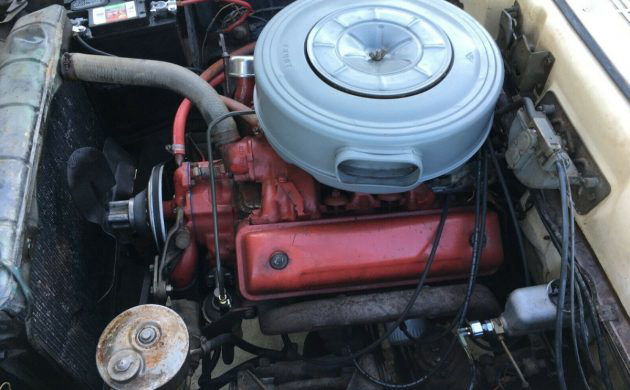 Taking a peek into the engine bay reveals a 292ci Y-Block V8. This would have produced 212hp, which found its way to the rear wheels via a 3-speed Fordomatic transmission. As a bonus, the Fairlane comes equipped with power steering. As part of the revival process, the owner undertook a reasonable amount of work to return the car to a roadworthy state. This included fitting a new fuel tank and pump. Also, the brakes received new wheel cylinders, a new master cylinder, along with new hoses and lines. Once you add a new water pump, fresh plugs, points, a new cap, new wires, fresh oil, and a new filter, the Fairlane is said to now run and drive well. The engine starts quickly, the transmission shifts smoothly, the brakes are strong, while the power steering works perfectly. The only fault that the owner identifies is the fact that the single exhaust will require replacement shortly.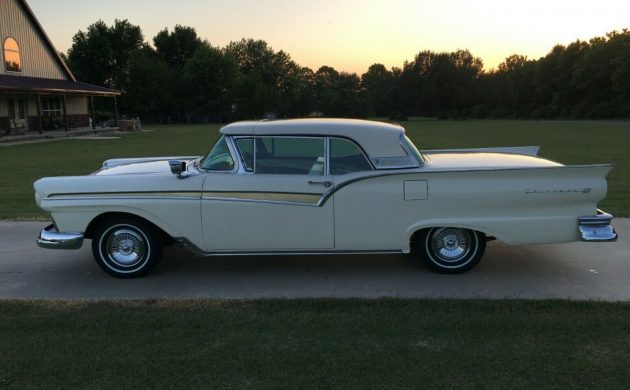 Tackling the full restoration of a classic car can be a daunting task. The prospect of months or years of work, along with a substantial capital outlay, can encourage some people to drop the whole concept into the "too hard basket." That's where cars like this Skyliner fit into the equation. They are fundamentally ready to go, but there are just enough little tasks that will allow a dedicated owner to place their mark on the vehicle. I'm glad that there are many thousands of miles between the Ford and me because I would love to park it in my workshop. I will be interested to see whether any of our readers feel the same.