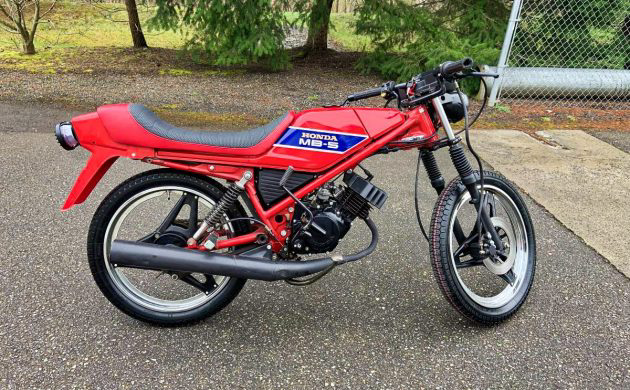 When it comes to vintage motorcycles, dirt bikes, and scooters, you really have your choice of any number of makes and models that could serve as a worthy restoration project. Big bikes, small bikes, fast bikes, slow bikes – it's a bit staggering how many options there are. And there's always more popping out of the woodwork, models you've never heard of, like this 1985 Honda MB-5, which exists somewhere between a scooter and a motorcycle, but definitely not a road bike as it makes just seven horsepower – but like all things Honda, however, its genius lies in how much it does with so little. Find it here on craigslist with an asking price of $2,500.
The MB-5 was a one-year-only model in the U.S., though it continued to be sold in Europe several years afterward. What's curious about this bike is that it's listed as an '85 and the seller emphasizes that it's a "UK model," which doesn't seem quite right given sales ended in the U.K. in 1981 (it continued to be sold in other European countries through the late 80s). In addition, he states that the bike was sold at a police auction in the early 90s after living in a barn for 25 years. So there's a bit of a story going on in the background of this bike, and it seems likely that it was imported at some point and allowed to live here in the U.S. before being abandoned and sold at auction.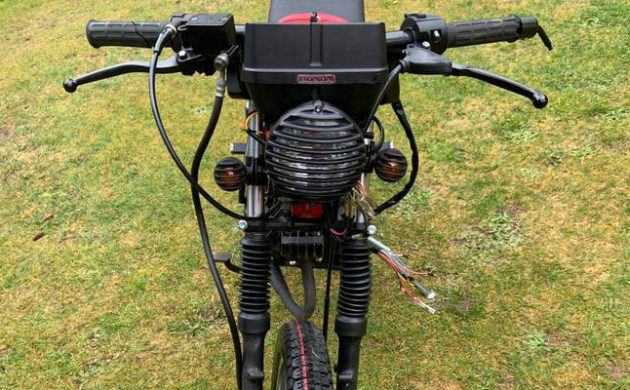 The MB-5 was a fairly genius piece of kit, featuring the sort of packaging you'd expect on a small vehicle with big ambitions. According to the website MotorcycleClassics.com, it featured oil injection for lubrication; straight-cut primary gears driving the wet clutch and five-speed gearbox, and a frame featuring tubular spines and some clever welding to arrange the engine mounting location and swingarm pivot. The design is such that you don't necessarily consider it a scooter at first glance, but rather a bare-boned sportbike. That had to have helped shake the perception for some riders that you were riding what would otherwise be considered a moped.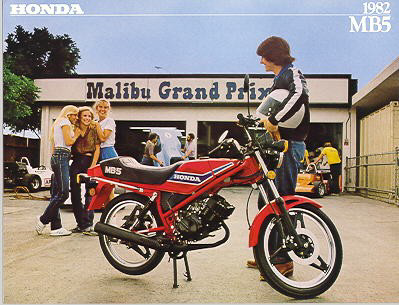 I think this ad captures perfectly the essence of this bike: it's got seven horsepower but looks way cooler than that. As far as passengers go, seven horsepower doesn't give you a lot of options, but the MB-5 could still reach 53 miles per hour and its 49.5cc  two-stroke could scream all the way to 10,500 RPM, so perhaps this young man was able to take one of his admirers on a ride around the block. For collectors of the multitude of scooters, dirt bikes, and mini trails made in the 70s and 80s, exclusivity likely plays a role in determining what goes into a collection, and this MB-5 certainly possesses that quality in spades.