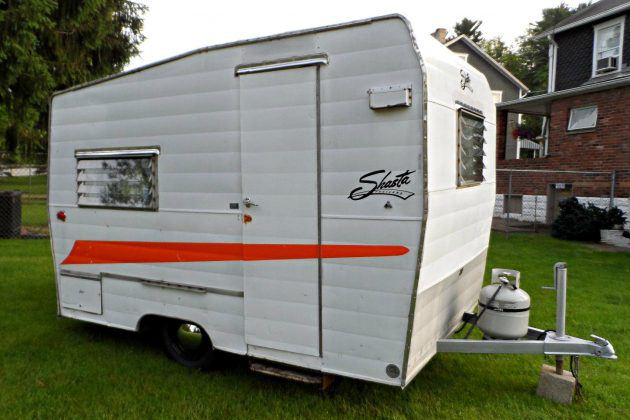 Have you ever wanted to go on a camping excursion with your classic but you don't have a VW camper, or a Dodge A100 camper? Then perhaps a small vintage camper would meet your needs of having the classic of your choice and the ability to roam with this 1966 Shasta camper. Well maintained with a fair amount of maintenance means this 11 foot camper is ready for your classic camping adventure. With a whopping 57 bids, the auction price has risen to $6,600. Take a look at this classic camper here on eBay out of Connellsville, Pennsylvania.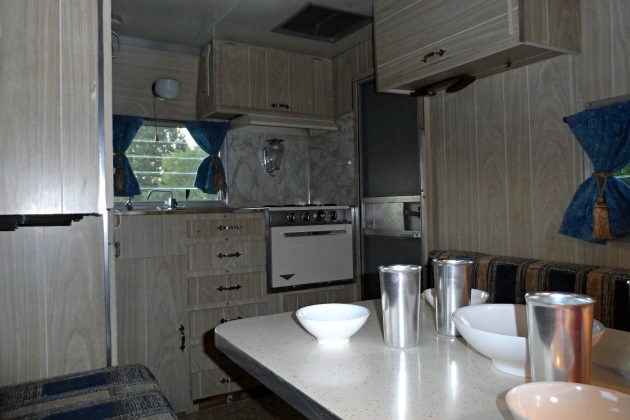 Inside of this tiny camper is a very well laid out interior with a great attention to space. In the kitchenette there is a sink, plenty of storage, and a small oven with a 3 burner cook top. The stove and oven combo is propane powered, and all functional. In fact all of the features to this camper are functional and ready for a camping weekend. The only thing that may be a draw back for some is this camper does not have a bathroom. Personally I see that as a bonus, as camper bathrooms can often smell not so great, and can make then interior smell not so great as well. You would just have to be sure to camp at places with public restrooms and showers. The seller believes this camper to be original but there are a few updates to the interior. The linoleum flooring is not original, and the light over the dining/sleeping area is a newer unit as well. Beyond those items the interior appears remarkably clean and original. The only condition issues are minor, with the first being a chipped porcelain coated sink, and then some damage to the veneering down near the floor below the oven space. It would appear this camper has always been well maintained as there is no mold, water damage, or mildew to be seen.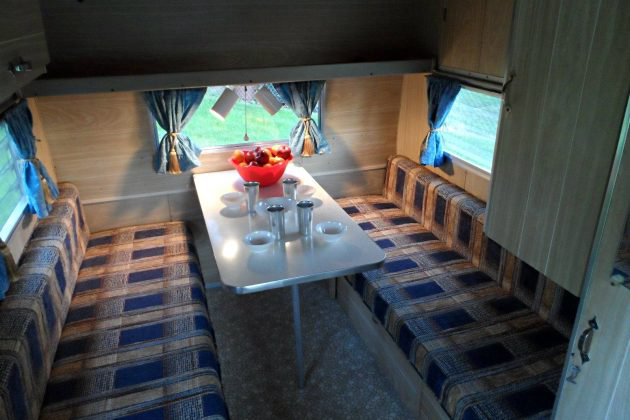 The most important area is the place that you will be able to eat and sleep. The dining area has a table that pulls apart and can be used on the exterior of this camper. When you are ready to sleep simply move the table out of the way, and fold down the two seats to give a queen size sleeping area.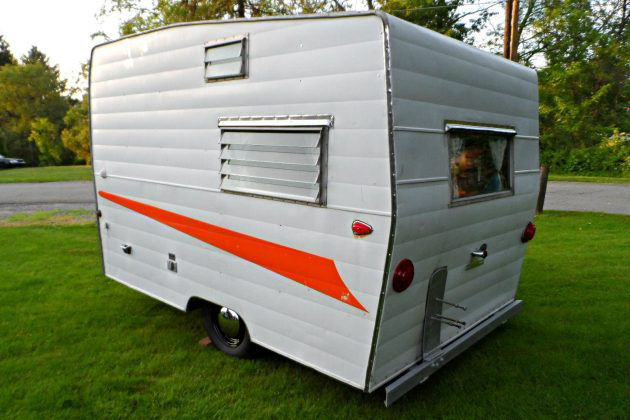 From the exterior this camper has a way cool mid-century modern appearance that would look right at home behind so many 1960's era car. This camper is constructed via aluminum affixed to wood. Each body panel has seams around its edges where over time the sealant can fail, and moisture can get to the interior wood causing issues that you just don't want to deal with. The owner was brilliant and removed all of the seam trim, cleaned and polished the trim and resealed the seams to ensure this camper remained water tight. New tires are also fitted to this camper, but the spares are missing from the rear spare tire mount. Ready to roam and camp where you please, where would you go in this little Shasta?