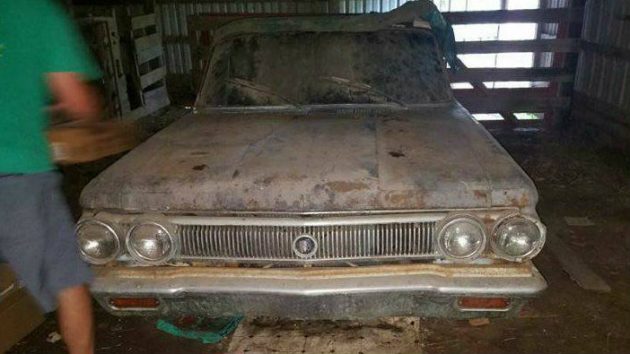 No one can argue that this car isn't a real barn find! This 1963 Buick Skylark convertible has been resting for more than 30 years in a real barn. It's for sale here on craigslist for an asking price of $2,500. There's no telling what it might look like once it's cleaned up, right? If you want to take a look, you can find the car in Danville, Indiana (just west of Indianapolis).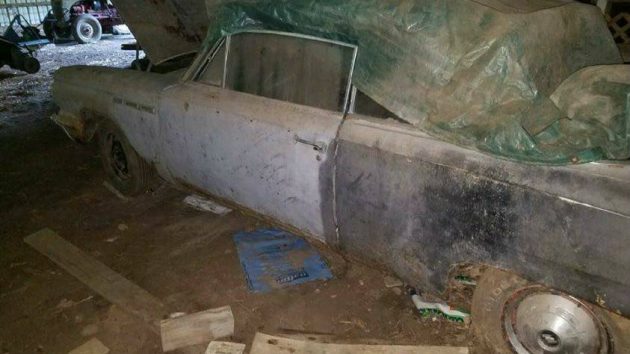 The seller was kind enough to include a picture of the serial number plate, and after looking it up on this VIN page, I was able to confirm that it is a 1963 Skylark convertible. But since there isn't a really good photo of what the car looks like, I decided to do some research.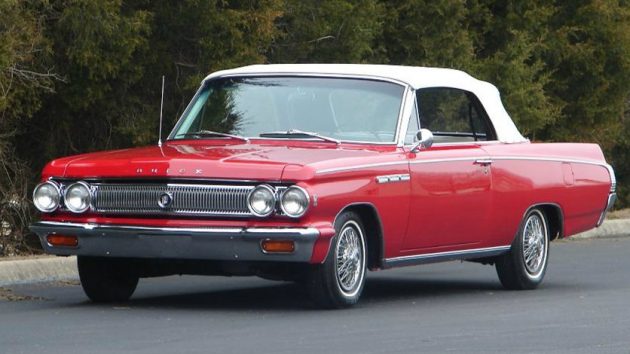 Wow, its pretty glamorous looking, isn't it? This one was sold at Barrett-Jackson in 2013 for $49,500! Unfortunately, the one for sale now has a long way to go to get to this status. But it's a nice dream, isn't it–and that's who will probably end up buying this car; a dreamer.
It's really hard to tell, but this car looks like it's been wet a lot during storage. Perhaps not, but I'd really want to check this out closely before taking on refurbishing it, even with that kind of upside potential. I fear any type of professional restoration work would have you underwater very shortly.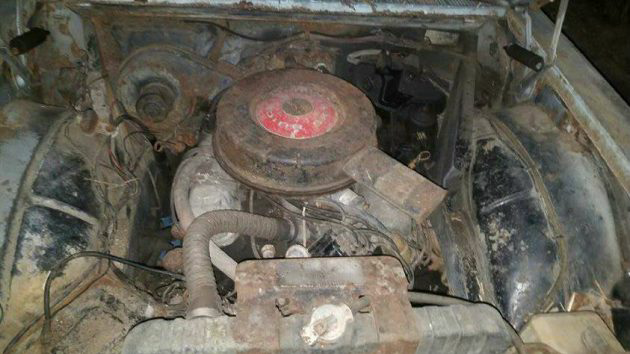 While this is the great aluminum block 215 cubic inch V8 that later become the property of Britsh Leyland and was featured in Rovers, Land and Range Rovers, the Triumph TR8 and numerous TVRs, this one looks pretty sad. There's no mention of the engine being free, and even the sellers characterize the entire car as "rough". We also don't see any interior pictures, which might look even worse than the exterior ones. But look again at the red convertible above, and I'll bet most of you can't tell me thoughts of taking on this project don't come to mind!