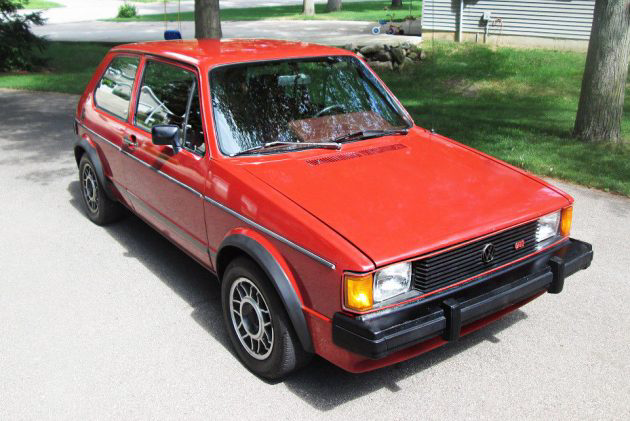 Here's a little ruby gem: a 1984 Volkswagen Rabbit GTI, the vaunted Mark I version of VW's iconic hot hatch—well, sort of. This U.S.-built car is a pretty different animal from the Golf GTI introduced in Europe in 1976, but it still has a special place in American enthusiasts' hearts. This extra-nice, 113K-mile example has just been reconditioned and brought back to roadworthy status after 20 years in garaged storage. It's listed on eBay out of Hudsonville, Michigan, and bidding as of this writing is in a very reasonable $5,000 range with no reserve in sight.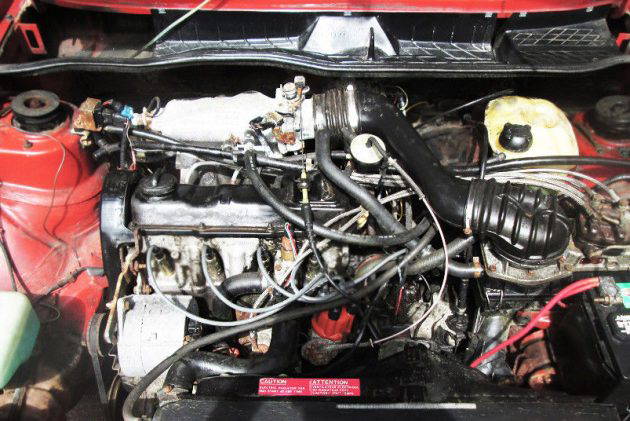 Underhood, the GTI rocks a 90-horse 1.8-liter four with Bosch K-Jetronic fuel injection. That's about 20 horsepower down from the Euro version—insult on top of the injury of the seven-year wait Americans had to endure—but still up 16 ponies over any other U.S.-spec Rabbit. It's mated to a close-ratio five speed, stirred via VW's iconic dimpled, golf ball shifter. This is a robust engine, and with new fuel lines and a new exhaust it's said to run fine, although the seller recommends a timing adjustment. Serviceability under the hood is improved by the lack of air conditioning, although I know some of you won't want to be without it!
Even without A/C, the velour upholstery will stay more comfortable in hot or cold weather than the leatherette found in many other Rabbits, plus it's got that gradient stripe to keep things extra cool. Opening vent windows, already an anachronism in the '80s, will help with ventilation, too. This interior is in really great shape, with no cracks in the dash, no tears in the upholstery front or rear, and a perfect, sag-free headliner. This is also a non-sunroof car, which the seller touts as a structural advantage and weight savings, not to mention avoiding leaks or rust.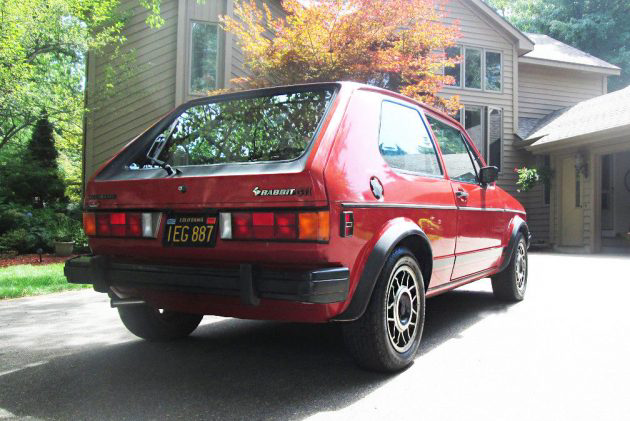 So far, so hunky-dory, but don't let that California plate fool you into thinking that this Michigan car is rust-free; it's not, and it's frustrating in an ad with generally very detailed text and lots of nice photos not to be given any close-ups of the trouble spots. We're told, for example, that there's a small spot of rust-through on the hatch, but this is as close to it as we get. Ditto the driver's door, which is said to have some cancer as well. The original paint is similarly described as having a few cosmetic issues, but none of them are shown. I appreciate that the seller doesn't let the pictures of the car looking generally flawless and shiny have the last word, but that extra degree of transparency makes a huge difference. Still, this is a rare and desirably unmolested first-gen GTI—well, our version of one, anyway—and at the current bidding, the price seems extremely reasonable. Any of you got some cash burning a hole in your pocket for this hot hatch?