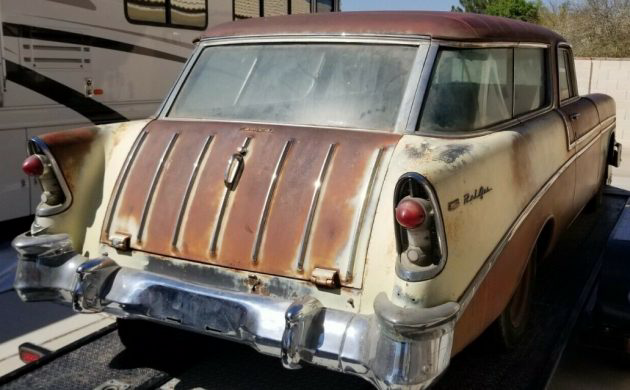 The Tri-Five Chevrolets of 1955-57 have been in the Automobile All-Star Hall of Fame (if there was such a thing) since almost the beginning. And none more so than the 2-door sport wagon, the Nomad. Decked out in Bel Air trim, the Nomad was a variant of the 1954 Motorama show car, which itself was patterned after a Corvette. For whatever reason, sales of the wagon didn't meet expectations, so the name was transferred to Chevrolet's other wagons after 1957. This '56 Nomad looks to have been sitting for a while but also has several mechanical upgrades that we'll discuss later. Located in Mesa, Arizona, the car is available here on eBay for the Buy It Now price of $30,000 (offers also entertained). Thanks, Larry D Brooks, for providing the tip of this one!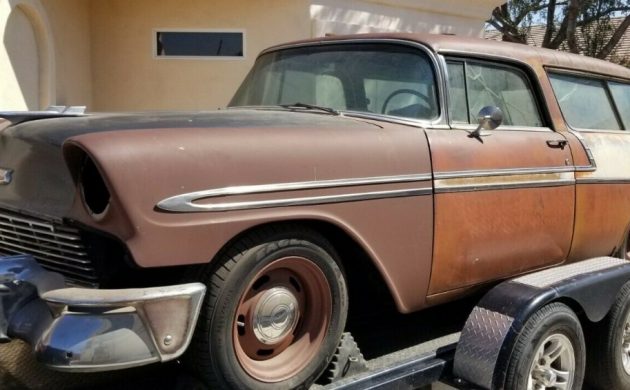 Nomad initially was the "halo" model of the Chevrolet line of station wagons. It borrowed its roofline and rear deck from that Corvette show car and became a sport wagon. Although it was sold as its own model line, the Nomad shared Bel Air sedan trim and badging. Pontiac had a companion in the form of the Safari, which had the same chassis and roofline but Pontiac engines, front sheet metal, and interior components. The bodies were all made at a single plant in Cleveland and then distributed to 10 others for assembly, assumed to be in concert with Bel Air production. A total of 23,167 Nomads were built in 1955-57, with sales declining in successive years. 8,103 Nomad sport wagons were built for 1956.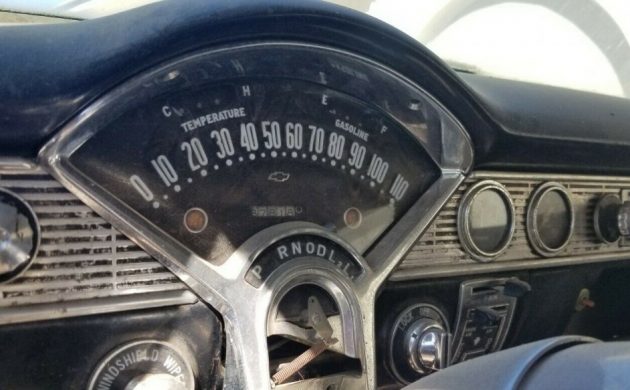 It looks as though this '56 Nomad was on its way to becoming a restomod. The seller says it has a 361 cubic inch V8 under the hood. My first reaction was "what is a Chrysler motor doing in a Chevy" until I read there apparently is such a thing, but the only reference I could find was that it was a "small block Chevy nitrous motor". It also has a 700R4 transmission, a 4-speed Turbo-Hydramatic that General Motors developed in the early 1980s as an upgrade to the TH350. Other changes include front disc brakes, relocated rear spring frame pockets, a new wiring harness, Holley fuel injection, and a host of other NOS items, some of which may still be in the box.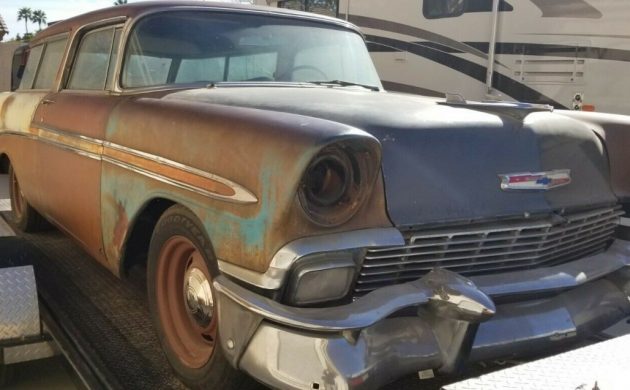 We're told the two-tone paint is original, but the front clip and roof have already received a coat of primer. As a California car originally, it hasn't seen any rust – at least on the sheet metal – but it did spend quite a few years sitting under an oak tree (wasn't there an old song about that…never mind). The floorboards, however, are going to need some attention. Part of the exterior trim has been removed and is available. In the passenger compartment, the only photos are of the dashboard (notice the transmission gear selector pattern), which looks okay. The seller says both bench seats are present, and the headliner has a case of the droops.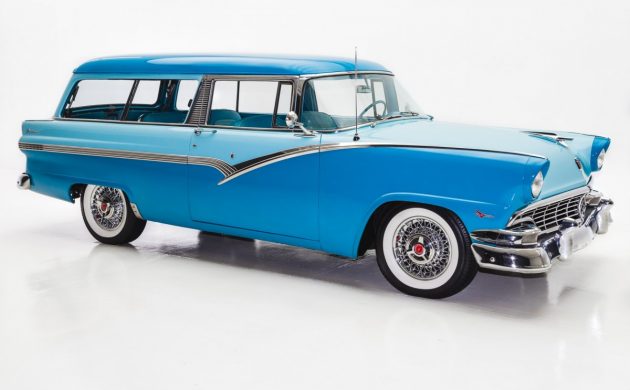 This looks like a good candidate for a restoration if you don't mind the mechanical modifications. Or you can undo all of that and go back to stock. As the rest of the Chevy line was little changed from 1955 to 1956, the same was true of the Nomad. As a piece of car trivia, did you know that Ford came out briefly with a competitor to the Nomad in 1956? It was called the Parklane (see pic above) and – while it would outsell the Nomad by a healthy margin — Ford dropped it after just one year, later using the nameplate over at Mercury.