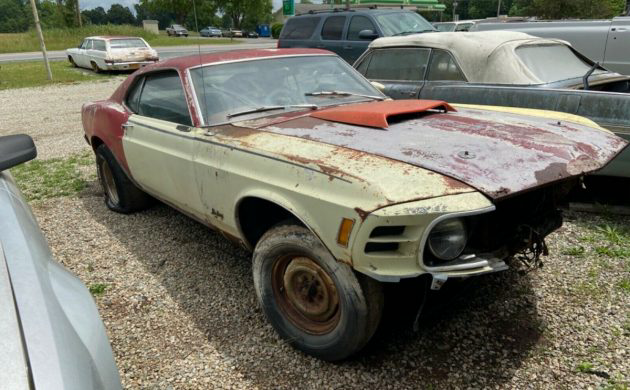 The owner of this 1970 Mustang is pretty candid about its condition. He describes it as being in a pretty bad way, and that it will require a complete restoration. Having said that, it is not as far gone as some Mustangs that we have seen here at Barn Finds, so it might not be a lost cause. It is also worth noting that someone has attempted to address some of this car's rust issues in the past, but the quality of this work is not particularly good. So there will also be some rework required if this car is destined to grace our roads once again. Located in Greensboro, North Carolina, you will find the Mustang listed for sale here on eBay. The price has reached $4,450 off the back of some very strong bidding, and the reserve has been met.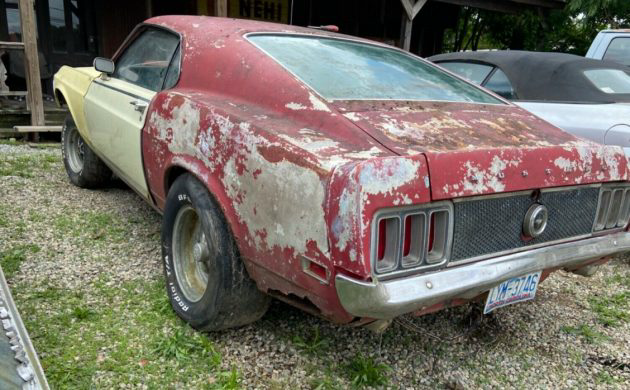 Looking past the very crusty paint, what can be seen externally is rust that is fairly typical of 1st Generation Mustangs. This has impacted the lower rear quarter panels, along with the bottom corners of the doors. I initially thought that there was rust appearing in the filler panel between the rear window and the trunk lid, but it looks like this is only some pretty old and rotten leaf litter. What does look good are the rockers. They appear to be nice and solid, with no signs of any problems. Delving below the surface, and we find a trunk pan and drop-offs that have seen better days, and all will require replacement. The major issue surrounds the floors, which have been patched at some point. The workmanship is pretty amateur and has been completed using some flat steel plate. Whoever completed the work has then slapped on what looks like some form of bitumen-based paint to protect their handiwork. However, I suspect that the next owner will want to cut the patches out, and will probably replace the floors entirely. Good news comes in the form of the frame rails all appearing to be solid, although they do wear a significant coating of surface corrosion. The same would seem to be true of the torque boxes and the shock towers, although there may be some rust present below the battery tray. The vehicle is a case of "what you see is what you get." The photos indicate that the grille and the front valance are both present, but there are a lot of trim pieces, including the front bumper, that are missing. Most of the tinted glass is in good condition, although some severe cracking will mean that the windshield will need to be replaced.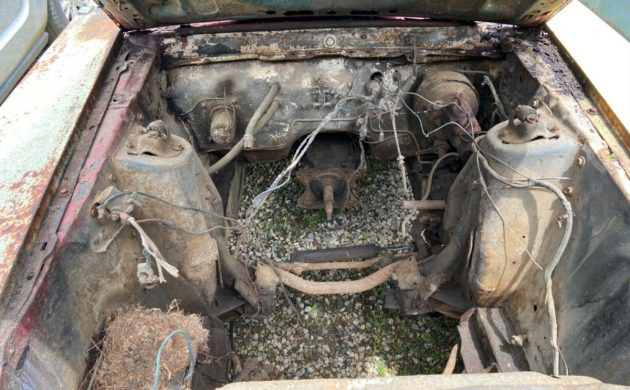 Once upon a time, the engine bay used to house an H-Code 351ci V8, a 4-speed manual transmission, along with power steering and power front disc brakes. The engine is but a distant memory, as is a lot of the hardware for the power steering system. However, the transmission is still present, although its condition is unknown. That engine would have been good for 250hp, allowing the Mustang to pull a sub-16-second ¼ mile ET fairly easily. The next owner will have some choices to make. Sourcing the correct engine and ancillaries would not be difficult, and the conservationist in me would love to see that route followed. However, I am also a realist and can see that slotting a more modern drivetrain under the classic body would make this a car that would not only provide significantly improved levels of performance but would be easier to live with on a daily basis.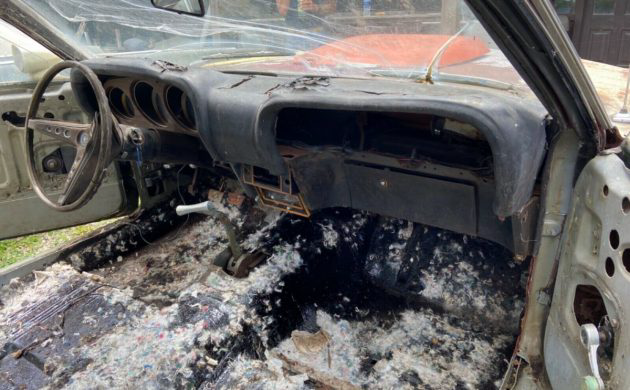 The Mustang's interior is essentially a blank canvas, and once again it is a case of getting what you see. The rear seat is present, although the front seats are gone. There are numerous items missing from the dash, while what is present has deteriorated pretty significantly. I've previously discussed how relatively inexpensive trim kits are for Mustangs, and owners can choose from a variety of sources. That is definitely an option, although it is also possible to pursue a more customized look, and this could be achieved without going over the top. For instance, substituting leather for vinyl on the seats would add a touch of class, but as is the case with the original vinyl, if it was done properly, it could remain timeless. There could be other areas that could be attacked in a similar fashion, and I have to admit that if I was trying to bring a more modern twist, then air conditioning, power windows, and power locks would be tempting additions. There are kits available for these that are of very high quality, and they actually look for all the world like a factory fitment. I guess that is a point to ponder.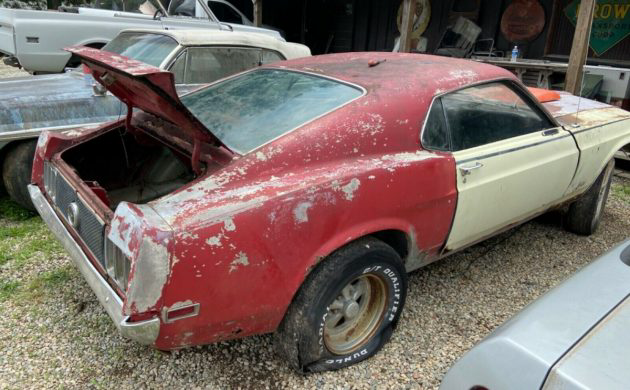 Yes, the owner is right when he says that this Mustang is pretty bad and that it will require a full restoration. However, I'm fairly confident that we have all seen cars that were much worse, and that have been successfully revived. One of this Mustang's greatest strengths is that it appears to be essentially structurally solid, which could make it a reasonable sort of a foundation for a project car. It has been a nice looking car in the past, and I really can't see any reason why it couldn't be once again. It just needs the right person to wave their magic wand over it.
Have something to sell? List it here on Barn Finds!