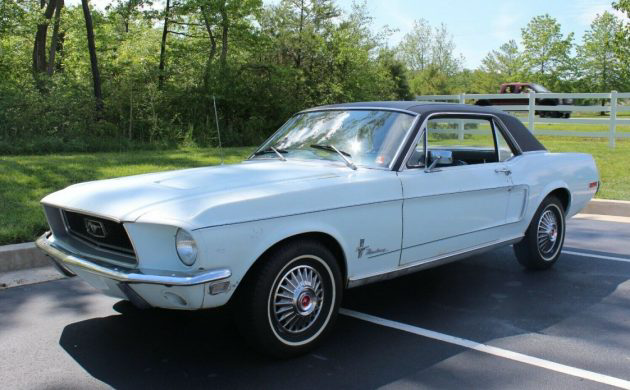 For many people, this 1968 Mustang would have to be a tempting proposition if a classic car is on their radar. Here is a vehicle that can be driven and enjoyed during the remaining warmer months, but it is solid enough to represent a relatively straightforward restoration project that would keep its next owner busy when the weather turns cold once again. If you are a Ford pony car enthusiast who finds this idea attractive, then you will find the Mustang located in North East, Maryland, and listed for sale here on eBay. Bidding has reached $8,490, but the reserve hasn't been met. If you would prefer to bypass the whole auction process, then there is a BIN option, which has been set at $10,950.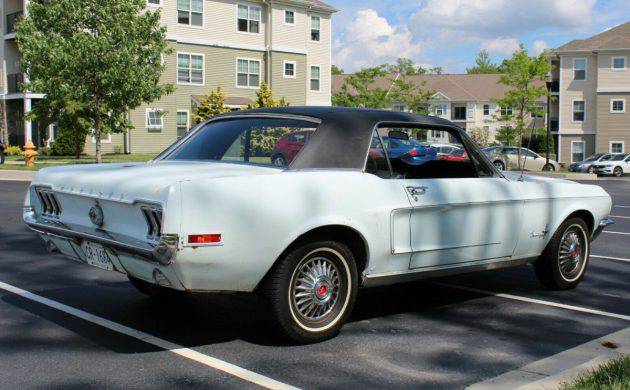 The Mustang is finished in Diamond Blue, and also features a Black vinyl top. The vehicle has received a repaint at some point in the past. I suspect that another one will be on the cards at some point soon. The most important thing to note about this car is its general lack of rust problems. There is a spot just forward of the rear wheel opening on the passenger side, along with a small spot in the lower front fender on the same side. Neither of these looks particularly bad, and I believe that both could be addressed with patches. The owner supplies a few shots of the Mustang's underside, and while there are some signs of surface corrosion, there is no apparent penetrating rust. If this assessment is accurate, then this is a car that would seem to represent a straightforward and rewarding project. The panels do wear a few minor dings and marks, but fixing these would appear to be pretty easy. Beyond that, the exterior trim, chrome, and the glass all seem to be in good condition.
The Mustang is a numbers-matching vehicle, and while it doesn't feature the most potent drivetrain combination, it should still be a relaxed and enjoyable cruiser. What we find is a C-Code 289ci V8, producing 195hp. The vehicle also features a C4 automatic transmission, along with power steering. The presentation of the engine bay isn't spectacular, but it could still present well with a bit of work. What we need to do is to delve beyond the cosmetics, and consider how healthy the Ford is mechanically. Here, the news appears to be quite positive. The vehicle has recently been treated to a new fuel tank and pump, along with a fresh set of Michelin tires. While the owner doesn't come out and state it outright, the impression that he conveys in the listing is that the Mustang runs and drives well. What he does say is that this is an excellent car for Saturday night cruises. We do know that it comes with a significant collection of documentation. These include the Owner's Manual, the original Ownercard, along with a deluxe Marti Report.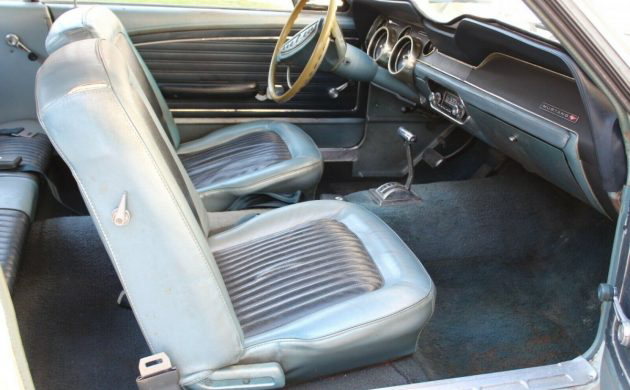 The condition of the Mustang's interior is quite serviceable, although I suspect that it won't come close to satisfying the perfectionists amongst you. If I were to try to sum up its condition in a single word, then it would be "tired." The one item that we don't get a clear look at is the dash pad, but I do wonder whether the cover that is fitted might be hiding something nasty. One positive aspect of the interior is that it is original and unmodified. It is nice to see that no-one has hacked into the dash to fit an aftermarket stereo or gauges. That means that if the next owner wants to make the interior sparkle, then it could be as easy as purchasing and fitting some new trim items. The easy answer that would make the interior pop would be to buy a full trim kit. However, following this path would depend heavily on what sort of results the owner is seeking, and what kind of budget is at their disposal. Basic kits can be purchased for under $900, but if a perfect interior is the ultimate goal, then it is easy to spend $2,000 or more in a bid to replace everything. The steering wheel is one component that looks very tired, and while sourcing a replacement wheel is easy, a resourceful owner could conceivably restore this one. I would be tempted to try this myself because I believe that it could be a satisfying process.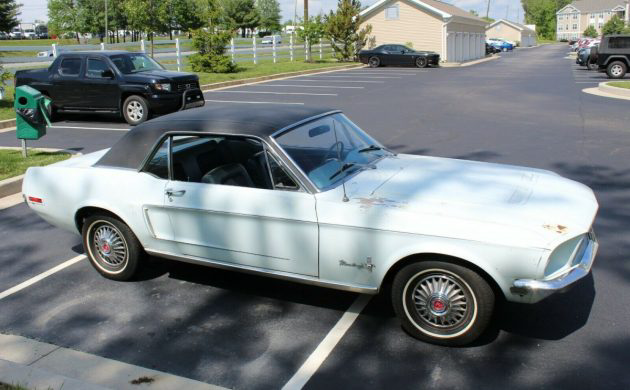 When assessing 1st Generation Mustang project cars, it can be easy to become bogged down or discouraged by the prospect of significant rust repairs. That doesn't appear to be the case with this car, and if it is as solid as the photos would tend to indicate, then it could be a promising project car for the person who is looking to dip their toe into the water of classic car ownership for the first time. It could also serve as an excellent vehicle for any parent to tackle as a bonding exercise with their children. Alternatively, the next owner could just choose to drive and enjoy the Mustang exactly as it currently stands. If they did, who could blame them?