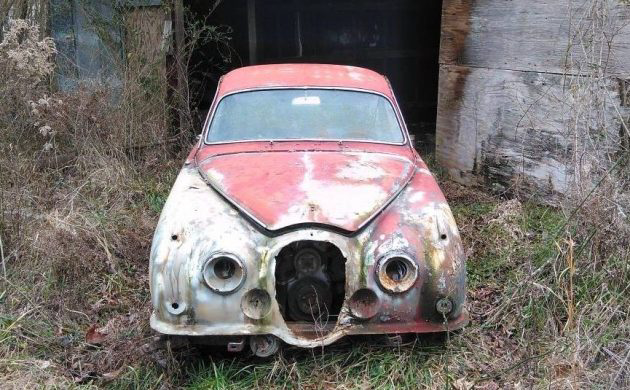 There's simply nothing as exciting as digging up a long-abandoned car, and the story for this Jaguar is a perfect example of a car that's been long forgotten. The ad for this four-door, which can be found here on craigslist, contains a statement from the seller claiming that he found it on a piece of property that he had recently acquired, located in Woodland, Mississippi. Barn find stories rarely get better than this!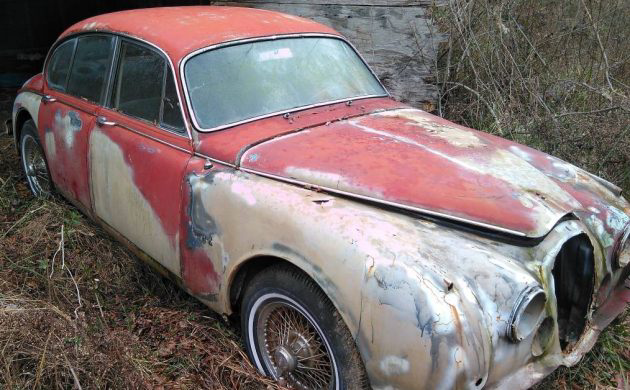 If I had to guess, I would say that this car is one of many that was subject to a halted restoration many years ago, as indicated by the half-finished body work and other removed pieces like the front grill and headlights. There are no underbody shots, but the body panels that we can see present decently, with minimal areas of major rust to speak of. According to car-nection.com, the wire wheels and rear fender spats (shown in a separate image) were options for the Jaguar, indicating that this car could possibly be a higher end model. Unfortunately, the front bumper, grill, headlights, and fog lights are missing with no indication from the seller that they will be included with the car. As a bonus, all glass appears to be present and unbroken.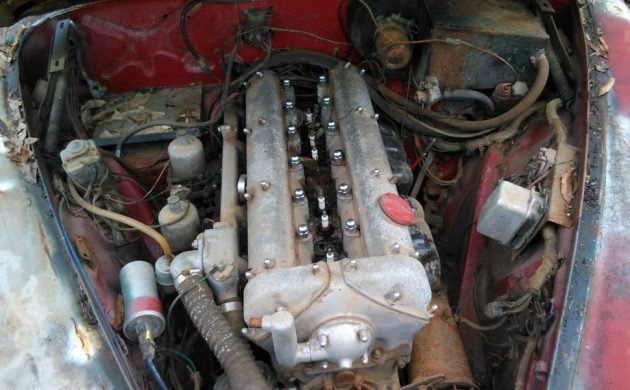 Jaguar MKII's came equipped with either a 2.4-liter, 3.4-liter or 3.8-liter inline six with power outputs of 120 bhp, 210 bhp, and 220 bhp respectively (thanks again to car-nection.com for those numbers). Of the three, the 3.4-liter and 3.8-liter displacements were by far the most common in the states. There's a claim on Wikipedia that the 3.4-liter and 3.8-liter models were equipped with twin SU HD6 carburetors while the 2.4-liter models came with twin Solex carburetors. If this is true and my eyes don't deceive me, I believe we're seeing two SU HD6 carburetors confirming the likelihood of higher displacements. While there are certainly some pieces missing under the hood like the air cleaner and plug wires, if the motor turns over (the seller makes no mention on if the engine is seized), it looks far from unsalvageable.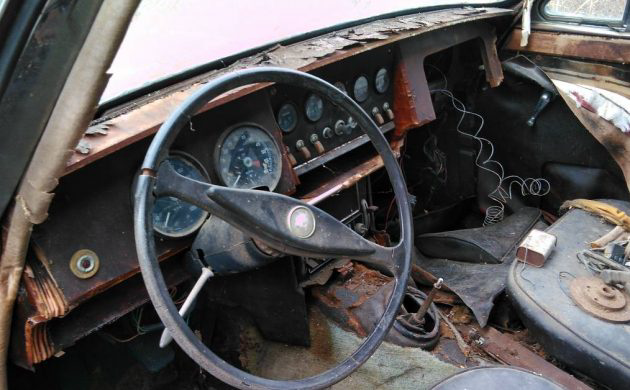 Unfortunately, the interior is a bit worse for wear. The door card on the passenger side is falling off, the center console is missing, and the dash is cracked, just to name a few issues. Despite this, I think that these cars have a very cool dash layout and the rocker switches are timeless. This car appears to be a four-speed manual, far more common in these cars than the optional automatic transmission.
As you can imagine, there is no title included and the seller says that he would be willing to sell parts off the car. The seller also says that they will consider "any fair offer" for this Jaguar. According to Hagerty, this values for the MKII range from $15k for a fair condition car, $24k for one in good condition, and $38k in excellent condition. Despite the many unknowns, what do you think this MK2 is worth? Would you restore it or part it out?