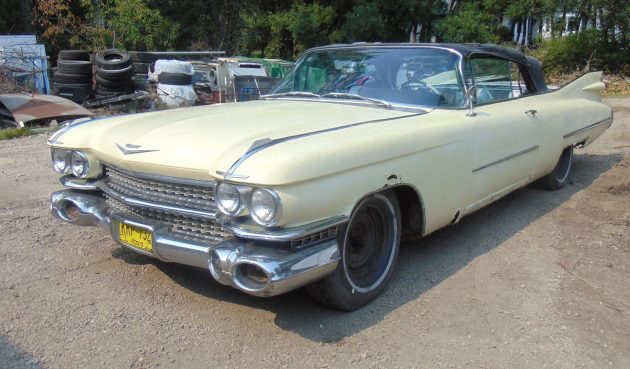 Out of all of the luxury car brands out there, hands down one of my favorites is Cadillac. My dad bought a 1967 De Ville convertible back in 1989 for $100 (which he still own today and is, almost ironically, one of our own barn finds in our garage) and last year we owned, drove and later sold a 1972 Sedan De Ville hardtop sedan. Cadillac has never been a shrinking violet for its luxury and at times its looks, especially on this 1959 Series 62 convertible. Find it here on eBay in Edmonton, Alberta, Canada, with a little more than two days left to bid.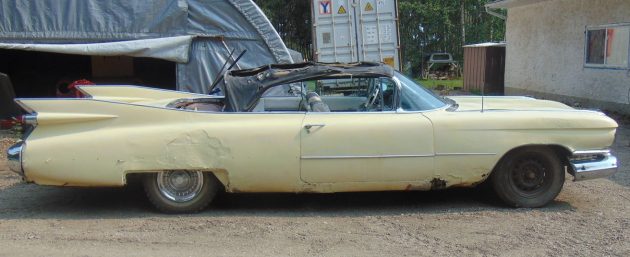 Originally designed to replace the entry level Series 65, the Series 62 was introduced in 1940 and was available until 1965, when it was replaced by the Calais series. The Series 62, along with the rest of the Cadillac line, was redesigned in 1959, and was renamed from Series 62 to Series 6200; the easiest way to spot a Series 62 is its straight body rub moldings, running from front wheel opening to back bumpers, with crest medallions below the spear. The flashiest and most identifiable parts of the Series 62 and most other 1959 Cadillacs however is its huge iconic tail fins with dual bullet tail lights and its jewel-like grille patterns and matching deck lid beauty panels. Overall, Cadillac built 11,130 Series 62 convertibles for 1959. Looking over this car, there is rust on both fenders, rear quarter panels, and rocker panels; the convertible top is basically shot, too, and some of the exterior trim is missing. The bumpers look to be in good shape, as is the tail lights, and it appears to have three out of the four original wheels still mounted; I also dig the vintage Alberta license plates; factor in the options the car has exterior-wise (power trunk, Autronic Eye, and tinted glass), and this rough car has some nice options thus far.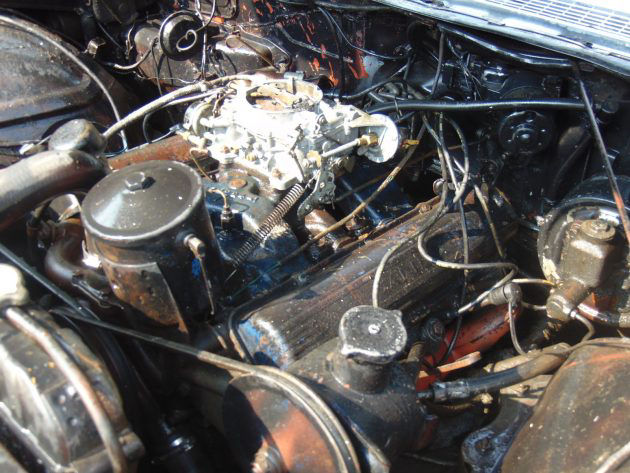 In addition to its sky-high tail-finned styling, Cadillac gained a new V8 for 1959: a 390 cubic inch V8. Rated at 325 horsepower and 430 lb-ft of torque, the 390 V8 may not have the full-fledged power the later 429, 472 and 500 V8s that Cadillacs were powered by, but the 390 V8 is perfect for effortless cruising in this land yacht. According to the seller, the car "was parked over 20 years ago in a barn", and the owner "was told that it was running when it was parked"; currently, the motor will not turn over however. Backed by the Hydramatic transmission, the 390 V8 is also missing its air cleaner. I would try to get the drivetrain running before deciding on whether or not a rebuild will suffice, source a correct air cleaner and proper decals, and make sure all the motor accessories are in working order before deciding whether or not they need to be replaced.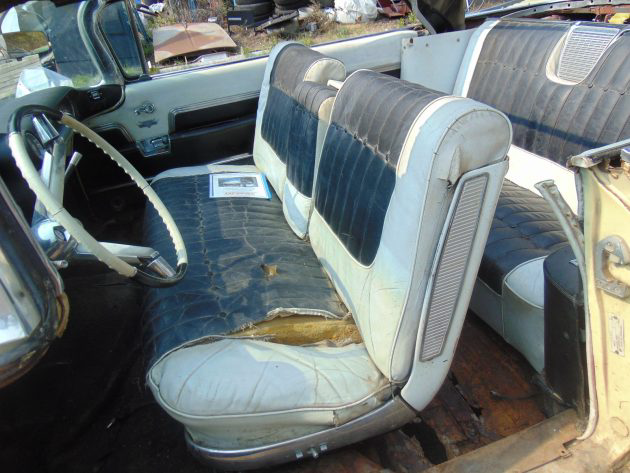 Inside, the interior is fairly rough on the edges; the front and back seats has some tears in it (the worst in the front seat) and the floors are shot. On the plus side, the interior is nicely optioned with a power front seat, black and white leather upholstery, power trunk, power windows, day/night mirror, and Wonderbar radio. Furthermore, the door panels, the steering wheel, dash and gauges are in good shape. Overall, this Cadillac is a very rough project that needs a full restoration, but many of the parts are being reproduced, and once restored this car can be worth upwards of $100,000. What are your thoughts on this rough 1959 Series 62 convertible?