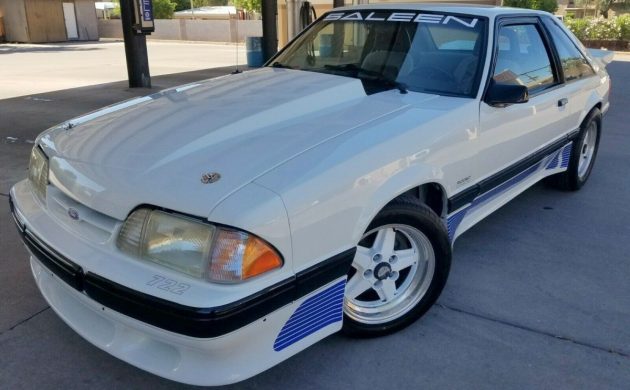 This 1989 Ford Mustang Saleen is car number 722, and it's an interesting specimen in that it hasn't been kept in a car bubble with test drive-only mileage. No, it's been driven, racking up nearly 70,000 miles and being significantly modified in that time. It's a rare day when someone uses a limited production performance car like the original builders intended, but this appears to be such a car. The seller lists numerous modifications that he claims push the power output to over 400 b.h.p. Find it here on eBay in a no reserve auction with a $20,999 suggested opening bid.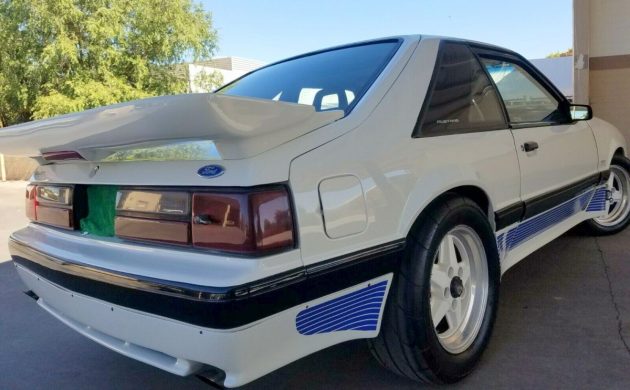 No reserve auctions with big first bids always make me chuckle a bit, as it's not really no reserve – you have to bid over $20,000 in order to have a shot at owning this Saleen. The car looks reasonably stock from the outside, with the Saleen-provided wheels, body kit, spoilers, and stripe kit all intact. But the real changes lay under the hood, where the seller has clearly spent some time. If it weren't for the power bulge in the hood, you'd swear this was a completely stock example. This generation of Saleen is among my favorites, and even more so when wearing color-matched BBS-style wheels.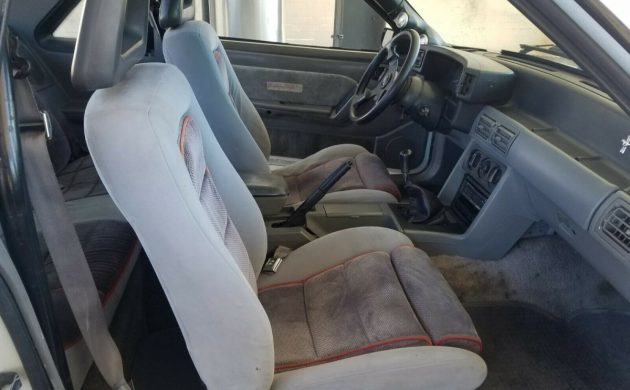 The interior looks like any other Fox Body in terms of its seating surfaces, which is the familiar gray cloth with red piping. The Saleen cars came with a unique aftermarket steering wheel and buckets with thick bolsters, and this seller has also installed a small roll cage. He claims the previous owner invested $10,000 in the drivetrain, and that he invested an additional $10,000 in paint and other areas. It's easy to believe, considering the drivetrain has been stroked to a 347 with a Vortec supercharger bolted on. The seller notes the headliner needs replacing and the carpets could use a good cleaning.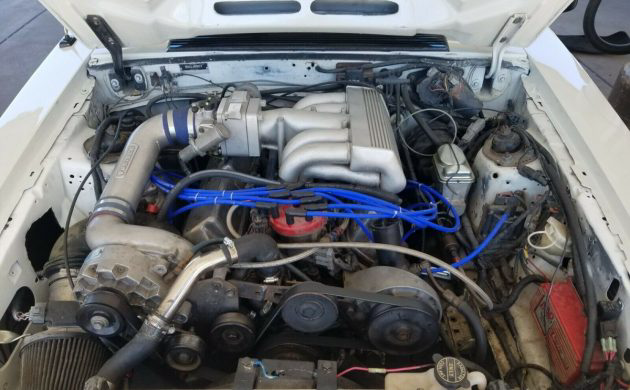 Other modifications include a high performance crank pulley, harmonic balancer, fuel pump, fuel injectors, fuel rail, clutch, and more. Now, the engine bay isn't super clean, and the seller doesn't hide from this; in fact, he even states"…(it's) probably not the car for a hardcore Saleen cryboy purist." There's a handful of issues disclosed, including inoperable cruise control, radio, and the instrument cluster doesn't light up. The A/C also doesn't work, so there's some small quality control issues for the next owner to sort out. Would you go for a modified Saleen like this, or hold out for a museum specimen?
Have something to sell? List it here on Barn Finds!