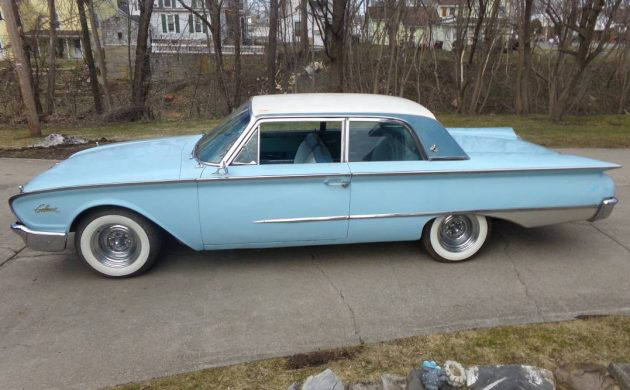 When one thinks of a Ford Galaxie, the ever-present two-door hardtop model comes to mind. The two-door hardtop was a go-to body style in the '60s, not only for Ford but for Chevrolet's Impala and Plymouth's Fury as well. Spotting a Galaxie two-door sedan, or what Ford referred to as a "Club Sedan", is hardly an everyday event anymore so when this 1960 example surfaced, a closer look was deemed. Located in Seneca Falls, New York, this Club Sedan is available, here on craigslist for $7,000.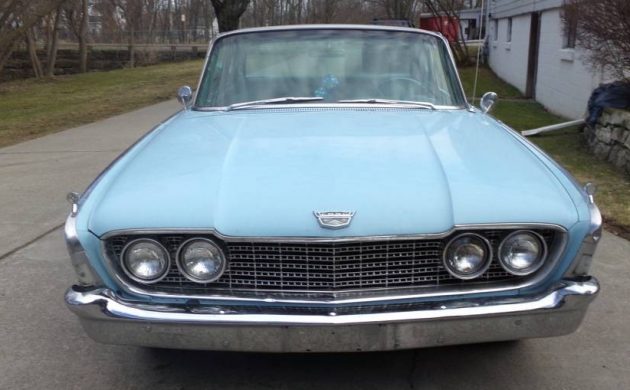 Domestic auto styling somewhat ran amuck in the late '50s, probably most notable with Ford's crosstown nemesis, Chevrolet. The '59 Impala is not a design one easily forgets, it seems infinitely memorable. The '60 Impala softened the worst impulses of the '59 somewhat, in an attempt at moderation. Ford played a more restrained game during this era but still managed to produce modern, timely designs that would probably be considered more middle of the road. Case in point is this '60 Galaxie, boxy it is, but flamboyant it's not. Even the '60 "Starliner", Ford's top-level, two-door hardtop, had an airy and nicely balanced look about it.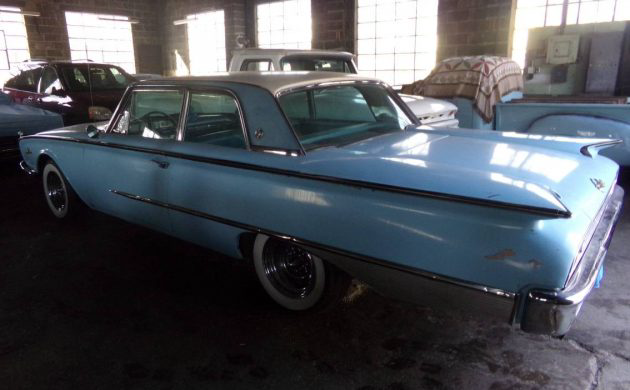 This 85K mile example, with its white over baby-blue finish and adorned with chrome-reverse wheels and wide whitewall tires just screams 1960. And it's really only the wheels that deviate from the original stock form. The seller states that the finish is from the '70s and is not without its nicks and knocks but it still shows well. The extensive stainless trim looks to be all accounted for too. And those are the damaged or missing parts that can be such a challenge to replace. Regarding overall integrity, the seller adds, "Car has great bones, nice frame, rockers, floors and trunk, all original, no patches. Car is complete !" The numerous exterior images don't indicate obvious rust/rot or damaged body panels.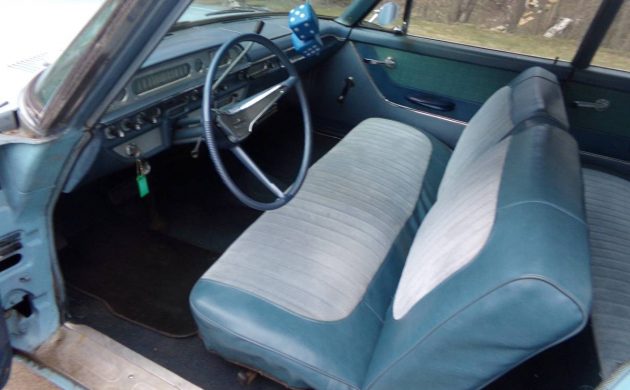 The interior is a twin-tone matching vinyl affair and it has managed the test of time well. No noted rips or tears or sagging door cards. There are a lot of, typical for the early '60s, exposed steel surfaces but they appear to be rust and scratch-free. It's difficult to get a real good look at the carpet but what shows, looks fine. The interior does not present as new but it hardly looks like 60 years of age and wear either. The seller does recommend considering a new headliner, however. Of note, big Fords from these years positioned the ignition switch to the left of the steering column, a bit different from the more customarily found, right side location. The seller references this Ford as a rare A/C car but it is an under-dash unit that would seem to have been added later. Ford did offer "Selectaire" in 1960 full-size models, and as an under dash unit too, but it appeared different than what is seen here.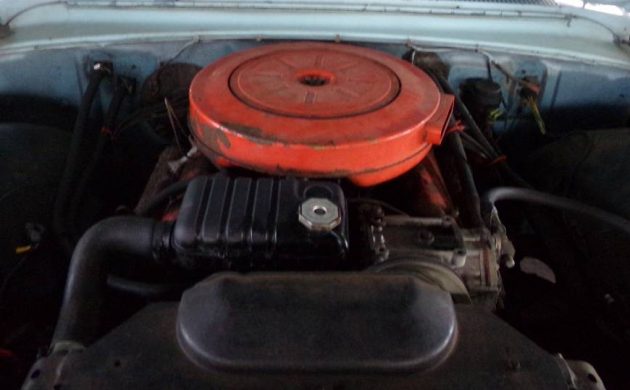 Heading under the hood, what do we find but a 185 gross HP, 292 CI "Y" block, V8 engine, that was referenced as a "Thunderbird" engine in the 1960 Ford sales brochure. Regarding this Galaxie's operations, the seller claims, "Runs & Drives Great! New battery, brakes, rebuilt carb, tank flush…" Absent the radiator cap, there looks to be a lot of originality in place. The transmission employed is a two-speed automatic unit.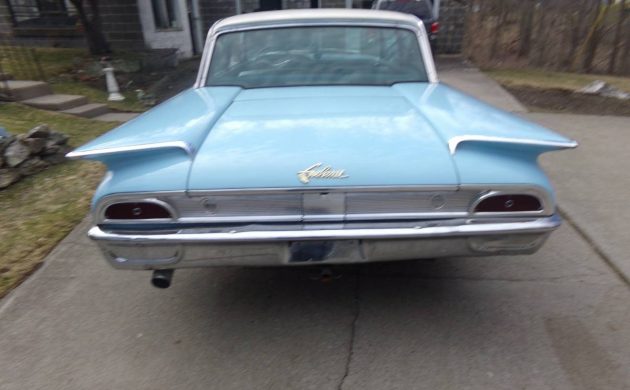 This Galaxie is a great example of early '60s domestic motoring, it possesses an unpretentious bearing that was designed to go about everyday driving chores with as little drama as possible. It wasn't that many years ago when a two-door sedan like this Galaxie would go unnoticed or just referenced as, "Yeah, another old Ford". Well, another old Ford is rapidly becoming another seldomly seen Ford so this is a nice, mostly original survivor.  Buyers tend to migrate to XLs and SSs and Sport Furys but it's always a treat to find a plainer, simpler example of those most coveted models, don't you think?