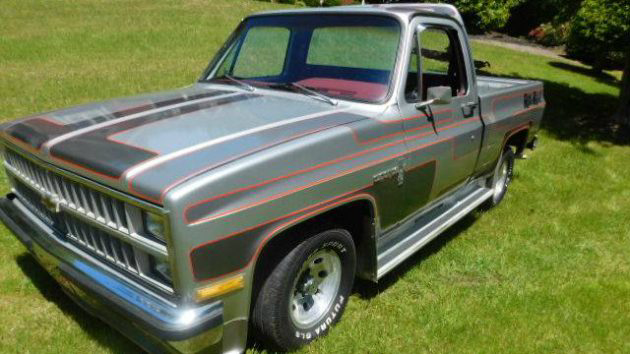 Though normally I despise short-bed pickup trucks (unless it's a step-side bed), I am a huge fan of square-body GM pickup trucks, especially unrestored ones. When my dad was a young adult he owned a blue 1973 GMC half-ton Fleetside with a 350 4-bolt main small block, and he said that it was plenty fast. What makes this particular square-body intriguing is that it was customized by Choo Choo customs back in 1981, though its paint scheme and interior screams 1970s. Find it here on Hemmings in Marietta, Georgia, with an asking price of $9,900.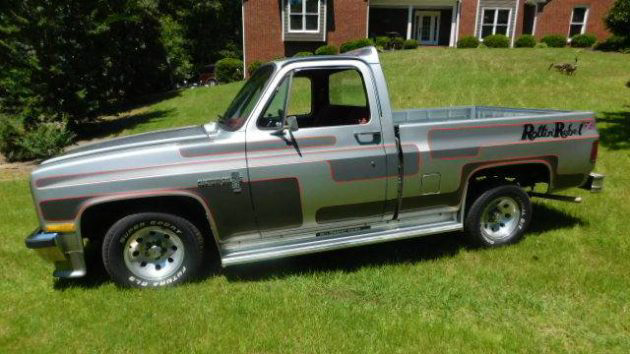 Based out of Chattanooga, Tennessee, Choo Choo Customs (now owned by Honest Charley, which is owned by Coker Tire) customized full-size GM pickup trucks,  SUVs (Suburbans, Blazers, Jimmys, etc.) and El Caminos from the late 1970s up to the late 1990s. Typically their modifications consisted of custom paint, front and roof spoilers, metal running boards, and a customized interior. This particular truck features silver paint with custom gray graphics outlined in red pinstripes, as well as "Rolling Rebel" graphics towards the end of the truck's bed on each side. Originally bought new from Summerville, Georgia, the truck has been a one-owner vehicle since its purchase in 1981. The body and paint appear to be in excellent shape, with no rust or blemishes to the body and the paint. I would lower the back end of the truck a little bit (don't slam it and mount oversized steel wheels) and source a set of BF Goodrich Radial T/As for an era-correct look.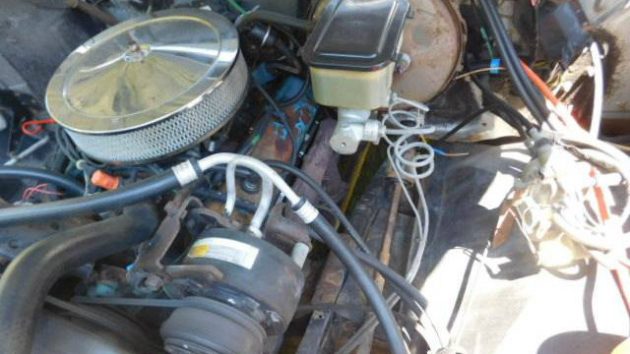 The seller makes no mention of what engine is in the truck, but since the truck is a short-bed, I'm guessing its a 305 SBC V8. With a four-barrel carburetor, the 305 was rated at 150 horsepower and 240lb-ft of torque, so needless to say there's room for improvement. The engine, much like the rest of the truck, appears to be original, judging by some of the paint missing on its valve covers. You could build up the 305  V8 with a few modifications, but I would source a 350 four-bolt main small block from a 1970s GM truck, RV or van and build it up. My guess is the transmission is a TH-350, so I would source a 1987-up 700R4 automatic, which features overdrive and can be built up for durability.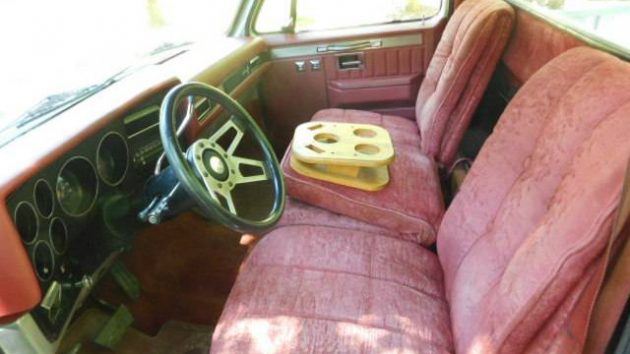 I have always dug velour interiors (our family's 1978 Dodge Tradesman 200 conversion van features blue velour front seats), and I definitely dig the red velour captain-style chairs that this truck has. The aftermarket Grant wheel isn't ideal, so I would source a more era-correct three-spoke steering wheel like this one. I would also try and source a new driver's-side floor mat, as it appears to be faded. Overall, however, the interior, much like the rest of the truck, presents very well. With a few upgrades mechanically, such as a set of dual exhaust and either a build-up of the current engine or an engine swap, and a few visual upgrades (new steering wheel, new floor mat, new tires, lowering of the rear of the truck), this could easily be a head-turner at the local cruise night or driving down the road. Express what you would do with this truck, readers!