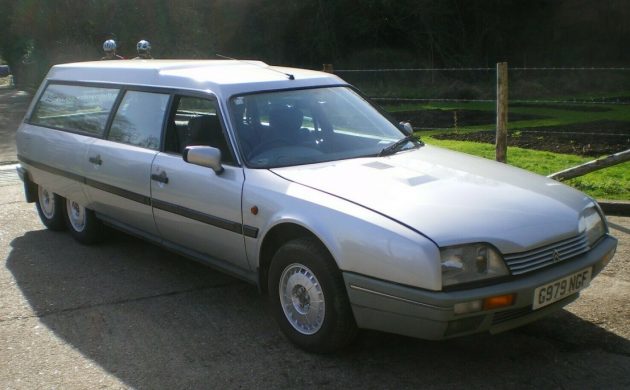 The Citroen CX Break (wagon) was introduced in 1975 as a replacement for the ID/DS Break. With its long wheelbase and spacious cargo area, it was intended to go tête à tête with the Peugeot 504 (later 505) Break models which were some of the biggest passenger cars available in Europe at the time. Aside from the unique hydropneumatic suspension, the main difference that set the CX apart from its conventional Peugeot rivals was its front-wheel-drive layout. This drivetrain packaging allowed the body to be stretched and chopped into various commercial versions without having to worry about lengthening the driveshaft. These variants included ambulances, flatbeds, and this six-wheeled wagon available here on eBay with bidding to GBP 6,966.00 ($9,627.01) and the reserve not yet met.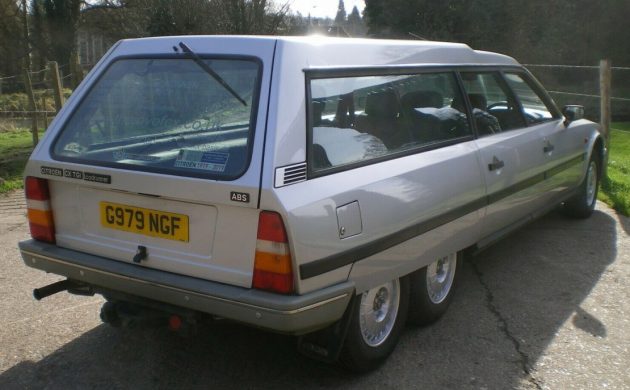 The seller of this stretched six-wheel CX says that these long wagons, known as Loadrunners, were built in the 1980s in France, Belgium, and Germany for high-speed overnight transport of newspapers to be delivered in the morning. Unlike the newspaper cars, this one spent the first fifteen years of its life as a four-wheeled version, the owner having it converted to a Loadrunner by a CX specialist in Germany in 2004. He states that with the rear seats folded down it will easily fit a 4×8 sheet of plywood and that he has even carried twelve-foot timbers. Between the rear seats, there is a tank for an aftermarket liquid petroleum gas (LPG) conversion which somewhat reduces the loading space.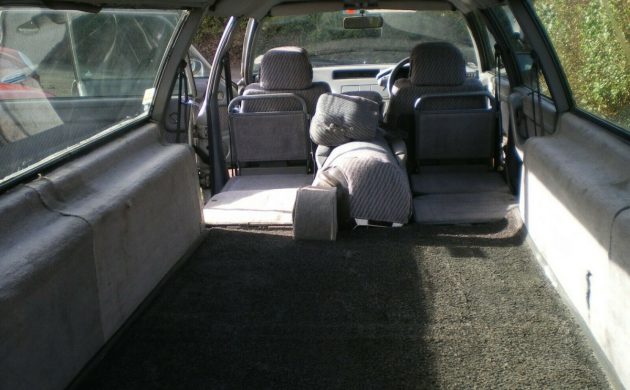 This example is a right-hand-drive UK-market model with a four-speed automatic transmission. There are 219,000 miles on the odometer, but a replacement engine was installed in 2012 which the owner assumes has now covered around 125,000 miles. The alloy wheels were refinished in 2019 and fitted with new Michelin tires. The hydropneumatic and cooling systems are in good condition, though some electrical and braking issues must be sorted before the car can be driven. The body was repainted in 2017 but the seller indicates that there are some outstanding rust issues. A potential buyer would want to pay special attention to the seams where the body was lengthened. The owner states that the conversion used less body filler than the earlier versions and that the box sections were rustproofed while the body was cut apart. The interior received a new dashboard and the lengthened headliner is in good condition. The seats, door cards, and carpeting are all a bit tired, but most of these could probably be sourced from a standard CX wagon.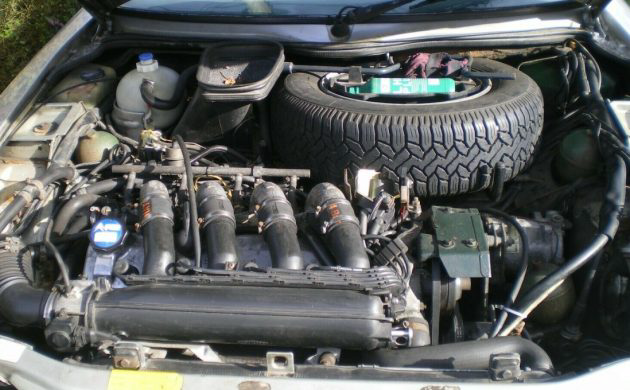 Given that only a few hundred Loadrunners were made and most were used as work vehicles, it can be assumed that they are rare nowadays. Although rarity does not always equal increased value, this one is creeping up to almost $10,000 with eight bidders and more than a week left to go. Despite being eligible for import to the United States, it's not clear if the owner will sell this car outside of the UK, so a bidder would want to clarify that first. No matter where in the world you are located, you'd likely never see another six-wheeled CX. What would you haul in yours?