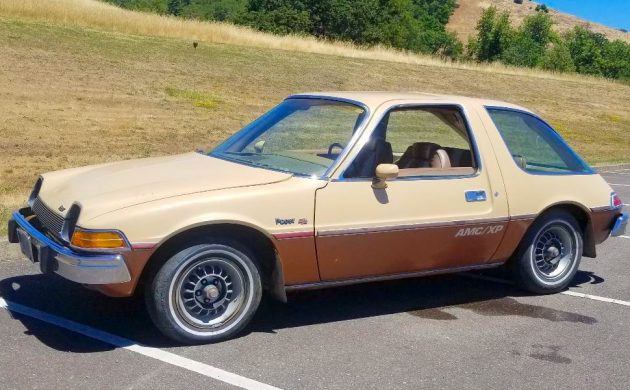 There were a few Pacer's exported to Europe and they occasionally appear at car shows. The Germans have an affectionate name for them, it's "Sard der Schlafenden  Shönheit" or "Sleeping Beauty's Coffin". My favorite nickname was "The Flying Fishbowl". The idea was to create a roomy compact car by wrapping a small car around a full-sized interior resulting in a short and very wide car. They added lots of glass and doors of different widths and, well, there must be at least a few people who like the look. This fishbowl is listed on eBay in Roseburg, Oregon. It looks like there are three or four active bidders who have bid it up to over one thousand dollars. It runs and drives but needs brake work.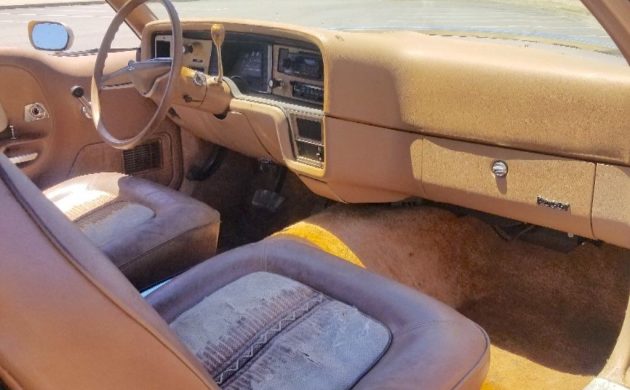 You're in luck if you like brown and shades of tan. The interior looks to be in pretty nice condition.
Here's the 232 CID 6 banger. Could that be a 2 barrel carb? There is an "X" package of the Pacer with a 2 barrel carb and other performance upgrades, but the decal on this Pacer says "XP" and I don't think there is an XP package. Also, this Pacer has an automatic. I thought the regular air cleaner was round and this one looks like the one on the 2 barrel carburetor.  It's a lot of confusion for a fishbowl.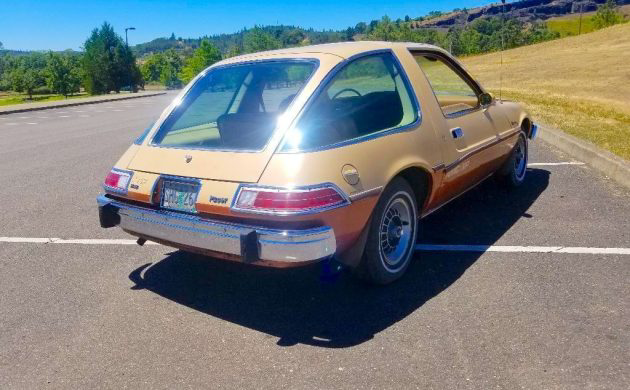 Just look at all that glass. AMC thought this design was the future of automotive styling. I think most folks are very grateful they were wrong. This Pacer doesn't have AC so it must be a little warm inside on sunny days. It looks like you might be able to buy this for the price of a very cheap used car and with a little work it could be a nice driver. This might be the car for you if you think it is more unique than embarrassing. I don't anyone will have a problem with the price unless you think the seller should pay you to take it away.