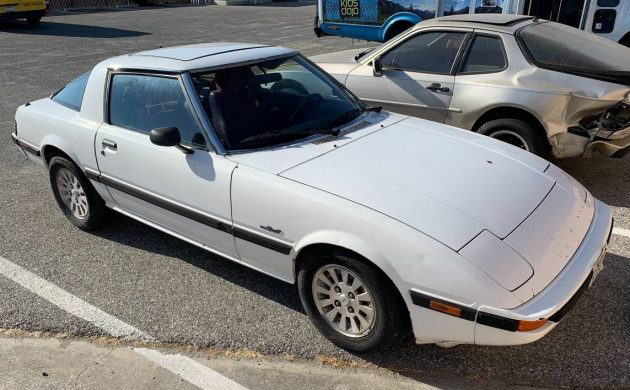 The next owner of this 1985 Mazda RX7 is going to require both a sense of adventure and a certain amount of perseverance if they are to realize the seller's vision for this car. It has received an engine transplant, but there is still a fair amount of engineering and electrical work required before it will be set to terrorize our streets. I have to say thank you to Barn Finder Pat L for referring this curious creation to us. The Mazda is located in Palo Alto, California, and has been listed for sale here on Craigslist. The owner has set the sale price at $3,100, but he does say that he is willing to listen to offers.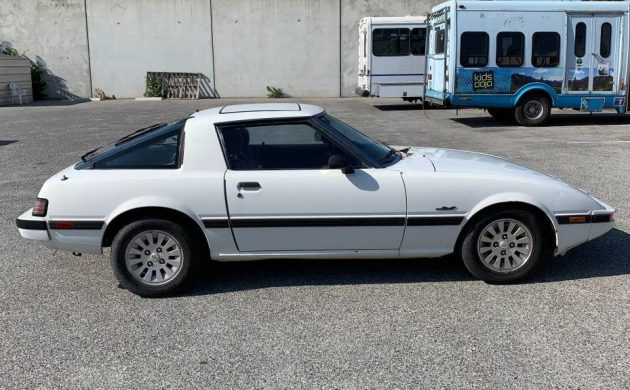 The Dover White Mazda is beginning to show its age a bit, but it does appear to be a rust-free vehicle. The panels sport several minor dings and marks, but its condition wouldn't be classed as horrendous. What this classic needs is a fresh coat of paint, and it would then present quite well. The external plastic trim and moldings appear to be in good condition, but there are a few badges that are missing. The factory alloy wheels are also looking a bit on the tired side, and there appears to be some of the staining that you might expect from accumulated brake dust. They could be restored if the next owner wants to retain the vehicle's original appearance. However, I wouldn't be surprised if the buyer chooses to replace these at some point.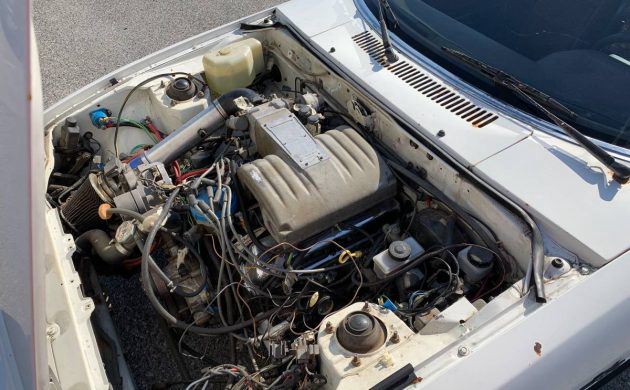 Lifting the hood reveals what makes this RX7 something very different. When the owner purchased the car, the engine bay still housed the original, syrupy smooth 13B Wankel rotary engine. This eventually failed, so he chose to shoehorn a 5.0-liter Ford V8 and a T5 manual transmission from a '91 Mustang into the Mazda. There is still plenty of work required because a new driveshaft will need to be fabricated from the supplied Mazda and Ford components. An appropriate radiator will also need to be sourced and installed. However, the buyer will probably need to enlist the services of an auto electrician to sort through the rat's nest of wiring that can be seen in this photo. The seller does supply both Ford and Mazda wiring diagrams, along with other relevant documentation. So getting it right is possible. The engine does fire and run, but that is just the starting point. Another issue to consider will be the additional weight hanging over the front wheels. The Wankel rotary is an exceptionally light engine, while the Ford V8 is going to add some weight. There will almost certainly be some fiddling required with springs and shocks. It is possible to address this issue, but it might take a bit of experimenting to get it right. Interestingly, this transplant could provide a double benefit once it has been completed. The rotary engine is a notoriously thirsty beast, but the Ford V8 provides better consumption figures when fitted to the heavier Mustang. Drop the same engine into the significantly lighter Mazda, and it should be better again. Also, the overall low weight of the Mazda means that this RX7 should be capable of easily breaking the 15-second barrier for the ¼ mile.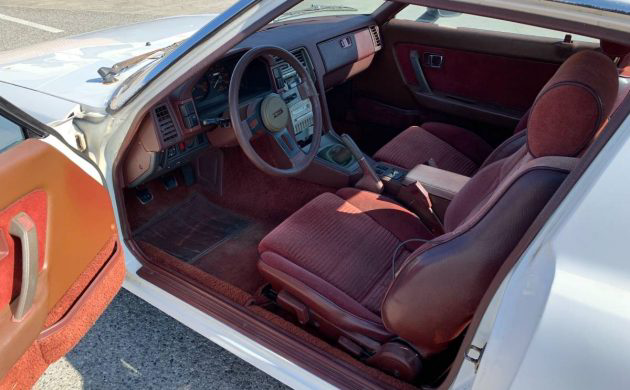 As is the case with the exterior, the interior of the RX7 is beginning to show its age. That means that the seats have some noticeable edge wear, while some of the plastic is looking dry and faded. However, it is still original and unmolested and is in a serviceable state. The factory radio went missing at some point. However, the owner has managed to source a replacement and its surround. Therefore, the interior can be returned to full factory specifications once again. The carpet is looking tired and worn, and it will probably need to be replaced. Thankfully, the dash isn't cracked, but it does look like it would benefit from the application of a conditioner. I'm not quite sure how I would tackle refurbishing the interior, but it would be tempting to search for a donor vehicle with a decent interior. Let's face it; the RX7 did sell in very respectable numbers. That means that the ideal candidate has to be out there somewhere.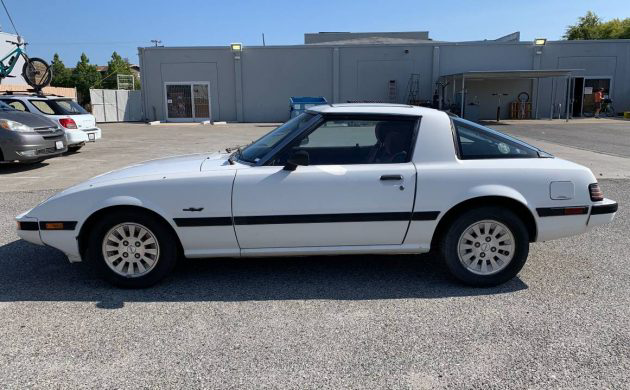 The concept of dropping a V8 into a Mazda road car is nothing new. I know for a fact that Mazda was entertaining this concept in around 1983/1984. Their idea had been to slot a V8 into their 929 Hardtop so that it could be homologated for International Group A Touring Car Racing. In fact, they contracted Allan Moffat Racing in Australia to engineer and build a concept vehicle. However, this project was quietly scrapped before it was seriously considered for production. In standard form, the RX7 is renowned for its inherent poise and balance. It isn't clear how this will be affected by the heavier engine, but I suspect that if someone can get this classic up and running, then it could provide an entertaining motoring experience. Are you up to the challenge?