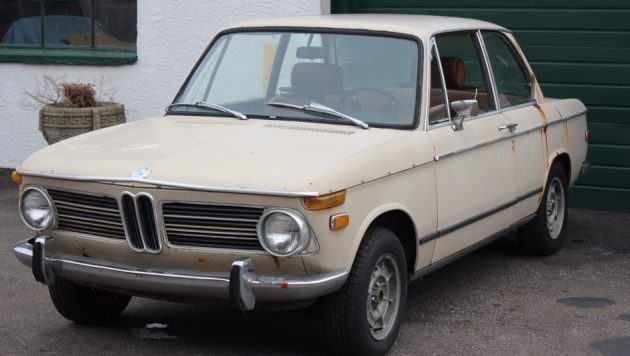 When I purchased my 1981 HiAce, I did so knowing full well there were some rust issues. But the big thing for me – after going through several body shop projects on other cars – was knowing the rot was not structural. Sure, there will be some work ahead of me, but the areas needing repair are mostly cosmetic. This 1971 BMW 2002 here on eBay is similar in that way, with lots of surface areas on the body needing repair but surprisingly tight underneath. 
As you can see, this round taillight specimen has lots of issues on the body surfaces. Some of it is likely just a repaint away from looking better (such as below the chrome roof trim) while other areas (along the fenders and rear quarters) will likely need new metal cut and welded in. Those period alloy wheels are fairly desirable among the BMW crowd, and the early cars wear the preferred and better looking chrome bumpers.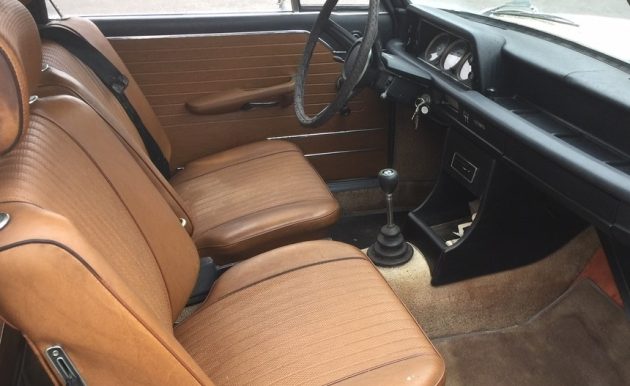 Inside, the interior is surprisingly sound. I tend to judge cars by the way they're kept up inside, as that to me at least indicates an owner who cared enough to keep the area where he or she spent the most time in good order. The seats are untorn front and rear, the dash only has a crack or two and the tan carpets are astoundingly clean – especially if you judge the car based on its outward appearance. Heck, the shift knob and steering wheel are even in good nick.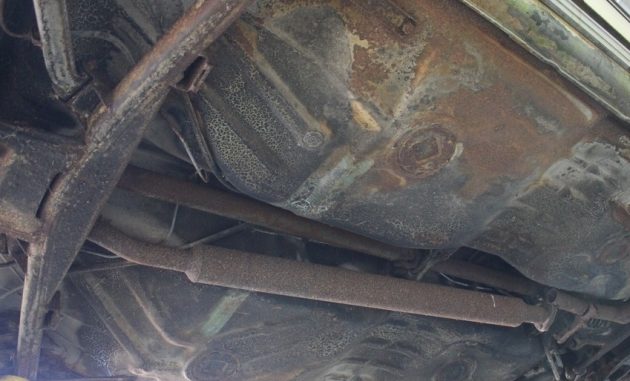 And underneath the 2002 is where you start to feel more confident that this is a project worth taking on. There are no major holes; just the typical surface rust, but even that isn't the worst I've seen. It does look like the area around the driver's side footwell could be getting soft sooner than later, but at the current time, you can live with it while the body is repaired. There are some more severe areas of body rot in the eBay gallery, so check it out and let us know if this is a 2002 worth saving.