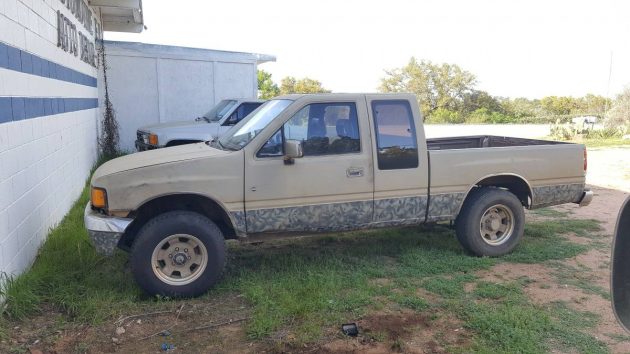 Isuzu has been one of the few Japanese manufacturers that struggled in the American car market. While their light and medium duty trucks did pretty well here, over the years, Isuzu Motors brought some strange and unusual cars, small trucks and SUVs to America. I'll leave it to Scotty to recount the complete strange history of Isuzu in America. I've been a bit of a fan ever since I bought a new Isuzu Trooper in 1985. It was a relatively inexpensive two door SUV with a reliable four cylinder engine and a slick five speed transmission, and was a lot of fun to drive, as well as having a ton of useable space for my young family.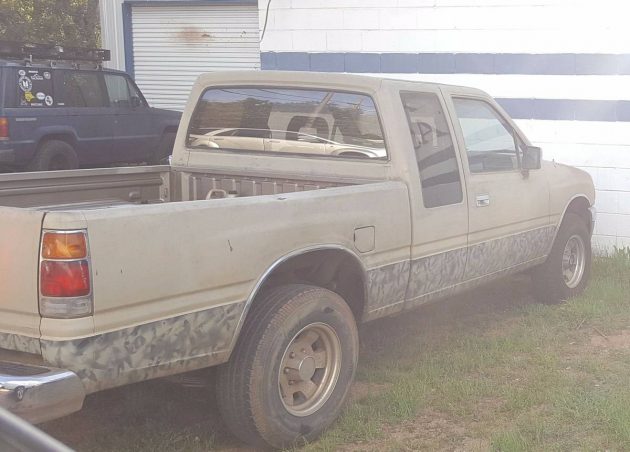 Isuzu joined other Japanese manufacturers in exporting modified versions of its home market pick ups to our shores. Americans like elbow room, so extended cab versions of mini-trucks seemed a reasonable approach here, and thus Isuzu's Spacecab pick up was born. With their goofy looking side windows, these trucks look odd, but not terrible, at least to me.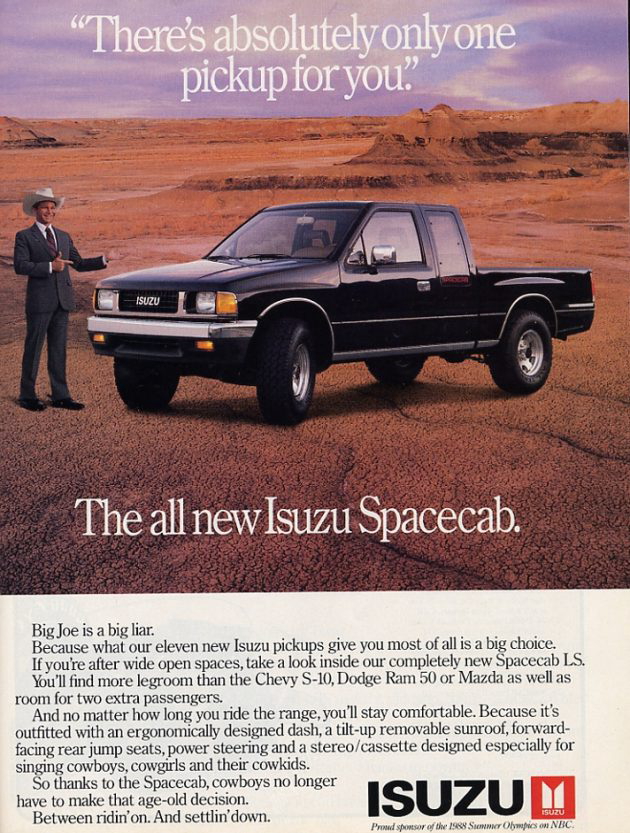 Look, even their ads were a bit goofy. Isuzu has never been a major player in the American car market (and left the scene altogether) some years back; this 1988 Spacecab in four wheel drive configuration, for sale on Craigslist in Buchanan Dam, Texas, was relatively rare when new, and almost never seen on the road anymore, especially without any visible rust.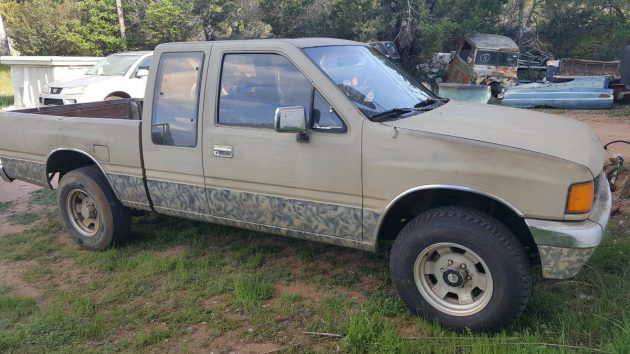 Aside from being a low cost, economical and practical four wheel drive truck, this Isuzu is cheap at $1995, and looks clean and driveable, inside and out, especially considering its age and well used condition. If you want to have some fun, read the complete ad on Craigslist. It's one of the funniest, best written ads I have come across. Here's a quote to pique your interest:
"It isn't gonna win any car shows, it isn't gonna get fine beautiful women to swoon over you, it isn't gonna wow your buddies and make them want to hang out with you. But I'm sure you have had to deal with those disappointments all your life. A/C doesn't work, but you've never been cool anyway."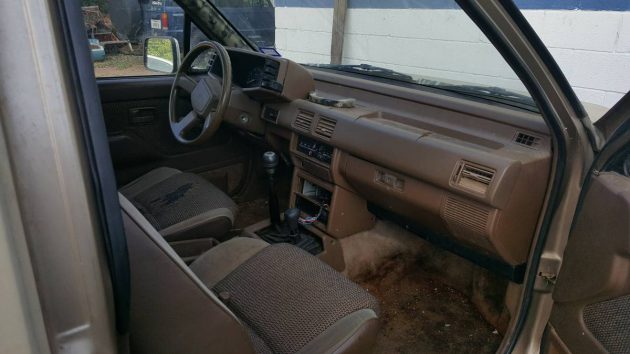 Practical and fun as it may be, I don't need a truck like this right now, but someone ought to run down to Texas right now to buy this truck! Be the first on your block to own a Spacecab, dang it! Scotty, are you seeing this?