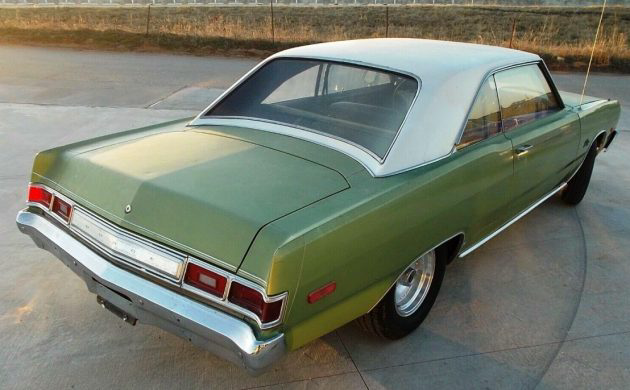 Before "Swingers" took on its current connotation, a "Swinger" was more broadly defined as a cool, easy-going person who was up for anything fun. Dodge began calling some or all two-door varieties of its compact Dart by the Swinger name in 1969. This 1974 Dodge Swinger in Lexington, Oklahoma features a non-original 400 cid (6.6L) and other upgrades. Offered here on eBay, this daily-driver-quality Dodge will sell! Bidding on the no reserve auction has eclipsed $3,000.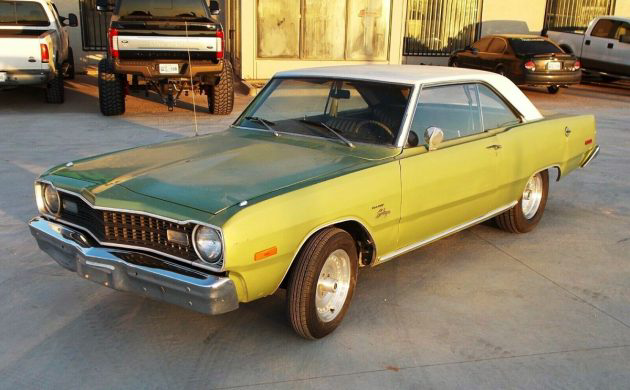 A narrowed Ford 9″ rear end leaves room for even wider tires. The fatties and skinnies certainly help in the performance department, albeit while defeating the car's "sleeper" potential. I'd be tempted to go with more stock-looking rolling gear for stealth and increased cornering. My sister dated a chap with a well-kept white Swinger. Through the fog of time, I recall it had paisleys somewhere, perhaps in the black vinyl top or upholstery, or maybe in stripes.
This is the best picture provided of the 400 cid V8. See the oil pan? Also, it shows what I believe are sub-frame connectors, a prudent addition to any powerful unibody car, and what might be the most questionable exhaust fabrication and trunk-mounted battery cable installation I've seen in a while. Still, nobody will see that stuff when you're cruising on a warm summer evening trolling for victims.
The best picture of the interior suggests the dashboard may be rather sunburned, but the bench seat looks tidy and re-upholstered. Genuine shoulder belts appeared in 1974, replacing the previous separate shoulder and lap belts. The now-infamous seat-belt interlock system graced all American-sold models in 1974 as well, so that will offer some additional fun/cussing for the new owner if it's not been disabled. What's your top bid to experience the Swinger lifestyle?
Have something to sell? List it here on Barn Finds!