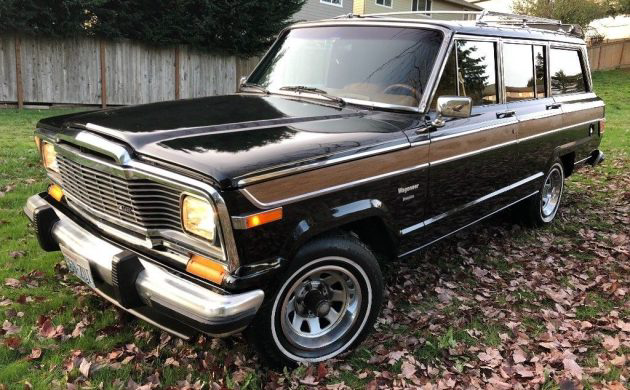 When this 1982 Jeep Wagoneer was new, the Range Rover was probably its most obvious competitor in the luxury 4-wheel drive market. This Jeep does not appear as though it has lived a particularly hard life, and is a nice example. You will find it listed for sale here on eBay. It is located in Lynnwood, Washington, and is being offered for sale with a clear title. This vehicle has generated its share of interest on eBay because after opening at $500, a total of nine bidders have pushed the bidding to $7,100 at the time of writing in this No Reserve auction.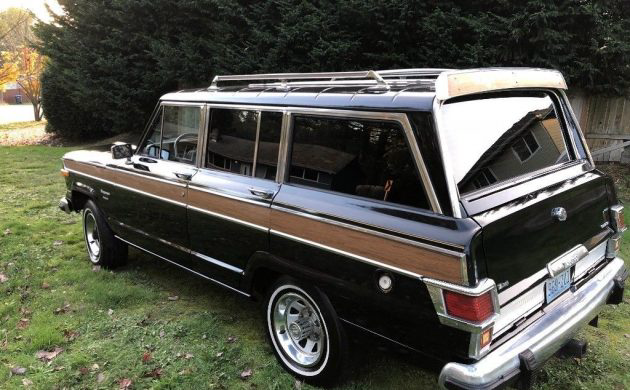 This Jeep is in really nice condition, and that has to be one of the darkest shades of blue paint that I've ever seen. You look at the vehicle from any angle and the paint is close to flawless. I'm not usually a huge fan of the fake woody look, but I think that it sets off the paint perfectly. There are a number of shots of the underside of the car, and it is just as clean as a whistle. The exterior trim also looks to be in good condition. It may not be as flash as its newer contemporaries, but this Jeep would certainly stand out in a group of new 4-wheel drives.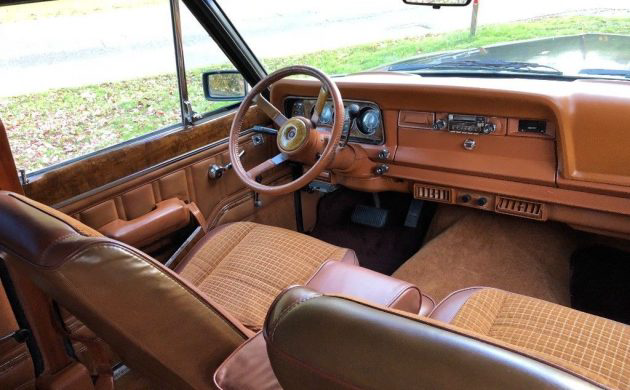 By today's lofty standards, the Wagoneer is not particularly well appointed, but when it was new it was about as good as it got. Up until this time, owning an off-roader meant coping with vinyl seats, rubber floor-mats, little sound insulation, and a heating and ventilation system that were totally ineffective. The Wagoneer changed that completely. This one features seats with cloth inserts, there is carpet on the floors, there is air conditioning for when the going got hot and tough (but it needs a recharge), and a radio/cassette player so you could listen to your tunes. The interior of this one is in great condition. There is a small issue with the vinyl on the back of the driver's seat where it meets the cloth insert, but that is about all that I can really fault.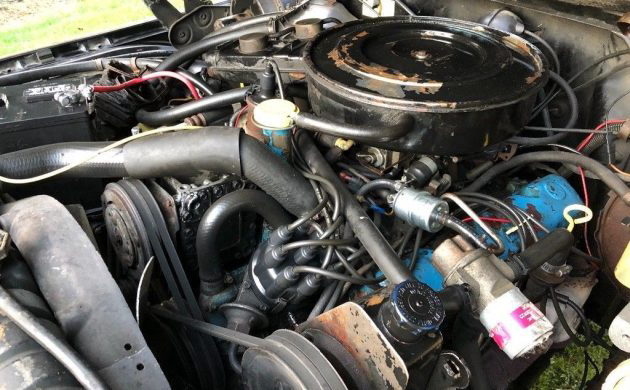 Under the hood is a 360ci V8 which is backed by an automatic transmission. The vehicle is also fitted with power steering and power brakes. The engine bay looks quite clean, and the owner says that the car runs and drives well, with no smoke or rattles from the engine. The transmission shifts smoothly, and the vehicle doesn't have any oil leaks.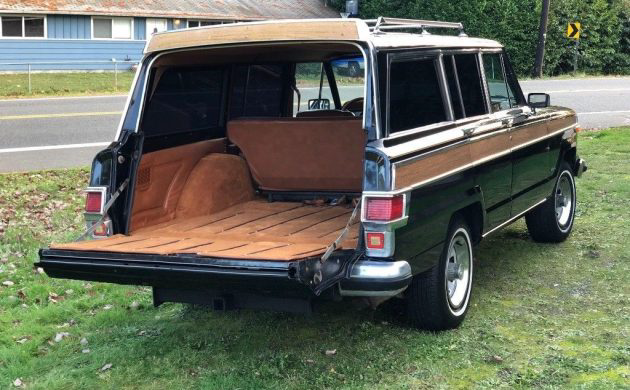 This Jeep Wagoneer Brougham is a nice looking vehicle that is in really good condition. It is a vehicle that you can drive and enjoy immediately. The fact that it is being sold in a No Reserve auction is interesting because the highest bidder will become the owner. Recently a similar vehicle was passed in at auction when bidding closed at $11,500. There is also one on the market at present with an asking price of $22,900. This one will probably go for a price somewhere between those two numbers.